Hello bookworms! I'm Nia and today I'm going to be talking about some of my favorite mother figures.
This is one of those topics that took me a while to think about, because even though I tend to love a great parental figure, when it's time to write about them I blank out, so… yeah, I spent a great amount of time thinking about it. I ended up only coming out with three, so don't kill me for that.
If you aren't familiar with Top 5 Wednesday, it is a Goodeads group now currently run by Sam over at ToughtsOfTomes on Youtube, where each week they give you a topic and you talk about 5 books that fit that category. You can join the group here if you want to participate!
Without any further ado, let's start with this week's topic!
Molly Weasley | Harry Potter
The Dursleys were so mean and hideous that summer that all Harry Potter wanted was to get back to the Hogwarts School for Witchcraft and Wizardry. But just as he's packing his bags, Harry receives a warning from a strange, impish creature named Dobby who says that if Harry Potter returns to Hogwarts, disaster will strike
And strike it does. For in Harry's second year at Hogwarts, fresh torments and horrors arise, including an outrageously stuck-up new professor, Gilderoy Lockhart, a spirit named Moaning Myrtle who haunts the girls' bathroom, and the unwanted attentions of Ron Weasley's younger sister, Ginny.
But each of these seem minor annoyances when the real trouble begins, and someone — or something — starts turning Hogwarts students to stone. Could it be Draco Malfoy, a more poisonous rival than ever? Could it possibly be Hagrid, whose mysterious past is finally told? Or could it be the one everyone at Hogwarts most suspects . . . Harry Potter himself?
Grandma Tala | Moana
Honestly, ever since the first time I watched this movie I completely fell in love with this lady and how supportive she was to Moana. Even though she's not one of the main characters in the story and she doesn't appear much, I still think she's an incredible character.
Charlotte Branwell | The Infernal Devices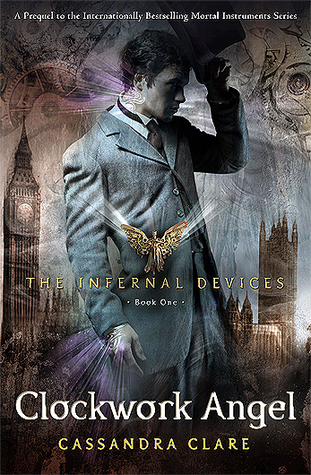 In a time when Shadowhunters are barely winning the fight against the forces of darkness, one battle will change the course of history forever. Welcome to the Infernal Devices trilogy, a stunning and dangerous prequel to the New York Times bestselling Mortal Instruments series.
The year is 1878. Tessa Gray descends into London's dark supernatural underworld in search of her missing brother. She soon discovers that her only allies are the demon-slaying Shadowhunters—including Will and Jem, the mysterious boys she is attracted to. Soon they find themselves up against the Pandemonium Club, a secret organization of vampires, demons, warlocks, and humans. Equipped with a magical army of unstoppable clockwork creatures, the Club is out to rule the British Empire, and only Tessa and her allies can stop them…
What are your favorite mother figures? Let me know in the comment so I can read more books that have incredible mothers!
Follow me on BlogLovin'
Goodreads | Instagram | Twitter | Contact Me