Hello bookworms! I'm Nia and today I'm going to be talking about the books I want to read this month.
I have quite an ambitious TBR, because not only there are some releases that are coming out this month that I would like to get to, but also I have quite a few books on my TBR that came out these past few months that I would love to read ASAP, so hopefully this month will be the one, fingers crossed.
Without any further ado, let's begin with my May TBR!
Finale | Stephanie Garber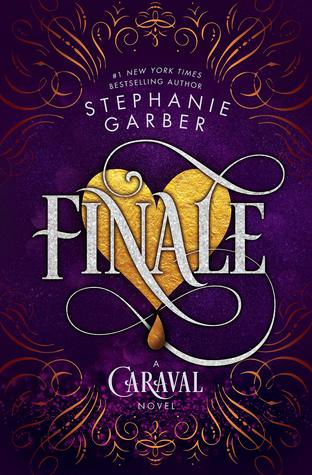 Welcome, welcome to Caraval…all games must come to an end.
It's been two months since the last Caraval concluded, two months since the Fates have been freed from an enchanted deck of cards, two months since Tella has seen Legend, and two months since Legend claimed the empire's throne as his own. Now, Legend is preparing for his official coronation and Tella is determined to stop it. She believes her own mother, who still remains in an enchanted sleep, is the rightful heir to the throne.
Meanwhile, Scarlett has started a game of her own. She's challenged Julian and her former fiancé, Count Nicolas d'Arcy, to a competition where the winner will receive her hand in marriage. Finally, Scarlett feels as if she is in complete control over her life and future. She is unaware that her mother's past has put her in the greatest danger of all.
Caraval is over, but perhaps the greatest game of all has begun―with lives, empires, and hearts all at stake. There are no spectators this time: only those who will win…and those who will lose everything. . .
Last Things | Jaqueline West
High school senior Anders Thorson is unusually gifted. His band, Last Things, is legendary in their northern Minnesota hometown. With guitar skills that would amaze even if he weren't only eighteen, Anders is the focus of head-turning admiration. And Thea Malcom, a newcomer to the insular town, is one of his admirers. Thea seems to turn up everywhere Anders goes: gigs at the local coffeehouse, guitar lessons, even in the woods near Anders's home. When strange things start happening to Anders—including the disappearance of his beloved cat, then his sort-of girlfriend, and, somehow, his musical talent—blame immediately falls on Thea. But is she trying to hurt him? Or save him? Can he trust a girl who doesn't seem to know the difference between dreams and reality? And how much are they both willing to compromise to get what they want?
Hidden Pieces | Paula Stokes
Embry Woods has secrets. Small ones about her past. Bigger ones about her relationship with town hero Luke and her feelings for someone new. But the biggest secret she carries with her is about what happened that night at the Sea Cliff Inn. The fire. The homeless guy. Everyone thinks Embry is a hero, too, but that couldn't be further from the truth.
Embry thinks she'll have to take the secret to her grave, until she receives an anonymous note—someone else knows the truth. Next comes a series of threatening messages, asking Embry to make impossible choices, forcing her to put her loved ones at risk. Someone is playing a high stakes game where no one in Embry's life is safe. And their last move…is murder.
Wicked Saints | Emily A. Duncan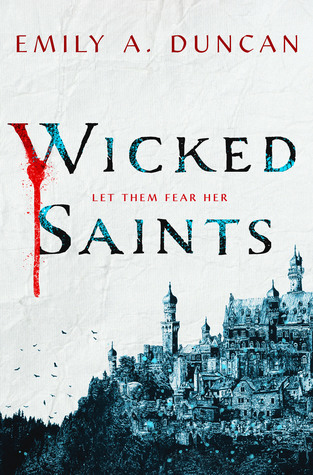 A girl who can speak to gods must save her people without destroying herself.
A prince in danger must decide who to trust.
A boy with a monstrous secret waits in the wings.
Together, they must assassinate the king and stop the war.
In a centuries-long war where beauty and brutality meet, their three paths entwine in a shadowy world of spilled blood and mysterious saints, where a forbidden romance threatens to tip the scales between dark and light.
The Wise and the Wicked | Rebecca Podos
Ruby Chernyavsky has been told the stories since she was a child: The women in her family, once possessed of great magical abilities to remake lives and stave off death itself, were forced to flee their Russian home for America in order to escape the fearful men who sought to destroy them. Such has it always been, Ruby's been told, for powerful women. Today, these stories seem no more real to Ruby than folktales, except for the smallest bit of power left in their blood: when each of them comes of age, she will have a vision of who she will be when she dies—a destiny as inescapable as it is inevitable. Ruby is no exception, and neither is her mother, although she ran from her fate years ago, abandoning Ruby and her sisters. It's a fool's errand, because they all know the truth: there is no escaping one's Time.
Until Ruby's great-aunt Polina passes away, and, for the first time, a Chernyavsky's death does not match her vision. Suddenly, things Ruby never thought she'd be allowed to hope for—life, love, time—seem possible. But as she and her cousin Cece begin to dig into the family's history to find out whether they, too, can change their fates, they learn that nothing comes without a cost. Especially not hope.
Serious Moonlight | Jenn Bennett
After an awkward first encounter, Birdie and Daniel are forced to work together in a Seattle hotel where a famous author leads a mysterious and secluded life in this romantic contemporary novel from the author of Alex, Approximately.
Mystery-book aficionado Birdie Lindberg has an overactive imagination. Raised in isolation and homeschooled by strict grandparents, she's cultivated a whimsical fantasy life in which she plays the heroic detective and every stranger is a suspect. But her solitary world expands when she takes a job the summer before college, working the graveyard shift at a historic Seattle hotel.
In her new job, Birdie hopes to blossom from introverted dreamer to brave pioneer, and gregarious Daniel Aoki volunteers to be her guide. The hotel's charismatic young van driver shares the same nocturnal shift and patronizes the waterfront Moonlight Diner where she waits for the early morning ferry after work. Daniel also shares her appetite for intrigue, and he's stumbled upon a real-life mystery: a famous reclusive writer—never before seen in public—might be secretly meeting someone at the hotel.
To uncover the writer's puzzling identity, Birdie must come out of her shell…discovering that the most confounding mystery of all may be her growing feelings for the elusive riddle that is Daniel.
Into the Dim | Janet B. Taylor
When fragile, sixteen-year-old Hope Walton loses her mom to an earthquake overseas, her secluded world crumbles. Agreeing to spend the summer in Scotland, Hope discovers that her mother was more than a brilliant academic, but also a member of a secret society of time travelers. Trapped in the twelfth century in the age of Eleanor of Aquitaine, Hope has seventy-two hours to rescue her mother and get back to their own time. Along the way, her path collides with that of a mysterious boy who could be vital to her mission . . . or the key to Hope's undoing. 
The Bone Season | Samantha Shannon
The year is 2059. Nineteen-year-old Paige Mahoney is working in the criminal underworld of Scion London, based at Seven Dials, employed by a man named Jaxon Hall. Her job: to scout for information by breaking into people's minds. For Paige is a dreamwalker, a clairvoyant and, in the world of Scion, she commits treason simply by breathing.
It is raining the day her life changes for ever. Attacked, drugged and kidnapped, Paige is transported to Oxford – a city kept secret for two hundred years, controlled by a powerful, otherworldly race. Paige is assigned to Warden, a Rephaite with mysterious motives. He is her master. Her trainer. Her natural enemy. But if Paige wants to regain her freedom she must allow herself to be nurtured in this prison where she is meant to die.
Missing Presumed Dead | Emma Berquist
With a touch, Lexi can sense how and when someone will die. Some say it's a gift. But to Lexi it's a curse—one that keeps her friendless and alone. All that changes when Lexi foresees the violent death of a young woman, Jane, outside a club. But Jane doesn't go to the afterlife quietly. Her ghost remains behind, determined to hunt down her murderer, and she needs Lexi's help. In life, Jane was everything Lexi is not—outgoing, happy, popular. But in death, all Jane wants is revenge. Lexi will do anything to help Jane, to make up for the fact that she didn't—couldn't—save Jane's life, and to keep this beautiful ghost of a girl by her side for as long as possible.
The Beholder | Anna Bright
Selah has waited her whole life for a happily ever after. As the only daughter of the leader of Potomac, she knows her duty is to find the perfect match, a partner who will help secure the future of her people. Now that day has finally come.
But after an excruciatingly public rejection from her closest childhood friend, Selah's stepmother suggests an unthinkable solution: Selah must set sail across the Atlantic, where a series of potential suitors awaits—and if she doesn't come home engaged, she shouldn't come home at all.
From English castle gardens to the fjords of Norge, and under the eye of the dreaded Imperiya Yotne, Selah's quest will be the journey of a lifetime. But her stepmother's schemes aren't the only secrets hiding belowdecks…and the stakes of her voyage may be higher than any happy ending.
If I'm Being Honest | Emily Wibberley & Austin Siegemund-Broka
High school senior Cameron Bright's reputation can be summed up in one word: bitch. It's no surprise she's queen bee at her private L.A. high school—she's beautiful, talented, and notorious for her cutting and brutal honesty. So when she puts her foot in her mouth in front of her crush, Andrew, she fears she may have lost him for good.
In an attempt to win him over, Cameron resolves to "tame" herself, much like Katherine in Shakespeare's The Taming of the Shrew. First, she'll have to make amends with those she's wronged, which leads her to Brendan, the guy she labelled with an unfortunate nickname back in the sixth grade. At first, Brendan isn't all that receptive to Cameron's ploy. But slowly, he warms up to her when they connect over the computer game he's developing. Now if only Andrew would notice…
But the closer Cameron gets to Brendan, the more she sees he appreciates her personality—honesty and all—and wonders if she's compromising who she is for the guy she doesn't even want.
Blood Heir | Amélie Wen Zhao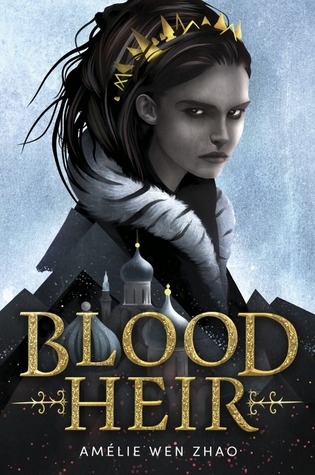 In the Cyrilian Empire, Affinites are reviled. Their varied gifts to control the world around them are unnatural—dangerous. And Anastacya Mikhailov, the crown princess, has a terrifying secret. Her deadly Affinity to blood is her curse and the reason she has lived her life hidden behind palace walls.
When Ana's father, the emperor, is murdered, her world is shattered. Framed as his killer, Ana must flee the palace to save her life. And to clear her name, she must find her father's murderer on her own. But the Cyrilia beyond the palace walls is far different from the one she thought she knew. Corruption rules the land, and a greater conspiracy is at work—one that threatens the very balance of her world. And there is only one person corrupt enough to help Ana get to its core: Ramson Quicktongue.
A cunning crime lord of the Cyrilian underworld, Ramson has sinister plans—though he might have met his match in Ana. Because in this story, the princess might be the most dangerous player of all.
What books do you want to read this month? Have you read any of the ones I've mentioned above or do you have them on your TBR? Let me know in the comments!
Follow me on BlogLovin'
Goodreads | Instagram | Twitter | Contact Me