Hello bookworms! I'm Nia and today I'm going to be talking about some books that I couldn't put down.
Lately I have to say that I haven't felt like that with a lot of books, but when I find one I become obsessed and need to know what's going to happen. Today, I'm going to be talking about 5 of them that were so good and interesting or that I loved so much that I needed to know everything right up.
If you aren't familiar with Top 5 Tuesday, it is a group here on WordPress now currently run by Shanah over at BionicBookWorm, where each week they give you a topic and you talk about 5 books that fit that category.
Without any further ado, let's start with this week's topic!
Into the Drowning Deep | Mira Grant
Seven years ago, the Atargatis set off on a voyage to the Mariana Trench to film a "mockumentary" bringing to life ancient sea creatures of legend. It was lost at sea with all hands. Some have called it a hoax; others have called it a maritime tragedy.
Now, a new crew has been assembled. But this time they're not out to entertain. Some seek to validate their life's work. Some seek the greatest hunt of all. Some seek the truth. But for the ambitious young scientist Victoria Stewart this is a voyage to uncover the fate of the sister she lost.
Whatever the truth may be, it will only be found below the waves. But the secrets of the deep come with a price.
Legendary | Stephanie Garber
A heart to protect. A debt to repay. A game to win.
After being swept up in the magical world of Caraval, Donatella Dragna has finally escaped her father and saved her sister, Scarlett, from a disastrous arranged marriage. The girls should be celebrating, but Tella isn't yet free. She made a desperate bargain with a mysterious criminal, and what Tella owes him no one has ever been able to deliver: Caraval Master Legend's true name.
The only chance of uncovering Legend's identity is to win Caraval, so Tella throws herself into the legendary competition once more—and into the path of the murderous heir to the throne, a doomed love story, and a web of secrets…including her sister's. Caraval has always demanded bravery, cunning, and sacrifice, but now the game is asking for more. If Tella can't fulfill her bargain and deliver Legend's name, she'll lose everything she cares about—maybe even her life. But if she wins, Legend and Caraval will be destroyed forever…
Welcome, welcome to Caraval . . . the games have only just begun.
Always Never Yours | Emily Wibberley & Austin Siegemund-Broka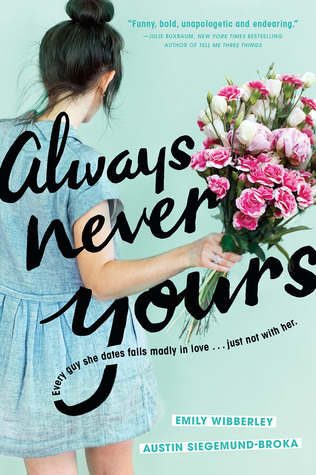 Shouldn't a girl get to star in her own love story?
Seventeen-year-old Megan Harper is about due for her next sweeping romance. It's inevitable—each of her relationships starts with the perfect guy and ends with him falling in love . . . with someone else. But instead of feeling sorry for herself, Megan focuses on pursuing her next fling, directing theater, and fulfilling her dream college's acting requirement in the smallest role possible.
So when she's cast as Juliet (yes, that Juliet) in her high school's production, it's a complete nightmare. Megan's not an actress, and she's used to being upstaged—both in and out of the theater. In fact, with her mom off in Texas and her dad remarried and on to baby #2 with his new wife, Megan worries that, just like her exes, her family is moving on without her.
Then she meets Owen Okita, an aspiring playwright inspired by Rosaline from Shakespeare's R+J. A character who, like Megan, knows a thing or two about short-lived relationships. Megan agrees to help Owen with his play in exchange for help catching the eye of a sexy stagehand/potential new boyfriend. Yet Megan finds herself growing closer to Owen, and wonders if he could be the Romeo she never expected.

The Unhoneymooners | Christina Lauren
Olive is always unlucky: in her career, in love, in…well, everything. Her identical twin sister Ami, on the other hand, is probably the luckiest person in the world. Her meet-cute with her fiancé is something out of a romantic comedy (gag) and she's managed to finance her entire wedding by winning a series of Internet contests (double gag). Worst of all, she's forcing Olive to spend the day with her sworn enemy, Ethan, who just happens to be the best man.
Olive braces herself to get through 24 hours of wedding hell before she can return to her comfortable, unlucky life. But when the entire wedding party gets food poisoning from eating bad shellfish, the only people who aren't affected are Olive and Ethan. And now there's an all-expenses-paid honeymoon in Hawaii up for grabs.
Putting their mutual hatred aside for the sake of a free vacation, Olive and Ethan head for paradise, determined to avoid each other at all costs. But when Olive runs into her future boss, the little white lie she tells him is suddenly at risk to become a whole lot bigger. She and Ethan now have to pretend to be loving newlyweds, and her luck seems worse than ever. But the weird thing is that she doesn't mind playing pretend. In fact, she feels kind of… lucky.
The Gilded Wolves | Roshani Chokshi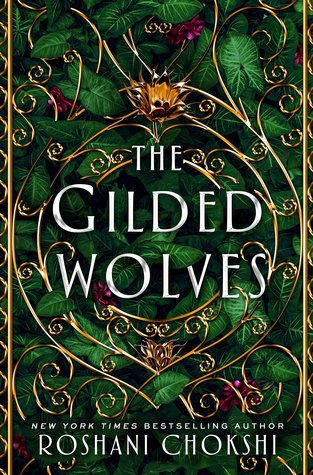 No one believes in them. But soon no one will forget them.
It's 1889. The city is on the cusp of industry and power, and the Exposition Universelle has breathed new life into the streets and dredged up ancient secrets. Here, no one keeps tabs on dark truths better than treasure-hunter and wealthy hotelier Séverin Montagnet-Alarie. When the elite, ever-powerful Order of Babel coerces him to help them on a mission, Séverin is offered a treasure that he never imagined: his true inheritance.
To hunt down the ancient artifact the Order seeks, Séverin calls upon a band of unlikely experts: An engineer with a debt to pay. A historian banished from his home. A dancer with a sinister past. And a brother in arms if not blood.
Together, they will join Séverin as he explores the dark, glittering heart of Paris. What they find might change the course of history–but only if they can stay alive.
What books have you read that you couldn't put down? Have you read any of these ones I've mentioned? Let me know in the comments!
Follow me on BlogLovin'
Goodreads | Instagram | Twitter | Contact Me