Hello bookworms! I'm Nia and today I'm Nia and today I'm going to be talking about some books featuring mental health.
I have read a fair amount of books that feature mental health, and though some of them weren't the best, there were a few that I absolutely adored and highly recommend, and those are the ones I'll be talking about today.
If you aren't familiar with Top 5 Wednesday, it is a Goodeads group now currently run by Sam over at ToughtsOfTomes on Youtube, where each week they give you a topic and you talk about 5 books that fit that category. You can join the group here if you want to participate!
Without any further ado, let's start with this week's topic!
The Female of The Species | Mindy McGinnis
Alex Craft knows how to kill someone. And she doesn't feel bad about it.
Three years ago, when her older sister, Anna, was murdered and the killer walked free, Alex uncaged the language she knows best—the language of violence. While her own crime goes unpunished, Alex knows she can't be trusted among other people. Not with Jack, the star athlete who wants to really know her but still feels guilty over the role he played the night Anna's body was discovered. And not with Peekay, the preacher's kid with a defiant streak who befriends Alex while they volunteer at an animal shelter. Not anyone.
As their senior year unfolds, Alex's darker nature breaks out, setting these three teens on a collision course that will change their lives forever.
The Last Time She Drowned | Kerry Kletter
Cassie O'Malley has been trying to keep her head above water—literally and metaphorically—since birth. It's been two and a half years since Cassie's mother dumped her in a mental institution against her will, and now, at eighteen, Cassie is finally able to reclaim her life and enter the world on her own terms.
But freedom is a poor match against a lifetime of psychological damage. As Cassie plumbs the depths of her new surroundings, the startling truths she uncovers about her own family narrative make it impossible to cut the tethers of a tumultuous past. And when the unhealthy mother-daughter relationship that defined Cassie's childhood and adolescence threatens to pull her under once again, Cassie must decide: whose version of history is real? And more important, whose life must she save?
What I Lost | Alexandra Ballard
What sixteen-year-old Elizabeth has lost so far: forty pounds, four jean sizes, a boyfriend, and her peace of mind. As a result, she's finally a size zero. She's also the newest resident at Wallingfield, a treatment center for girls like her—girls with eating disorders. Elizabeth is determined to endure the program so she can go back home, where she plans to start restricting her food intake again. She's pretty sure her mom, who has her own size 0 obsession, needs treatment as much as she does. Maybe even more. Then Elizabeth begins receiving mysterious packages. Are they from her ex-boyfriend, a secret admirer, or someone playing a cruel trick?
Girl Against the Universe | Paula Stokes
Sixteen-year-old Maguire knows the universe is against her. No matter how many charms she buys off the internet or good luck rituals she performs each morning, horrible things happen when she's around. Like that time the roller coaster jumped off its tracks. Or the time the house next door caught on fire. Or the time her brother, father, and uncle were all killed in a car crash–and Maguire walked away with barely a scratch.
Despite what her therapist tells her, Maguire thinks it's best to hide out in her room, far away from anyone she might accidentally hurt. But then she meets Jordy, an aspiring tennis star who wants to help her break her unlucky streak. Maguire knows that the best thing she can do for him is to stay away, but it turns out staying away might be harder than she thought.
Before She Ignites | Jodi Meadows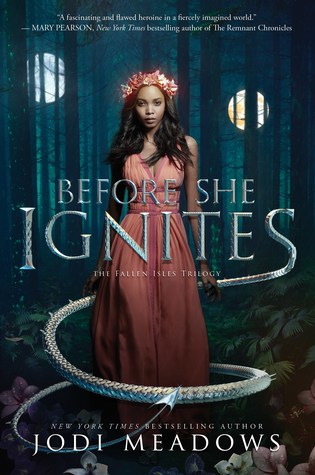 Before
Mira Minkoba is the Hopebearer. Since the day she was born, she's been told she's special. Important. Perfect. She's known across the Fallen Isles not just for her beauty, but for the Mira Treaty named after her, a peace agreement which united the seven islands against their enemies on the mainland.
But Mira has never felt as perfect as everyone says. She counts compulsively. She struggles with crippling anxiety. And she's far too interested in dragons for a girl of her station.
After
Then Mira discovers an explosive secret that challenges everything she and the Treaty stand for. Betrayed by the very people she spent her life serving, Mira is sentenced to the Pit–the deadliest prison in the Fallen Isles. There, a cruel guard would do anything to discover the secret she would die to protect.
No longer beholden to those who betrayed her, Mira must learn to survive on her own and unearth the dark truths about the Fallen Isles–and herself–before her very world begins to collapse.
What books featuring mental health do you recommend me? Have you read any of these books I've mentioned above? Let me know in the comments!
Follow me on BlogLovin'
Goodreads | Instagram | Twitter | Contact Me