Hello bookworms! I'm Nia and today I'm going to be talking about some June new releases that I'm so excited about.
I have to say that even though there are a few books that are coming out this month, it isn't one of the biggest release months (those would probably be September or October), but still I want to talk about some books that I cannot wait to read, or have read already and I'm so excited to own.
Without any further ado, let's start with my list!
Sorcery of Thorns | Margaret Rogerson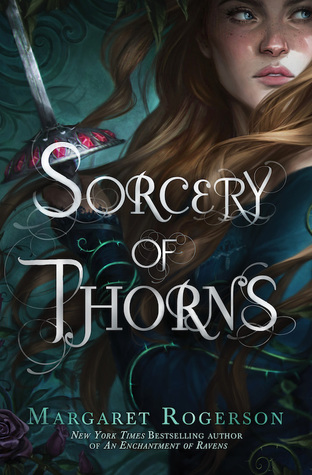 Pub. Date: June 4th
All sorcerers are evil. Elisabeth has known that as long as she has known anything. Raised as a foundling in one of Austermeer's Great Libraries, Elisabeth has grown up among the tools of sorcery—magical grimoires that whisper on shelves and rattle beneath iron chains. If provoked, they transform into grotesque monsters of ink and leather. She hopes to become a warden, charged with protecting the kingdom from their power.
Then an act of sabotage releases the library's most dangerous grimoire. Elisabeth's desperate intervention implicates her in the crime, and she is torn from her home to face justice in the capital. With no one to turn to but her sworn enemy, the sorcerer Nathaniel Thorn, and his mysterious demonic servant, she finds herself entangled in a centuries-old conspiracy. Not only could the Great Libraries go up in flames, but the world along with them.
As her alliance with Nathaniel grows stronger, Elisabeth starts to question everything she's been taught—about sorcerers, about the libraries she loves, even about herself. For Elisabeth has a power she has never guessed, and a future she could never have imagined.
I Wanna Be Where You Are | Kristina Forest
Pub. Date: June 4th
When Chloe Pierce's mom forbids her to apply for a spot at the dance conservatory of her dreams, she devises a secret plan to drive two hundred miles to the nearest audition. But Chloe hits her first speed bump when her annoying neighbor Eli insists upon hitching a ride, threatening to tell Chloe's mom if she leaves him and his smelly dog, Geezer, behind. So now Chloe's chasing her ballet dreams down the east coast―two unwanted (but kinda cute) passengers in her car, butterflies in her stomach, and a really dope playlist on repeat.

Ghost of The Shadow Market | V. V. A. A.
Pub. Date: June 4th
The Shadow Market is a meeting point for faeries, werewolves, warlocks and vampires. There the Downworlders buy and sell magical objects, make dark bargains, and whisper secrets they do not want the Nephilim to know. Through two centuries, however, there has been a frequent visitor to the Shadow Market from the City of Bones, the very heart of the Shadowhunters. As a Silent Brother, Brother Zachariah is sworn keeper of the laws and lore of the Nephilim. But once he was a Shadowhunter called Jem Carstairs, and his love, then and always, is the warlock Tessa Gray.
Follow Brother Zachariah and see, against the backdrop of the Shadow Market's dark dealings and festive celebrations, Anna Lightwood's first romance, Matthew Fairchild's great sin and Tessa Gray plunged into a world war. Valentine Morgenstern buys a soul at the Market and a young Jace Wayland's soul finds safe harbor. In the Market is hidden a lost heir and a beloved ghost, and no one can save you once you have traded away your heart. Not even Brother Zachariah…
Ghosts of the Shadow Market will be co-written with Maureen Johnson, Robin Wasserman, Sarah Rees Brennan and Pulitzer finalist Kelly Link and will initially be available digitally.

Stronger than A Bronze Dragon | Mary Fan
Pub. Date: June 11th
When a powerful viceroy arrives with a fleet of mechanical dragons and stops an attack on Anlei's village, the villagers see him as a godsend. They agree to give him their sacred, enchanted River Pearl in exchange for permanent protection—if he'll marry one of the village girls to solidify the alliance. Anlei is appalled when the viceroy selects her as a bride, but with the fate of her people at stake, she sees no choice but to consent. Anlei's noble plans are sent into a tailspin, however, when a young thief steals the River Pearl for himself.
Knowing the viceroy won't protect her village without the jewel, she takes matters into her own hands. But once she catches the thief, she discovers he needs the pearl just as much as she does. The two embark on an epic quest across the land and into the Courts of Hell, taking Anlei on a journey that reveals more is at stake than she could have ever imagined.

Teeth in The Mist | Dawn Kurtagich
Pub. Date: June 11th
Before the birth of time, a monk uncovers the Devil's Tongue and dares to speak it. The repercussions will be felt for generations…
Sixteen-year-old photography enthusiast Zoey has been fascinated by the haunted, burnt-out ruins of Medwyn Mill House for as long as she can remember–so she and her best friend, Poulton, run away from home to explore them. But are they really alone in the house? And who will know if something goes wrong?
In 1851, seventeen-year-old Roan arrives at the Mill House as a ward–one of three, all with something to hide from their new guardian. When Roan learns that she is connected to an ancient secret, she must escape the house before she is trapped forever.
1583. Hermione, a new young bride, accompanies her husband to the wilds of North Wales where he plans to build the largest water mill and mansion in the area. But rumors of unholy rituals lead to a tragic occurrence and she will need all her strength to defeat it.
Three women, centuries apart, drawn together by one Unholy Pact. A pact made by a man who, more than a thousand years later, may still be watching…
Storm & Fury | Jennifer L. Armentrout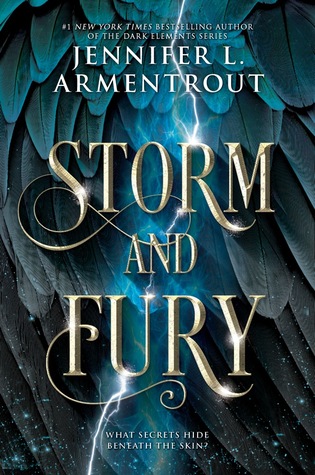 Pub. Date: June 11th
Eighteen-year-old Trinity Marrow may be going blind, but she can see and communicate with ghosts and spirits. Her unique gift is part of a secret so dangerous that she's been in hiding for years in an isolated compound fiercely guarded by Wardens—gargoyle shape-shifters who protect humankind from demons. If the demons discover the truth about Trinity, they'll devour her, flesh and bone, to enhance their own powers.
When Wardens from another clan arrive with disturbing reports that something out there is killing both demons and Wardens, Trinity's safe world implodes. Not the least because one of the outsiders is the most annoying and fascinating person she's ever met. Zayne has secrets of his own that will upend her world yet again—but working together becomes imperative once demons breach the compound and Trinity's secret comes to light. To save her family and maybe the world, she'll have to put her trust in Zayne. But all bets are off as a supernatural war is unleashed…
Rise | Ellen Goodlett
Pub. Date: June 11th
Sisters Akeylah, Ren, and Zofi are all a step closer to their dying father's throne, a step closer to the crown that will allow one of them to rule over Kolonya. But the sisters' pasts continue to haunt them. Each hides a secret marked with blood and betrayal, and now their blackmailer is holding nothing back. When King Andros discovers the sisters' traitorous pasts, the consequences will shake the entire kingdom to its core.
As Kolonya's greatest threat stalks closer and closer, weaving a web of fear and deceit around Ren, Zofi, and Akeylah, even the people they love are under suspicion. If the sisters are going to survive, they'll have to learn to trust each other above all else and work together, not only to save themselves, but to protect everyone and everything they hold dear.
Tell Me How You Really Feel | Aminah Mae Safi
Pub. Date: June 11th
Sana Khan is a cheerleader and a straight A student. She's the classic (somewhat obnoxious) overachiever determined to win.
Rachel Recht is a wannabe director who's obsesssed with movies and ready to make her own masterpiece. As she's casting her senior film project, she knows she's found the perfect lead – Sana.
There's only one problem. Rachel hates Sana. Rachel was the first girl Sana ever asked out, but Rachel thought it was a cruel prank and has detested Sana ever since.
Told in alternative viewpoints and inspired by classic romantic comedies, this engaging and edgy YA novel follows two strongwilled young women falling for each other despite themselves.
Something Like Gravity | Amber Smith
Pub. Date: June 18th
Chris and Maia aren't off to a great start.
A near-fatal car accident first brings them together, and their next encounters don't fare much better. Chris's good intentions backfire. Maia's temper gets the best of her.
But they're neighbors, at least for the summer, and despite their best efforts, they just can't seem to stay away from each other.
The path forward isn't easy. Chris has come out as transgender, but he's still processing a frightening assault he survived the year before. Maia is grieving the loss of her older sister and trying to find her place in the world without her. Falling in love was the last thing on either of their minds.
But would it be so bad if it happened anyway?
Soul of the Sword | Julie Kagawa
Pub. Date: June 18th
One thousand years ago, a wish was made to the Harbinger of Change and a sword of rage and lightning was forged. Kamigoroshi. The Godslayer. It had one task: to seal away the powerful demon Hakaimono.
Now he has broken free.
Kitsune shapeshifter Yumeko has one task: to take her piece of the ancient and powerful scroll to the Steel Feather temple in order to prevent the summoning of the Harbinger of Change, the great Kami Dragon who will grant one wish to whomever holds the Scroll of a Thousand Prayers. But she has a new enemy now. The demon Hakaimono, who for centuries was trapped in a cursed sword, has escaped and possessed the boy she thought would protect her, Kage Tatsumi of the Shadow Clan.
Hakaimono has done the unthinkable and joined forces with the Master of Demons in order to break the curse of the sword and set himself free. To overthrow the empire and cover the land in darkness, they need one thing: the Scroll of a Thousand Prayers. As the paths of Yumeko and the possessed Tatsumi cross once again, the entire empire will be thrown into chaos.
The Art of Breaking Things | Laura Sibson
Pub. Date: June 18th
Seventeen-year-old Skye has her sights set on one thing: getting the heck out of Dodge. Art school is her ticket out and she's already been accepted to her first choice, MICA. All she has to do is survive her senior year, not get too drunk at parties, and be there for her little sister, Emma. Sure, she's usually battling a hangover when she drives to pick Emma up, but she has everything under control. Until he returns.
When her mom's ex-boyfriend slithers his way back into her family, it's all Skye can do to keep the walls of her world from crumbling. Her family has no idea Skye has been guarding a dark secret about her past–about him–and she never thought she would have to face him again. She knows she has to get away from him at all costs. But how can she abandon Emma? Skye's heart is torn between escaping the man who hurt her years ago and protecting her loved ones from the monster in their midst. Running away from her fears isn't an option. To save her sister–and herself–she'll have to break all the rules.
The Evil Queen | Gena Showalter
Pub. Date: June 25th
Evil isn't born, it's made. One thought and action at a time. Take a good look at what you've made.
Far, far away, in the realm of Enchantia, creatures of legend still exist, magic is the norm and fairy tales are real. Except, fairy tales aren't based on myths and legends of the past—they are prophecies of the future.
Raised in the mortal realm, Everly Morrow has no idea she's a real life fairy tale princess—until she manifests an ability to commune with mirrors.
Look. See… What will one peek hurt?
Soon, a horrifying truth is revealed. She is fated to be Snow White's greatest enemy, the Evil Queen.
With powers beyond her imagination or control—and determined to change Fate itself—Everly returns to the land of her birth. There, she meets Roth Charmaine, the supposed Prince Charming. Their attraction is undeniable, but their relationship is doomed.
As bits and pieces of the prophecy unfold, Everly faces one betrayal after another, and giving in to her dark side proves more tempting every day. Can she resist, or will she become the queen—and villain—she was born to be?
Call It What You Want | Brigid Kemmerer
Pub. Date: June 25th
When his dad is caught embezzling funds from half the town, Rob goes from popular lacrosse player to social pariah. Even worse, his father's failed suicide attempt leaves Rob and his mother responsible for his care.
Everyone thinks of Maegan as a typical overachiever, but she has a secret of her own after the pressure got to her last year. And when her sister comes home from college pregnant, keeping it from her parents might be more than she can handle.
When Rob and Maegan are paired together for a calculus project, they're both reluctant to let anyone through the walls they've built. But when Maegan learns of Rob's plan to fix the damage caused by his father, it could ruin more than their fragile new friendship…
This captivating, heartfelt novel asks the question: Is it okay to do something wrong for the right reasons?
Wicked Fox | Kat Cho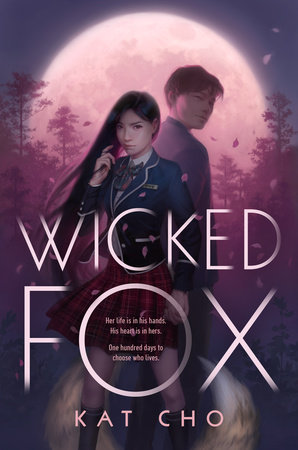 Pub. Date: June 25th
Eighteen-year-old Gu Miyoung has a secret–she's a gumiho, a nine-tailed fox who must devour the energy of men in order to survive. Because so few believe in the old tales anymore, and with so many evil men no one will miss, the modern city of Seoul is the perfect place to hide and hunt.
But after feeding one full moon, Miyoung crosses paths with Jihoon, a human boy, being attacked by a goblin deep in the forest. Against her better judgment, she violates the rules of survival to rescue the boy, losing her fox bead–her gumiho soul–in the process.
Jihoon knows Miyoung is more than just a beautiful girl–he saw her nine tails the night she saved his life. His grandmother used to tell him stories of the gumiho, of their power and the danger they pose to humans. He's drawn to her anyway.
With murderous forces lurking in the background, Miyoung and Jihoon develop a tenuous friendship that blossoms into something more. But when a young shaman tries to reunite Miyoung with her bead, the consequences are disastrous . . . forcing Miyoung to choose between her immortal life and Jihoon's. 
What June new releases are you most excited to read? Have you read any of the books I've mentioned above? Let me know in the comments!
Follow me on BlogLovin'
Goodreads | Instagram | Twitter | Contact Me