Hello bookworms! I'm Nia and today I'm going to be talking about the books I read this past March.
I know this is pretty late to post this wrap up, but these past few months have been crazy busy for me, and usually wrap ups take a very long time to write, so I'm still posting this because I want to talk about my thoughts on the books I read. I'm going to try and change certain things in the future so that'll be easy for me, but hopefully I'll be posting future wrap ups in time.
Without any further ado, let's begin with my March wrap up!
Behind the Hands that Kill | J. A. Redmerski
⭐️⭐️⭐️⭐️
Okay, I've said multiple times that I was going to wait a bit more until reading the next installment of this series because I'm obsessed with them so far and I want more books, but I was weak and couldn't resist to know what was going to happen next, and though I really enjoyed it and think the ending was so incredibly mind blowing, I didn't love it as much as the previous books, which is sad but true.
The thing I felt about this book was that it acted as a bridge between the fifth and the seventh installment, and though it helped to get to know the characters so much more (especially Victor), there was a lack of plot during some part of the story, and others were a bit repetitive.
Still, I really enjoyed Izabel's character development in this installment, because I feel se was such a badass and strong character, and we got to see a more independent part of her in this book.
It was still a very fast paced story and it was just as easy to immerse myself as the previous books, and I cannot wait to know what is going to happen in the sequel.
Even professional killers need vacations, but for Victor Faust, his vacation in Venezuela is about more than relaxation and time alone with Izabel Seyfried. It is a chance for him to come clean to Izabel: to tell her the truth about why he sent her to Italy with his brother, the truth behind his interest in Nora Kessler, and about his knowledge of Izabel's child with her former captor. But before Victor can spill his soul, reality proves that for some killers, vacations are just pipe-dreams.
Attacked and kidnapped, Izabel finds herself stuffed in a suitcase, while Victor later wakes up imprisoned in a cage. In any other situation, Victor would find a way out and save himself and the woman he loves—but not this time. When the identities of their kidnappers are revealed, Victor loses all hope, and begins the mental process of accepting his and Izabel's last moments together. And Izabel's final moments of life.
As if his circumstances are not complicated enough, members of Vonnegut's Order are finally closing in on Victor. And when they do, he comes face-to-face with someone else he once knew and loved, who could either help him, or make a grave situation much worse. Victor's past has finally caught up with him: the women he has cared for, loved, and killed; the families he has destroyed; the unforgivable crimes he has committed. And now he must face the consequences, and pay the ultimate price for absolution.
But when it is all over, Victor may not have the strength to pick up what is left and move on. Because the event changes him. Because love changed him. And because, unlike before when he thought it is was for the best, he cannot imagine a life without Izabel in it.
Slayer | Kiersten White
⭐️⭐️⭐️.5
I was super excited to read this book because when I was younger I was obsessed with Buffy, and so reading a book about it after all this time was just so cool, and though overall I ended up really enjoying it, there were some things that I had issues with.
The thing about Slayer was that the beginning was pretty slow and it took a lot for the plot to finally start. I felt that most part of the story was about our main character's conflict about being a slayer and a lot of information about what this society was about in case some people didn't watch Buffy, among some new stuff, and I got pretty bored at times because nothing was actually happening.
The characters were very well written and I enjoyed the interactions between the different cast and the relationship between the two sisters. I liked our protagonist and her inner monologue was pretty interesting, and overall she had a nice evolution, but I feel at times she was quite repetitive, especially while talking about Buffy.
There were some plot twists that I found super predictable, like the love interest's mom being the villain, but I have to say that I wasn't expecting that ending or the hunter being the woman who took care of the children, so I'm still intrigued enough to continue with the next book.
Nina and her twin sister, Artemis, are far from normal. It's hard to be when you grow up at the Watcher's Academy, which is a bit different from your average boarding school. Here teens are trained as guides for Slayers—girls gifted with supernatural strength to fight the forces of darkness. But while Nina's mother is a prominent member of the Watcher's Council, Nina has never embraced the violent Watcher lifestyle. Instead she follows her instincts to heal, carving out a place for herself as the school medic.
Until the day Nina's life changes forever.
Thanks to Buffy, the famous (and infamous) Slayer that Nina's father died protecting, Nina is not only the newest Chosen One—she's the last Slayer, ever. Period.
As Nina hones her skills with her Watcher-in-training, Leo, there's plenty to keep her occupied: a monster fighting ring, a demon who eats happiness, a shadowy figure that keeps popping up in Nina's dreams…
But it's not until bodies start turning up that Nina's new powers will truly be tested—because someone she loves might be next.
One thing is clear: Being Chosen is easy. Making choices is hard.
King of Scars | Leigh Bardugo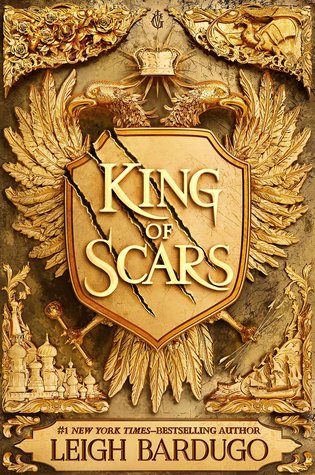 ⭐️⭐️⭐️⭐️
I knew this was a pretty hyped up book and I was super excited to read it like everyone else, and overall I was so pleasantly surprised, because even though I was super intrigued I didn't go with very high expectations, and I think that was one of the reasons why I enjoyed it that much.
Something that I have to admit it that it took a while for the plot to start developing. It had a very slow start where we were mostly following these cast of characters and I felt not much was happening, and I'm not sure if it was because the author wanted to give some background to the reader or why, but it took a lot.
However the strongest part of the book was the characters. I adored going back to these particular ones because they have become some of my favorites. I have to say that in the Grisha I wasn't the biggest fan of Zoya, but in King of Scars I freaking loved her. She was such a strong and complex character, and it was incredible to read from her perspective, because she added a lot of new elements to the story. She was realistically flawed, and that made me connect with her while reading the novel. I was also so pumped when I knew that Nina was going to have a POV in this book, and to be honest, I fell in love even more with her in this installment. She's such an incredibly powerful and badass female character, and I cannot wait to see what awaits her.
There were some plot points in the book that I'm still not really sure what I think about and if I like them or not, but I'm very curious to see where Leigh Bardugo is going to take those storylines.
Despite being quite a slow burning book and one where not many things happened, there were a lot of plot twists that kept me at the edge of my sear wanting to know what was going to happen to them and if all of them were going to be okay, and that kept me invested.
Overall, because I went with no expectations, I was so pleasantly surprised by how invested in the characters I was and how much I enjoyed the book, and I cannot wait to know what's going to happen in the sequel.
Nikolai Lantsov has always had a gift for the impossible. No one knows what he endured in his country's bloody civil war—and he intends to keep it that way. Now, as enemies gather at his weakened borders, the young king must find a way to refill Ravka's coffers, forge new alliances, and stop a rising threat to the once-great Grisha Army.
Yet with every day a dark magic within him grows stronger, threatening to destroy all he has built. With the help of a young monk and a legendary Grisha Squaller, Nikolai will journey to the places in Ravka where the deepest magic survives to vanquish the terrible legacy inside him. He will risk everything to save his country and himself. But some secrets aren't meant to stay buried—and some wounds aren't meant to heal.
Ruckus | L. J. Shen
⭐️⭐️⭐️⭐️
Rosie
They say that life is a beautiful lie and death a painful truth. They're right. No one has ever made me feel more alive than the guy who serves as a constant reminder that my clock is ticking. He is my forbidden, shiny apple. The striking fallacy to my blunt, raw, truth. He is also my sister's ex-boyfriend. One thing you should know before you judge me; I saw him first. I craved him first. I loved him first. Eleven years later, he waltzed into my life, demanding a second chance. Dean Cole wants to be my bronze horseman. My white knight has finally arrived. Hopefully, he isn't too late.
Dean
They say the brightest stars burn out the fastest. They're right. She sets my mind on fire. All smart mouth, snarky attitude and a huge heart. In a world where everything is dull, she shines like fucking Sirius. Eleven years ago, fate tore us apart. This time, I dare it to try. Getting to her is a battlefield, but man, that's why they call me Ruckus. Rosie LeBlanc is about to find out how hard I can fight. And conquering her will be the sweetest victory.
Last Girl Lied To | L. E. Flynn
⭐️⭐️
The premise of this book sounded incredible, and I went with pretty high expectations because I enjoyed her debut novel back when I first read it, but unfortunately I was so let down by its outcome. This was more a personal me thing, but I had so many issues with it, and though there were certain elements that I liked and found intriguing, those didn't redeem the story for me.
I feel like there was something about this plot and characters that made me feel disconnected to the story. Though I think the mystery was quite well put together and I enjoyed following that storyline, I feel the pacing was a bit off. Sometimes there were a lot of things happening and there was a lot of information given to the reader, and other times were quite repetitive and boring.
The characters weren't my favorite, either. I appreciated how much our main character cared about her friend, and everything she did to find the truth, but I feel we didn't get to know more about her that wasn't related to her friendship with the other girl. Neither of the characters were really complex or unique, and there were some that only appeared once and weren't really that important. T
here was also a romance that I didn't like at all. It wasn't cohesive with the storyline the reader was following and completely unnecessary, and didn't add anything to the plot nor the character. I get why it was done that way, but I think it could have been done differently and have more impact on the reader.
When it comes to the ending I was pretty let down. I tend to be really good at figuring out mysteries and who killed who in books, and this was no different. However, I guess I was expecting more, because I found the ending not only predictable but also quite underwhelming. The book was reaching its climax and I was expecting to be surprised or blown away, but I didn't feel anything.
So yeah, overall I think this book had a really cool concept and potential, but I was expecting something much more surprising.
Something made him angry that night.Something made her cry.Something made Trixie disappear.What if it was all the same thing?
Fiona claims she doesn't remember anything about the night her best friend left a party early and walked into the ocean. But the truth is, she wishes she could forget.
Trixie's disappearance is ruled a suicide, but Fiona starts to believe that Trixie isn't really dead. Piecing together the trail of a girl who doesn't want to be found leads her to Jasper, Trixie's former friend with benefits, and Beau—the boy who turned Fiona down, who loved someone else, who might be happy Trixie is gone.
The closer Fiona gets to finding out what happened, and the closer she gets to Jasper and Beau, the more she realizes that the girl she knew better than anyone may have been a carefully constructed lie—and she might have been waiting to disappear the entire time.
The Unhoneymooners | Christina Lauren
⭐️⭐️⭐️⭐️.75
Olive is always unlucky: in her career, in love, in…well, everything. Her identical twin sister Amy, on the other hand, is probably the luckiest person in the world. Her meet-cute with her fiancé is something out of a romantic comedy (gag) and she's managed to finance her entire wedding by winning a series of Internet contests (double gag). Worst of all, she's forcing Olive to spend the day with her sworn enemy, Ethan, who just happens to be the best man.
Olive braces herself to get through 24 hours of wedding hell before she can return to her comfortable, unlucky life. But when the entire wedding party gets food poisoning from eating bad shellfish, the only people who aren't affected are Olive and Ethan. And now there's an all-expenses-paid honeymoon in Hawaii up for grabs.
Putting their mutual hatred aside for the sake of a free vacation, Olive and Ethan head for paradise, determined to avoid each other at all costs. But when Olive runs into her future boss, the little white lie she tells him is suddenly at risk to become a whole lot bigger. She and Ethan now have to pretend to be loving newlyweds, and her luck seems worse than ever. But the weird thing is that she doesn't mind playing pretend. In fact, she feels kind of… lucky.
Descendant of the Crane |Joan He
⭐️⭐️⭐️.75
This book was one of my most anticipated releases of this year, and I was so excited to read it because the premise sounded incredible and like something right up my alley, and though I had some minor issues with the story and the characters, I have to say that I really enjoyed it.
Something I really enjoyed and appreciated about this story was how the author managed to create something entirely different and unique from tropes we are very aware of and have read or seen multiple times. She did such an incredible job at writing those interactions between the characters and building something so complex and interesting to follow.
I also found the world building super interesting. Though there was still more to add to this world and for us to see and know about, what was introduced to us in this installment was so rich and intriguing, and so very politically driven that I honestly didn't know what to expect. There were some twists and turns that kept me at the edge of my seat biting my nails, and that was one of my favorite parts.
However, I found that the pacing of the story was pretty slow. It took a lot for the story to build and the plot to start, and once it did there wasn't much action, and it was more focused on the dynamics and interactions between the characters.
When it comes to the characters, I admit I have a love/hate relationship with them. Though I enjoyed the dynamics between our two main characters, there was something about their personalities that kept me at a distance. I think that the relationship between these two characters was so smoothly done and well written, but I didn't love them as individuals.
There were also some plot twists that I found a bit too predictable and didn't surprise me as much as I wanted to, but there were other elements that were intriguing enough to redeem the book for me.
Overall, I think this was a pretty solid book and I enjoyed what was introduced to us in this installment. I think that the sequel might be better because this felt more like a prologue and the actual story and drama will be starting on book two, so I cannot wait.
Tyrants cut out hearts. Rulers sacrifice their own.
Princess Hesina of Yan has always been eager to shirk the responsibilities of the crown, but when her beloved father is murdered, she's thrust into power, suddenly the queen of an unstable kingdom. Determined to find her father's killer, Hesina does something desperate: she engages the aid of a soothsayer—a treasonous act, punishable by death… because in Yan, magic was outlawed centuries ago.
Using the information illicitly provided by the sooth, and uncertain if she can trust even her family, Hesina turns to Akira—a brilliant investigator who's also a convicted criminal with secrets of his own. With the future of her kingdom at stake, can Hesina find justice for her father? Or will the cost be too high?
In this shimmering Chinese-inspired fantasy, debut author Joan He introduces a determined and vulnerable young heroine struggling to do right in a world brimming with deception.
Enchantée | Gita Trelease
⭐️⭐️
Paris in 1789 is a labyrinth of twisted streets, filled with beggars, thieves, revolutionaries—and magicians…
When smallpox kills her parents, Camille Durbonne must find a way to provide for her frail, naive sister while managing her volatile brother. Relying on petty magic—la magie ordinaire—Camille painstakingly transforms scraps of metal into money to buy the food and medicine they need. But when the coins won't hold their shape and her brother disappears with the family's savings, Camille must pursue a richer, more dangerous mark: the glittering court of Louis XVI and Marie Antoinette.
With dark magic forbidden by her mother, Camille transforms herself into the 'Baroness de la Fontaine' and is swept up into life at the Palace of Versailles, where aristocrats both fear and hunger for la magie. There, she gambles at cards, desperate to have enough to keep herself and her sister safe. Yet the longer she stays at court, the more difficult it becomes to reconcile her resentment of the nobles with the enchantments of Versailles. And when she returns to Paris, Camille meets a handsome young balloonist—who dares her to hope that love and liberty may both be possible.
But la magie has its costs. And when Camille loses control of her secrets, the game she's playing turns deadly. Then revolution erupts, and she must choose—love or loyalty, democracy or aristocracy, freedom or magic—before Paris burns…
Through the White Wood | Jessica Leake
⭐️⭐️⭐️⭐️.25
Wow, I was so pleasantly surprised by this book! I admit I'm a sucker for anything that has any type of Russian folklore in it, so after reading the synopsis I needed to read it so desperately.
I think I enjoyed this novel even more than her debut, mostly because the plot was so entertaining and fast paced and easy to follow, and also it had some Russian folklore in it, which is something that I always love seeing in a book. The beginning was a bit slow and I would have loved to know more about the magic system and the world building, but for a standalone I think we got to see a pretty big picture of the world and everything in it.
Something that I completely adored was the characters. I think they all had such different personalities but somehow their interactions were so smooth and realistic. I enjoyed the relationship between our protagonist and her love interest, and the development not only as individual characters but also as a couple.
Overall, despite some minor issues I had with some elements of the story, I still think this was such a great novel and I really enjoyed the plot and the characters. It had some tropes that I like seeing in a book, along with some other things that made the story stood out to me.
When Katya loses control of her power to freeze, her villagers banish her to the palace of the terrifying Prince Sasha in Kiev.
Expecting punishment, she is surprised to find instead that Sasha is just like her—with the ability to summon fire. Sasha offers Katya friendship and the chance to embrace her power rather than fear it.
But outside the walls of Kiev, Sasha's enemies are organizing an army of people bent on taking over the entire world.
Together, Katya's and Sasha's powers are a fearsome weapon. But as their enemies draw nearer, will fire and frost be enough to save the world? Or will Katya and Sasha lose everything they hold dear?
Inspired by Russian mythology, this lushly romantic, intensely imaginative, and fiercely dramatic story is about learning to fight for yourself, even when the world is falling down around you.
Long Way Home | Katie McGarry
⭐️⭐️⭐️⭐️
It's the code her father, a member of the Reign of Terror motorcycle club, raised her to live by. Yet when her dad is killed carrying out Terror business, Violet knows it's up to her to do the saving. To protect herself, and her vulnerable younger brother, she needs to cut all ties with the club—including Chevy, the boy she's known and loved her whole life.
But when a rival club comes after Violet, exposing old secrets and making new threats, she's forced to question what she thought she knew about her father, the Reign of Terror, and what she thinks she wants. Which means re-evaluating everything: love, family, friends . . . and forgiveness.
Caught in the crosshairs between loyalty and freedom, Violet must decide whether old friends can be trusted—and if she's strong enough to be the one person to save them all.
Red, White and Royal Blue | Casey McGuiston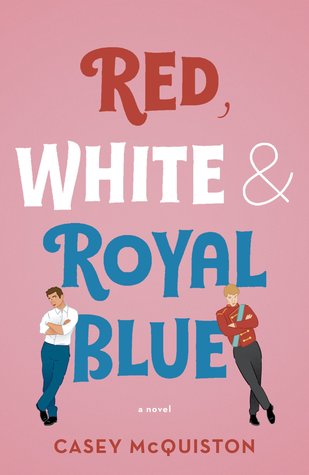 ⭐️⭐️⭐️⭐️
This book had been circulating all of my social media for weeks, and I admit that was one of the main reasons why I was so interesting in reading this title, and now I can totally understand the hype because this book was such a fluffy and adorable romance story and I really enjoyed it.
I have to say that probably the main reason why I didn't love this book as much as everyone else was because I was in reading slump by the time I read this novel, and because of that I didn't give it 5 stars. However, that didn't keel me from enjoying the storyline or finding it cute and amazing.
I really enjoyed the cast of characters that was in this novel. Though there were times I wasn't as engaged with them, I still think they were such incredible individuals. I adored the dynamics between the two protagonists and how their relationship evolved as the story progressed. Their interactions didn't feel forced, and I think the relationship's development was so well done and angsty at times.
The book was also such fast paced. I still think it was a bit too long and there were some things that could have been edited out, because there were times where I was a bit bored (again, I don't know if me being in a reading slump had something to do with that), but apart from that, there were times where I was laughing out loud because these characters were simply hilarious.
Overall, I think this was such a refreshing and fast paced story, with incredible, funny and complex characters and I was pretty surprised by how much I enjoyed it.
First Son Alex Claremont-Diaz is the closest thing to a prince this side of the Atlantic. With his intrepid sister and the Veep's genius granddaughter, they're the White House Trio, a beautiful millennial marketing strategy for his mother, President Ellen Claremont. International socialite duties do have downsides—namely, when photos of a confrontation with his longtime nemesis Prince Henry at a royal wedding leak to the tabloids and threaten American/British relations.
The plan for damage control: staging a fake friendship between the First Son and the Prince. Alex is busy enough handling his mother's bloodthirsty opponents and his own political ambitions without an uptight royal slowing him down. But beneath Henry's Prince Charming veneer, there's a soft-hearted eccentric with a dry sense of humor and more than one ghost haunting him.
As President Claremont kicks off her reelection bid, Alex finds himself hurtling into a secret relationship with Henry that could derail the campaign and upend two nations. And Henry throws everything into question for Alex, an impulsive, charming guy who thought he knew everything: What is worth the sacrifice? How do you do all the good you can do? And, most importantly, how will history remember you?
Nemesis | Anna Banks
⭐️⭐️⭐️
Princess Sepora of Serubel is the last Forger in all the five kingdoms. The spectorium she creates provides energy for all, but now her father has found a way to weaponize it, and his intentions to incite war force her to flee his grasp. She escapes across enemy lines into the kingdom of Theoria, but her plans to hide are thwarted when she is captured and placed in the young king's servitude.
Tarik has just taken over rulership of Theoria, and must now face a new plague sweeping through his kingdom and killing his citizens. The last thing he needs is a troublesome servant vying for his attention. But Mistress Sepora will not be ignored. When the two finally meet face-to-face, they form an unlikely bond that complicates life in ways neither of them could have imagined.
Sepora's gift may be able to save Tarik's kingdom. But should she risk exposing herself and her growing feelings for her nemesis?
Dark Triumph | Robin LaFevers
⭐️⭐️⭐️⭐️
I lean forward, pushing my body out past the battlements. The wind plucks at my cloak, buffets against me, as if it would carry me off in flight, just like the birds or the knight's soul. Let go, it cries, I will take you far, far away. I want to laugh at the exhilarating feeling, I will catch you, it whistles seductively.
The convent has returned Sybella to a life that nearly drove her mad. Her father's rage and brutality are terrifying, and her brother's love is equally monstrous. When she discovers an unexpected ally imprisoned in the dungeons, will a a daughter of Death find something other than vengeance to live for?
Ruse | Cindy Pon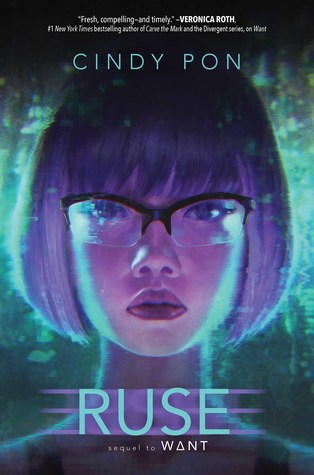 ⭐️⭐️⭐️.5
I was so excited to read this installment because I really enjoyed the first book back when I first read it last year, so I had such high expectations with this one, and though I found that some parts were super interesting and I overall enjoyed the plot and what we discovered in this sequel, I feel there were some things that could potentially have been better.
One of the strongest part of this book and the series in general is the pacing. I didn't struggle getting into the story or remembering everything that happened in the previous installment, and Ruse was such a fast paced read with lots of action packed scenes that made it super easy to read and enjoy.
It was so much fun to be back into this world and these characters that I loved so much in Want, and though not much happened between them that made them evolved throughout the story, I still really enjoyed their interactions and dynamics, and how valuable their friendship was. I still adored the cast of characters and their different personalities, and I liked how we got to know a bit more about them.
My only complain with this book was that I felt at times like I was reading Want all over again. Tough the plot was completely different, the way it was done made me compare it to the first book, and that made me not enjoy Ruse as much as I hoped to. There were certain elements that seemed a bit repetitive, and I was expecting much more from it.
Overall, this was such a fun and entertaining book, and I enjoyed diving into this world again. Though it didn't reach my expectations, I'm still glad I decided to read it in the first place.
Jason Zhou, his friends, and Daiyu are still recovering from the aftermath of bombing Jin Corp headquarters. But Jin, the ruthless billionaire and Daiyu's father, is out for blood. When Lingyi goes to Shanghai to help Jany Tsai, a childhood acquaintance in trouble, she doesn't expect Jin to be involved. And when Jin has Jany murdered and steals the tech she had refused to sell him, Lingyi is the only one who has access to the encrypted info, putting her own life in jeopardy.
Zhou doesn't hesitate to fly to China to help Iris find Lingyi, even though he's been estranged from his friends for months. But when Iris tells him he can't tell Daiyu or trust her, he balks. The reunited group play a treacherous cat and mouse game in the labyrinthine streets of Shanghai, determined on taking back what Jin had stolen.
When Daiyu appears in Shanghai, Zhou is uncertain if it's to confront him or in support of her father. Jin has proudly announced Daiyu will be by his side for the opening ceremony of Jin Tower, his first "vertical city." And as hard as Zhou and his friends fight, Jin always gains the upper hand. Is this a game they can survive, much less win?
Storm & Fury | Jennifer L. Armentrout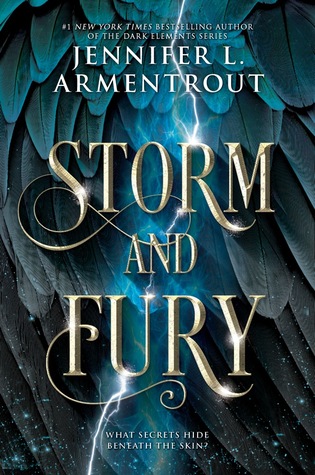 ⭐️⭐️⭐️⭐️
I was super excited to read this book because the Dark Elements is one of my favorite series by Jennifer L. Armentrout, so knowing that there was going to be a spin-off series in that world made me had such high expectations, and overall, though I didn't love it as much as the original series, I still think it was a fantastic first installment, and I for sure will be continuing reading the rest of the books.
Like all of her other books, this one was also pretty addictive. I found that I couldn't put it down until I was finished with it, and I kept being super invested with the characters and the plot, and there were some twists and turns that I wasn't expecting.
I have to admit that back when I first read the Dark Elements, Zayne wasn't my favorite character, but in Storm and Fury I feel he was a more complex and interesting character that made me root more for him and wanting to know what was going to happen. I think he was a mysterious one, and his interactions with Trinity were pretty fun to read.
Something that I adored seeing was some cameos of old characters from the original series. That made me want to start re-reading the books again, and made my heart so warm and fluffy.
Overall, I'll definitely be continuing with the rest of the series, because after than ending I need to know what's going to happen next. Though there were some elements about the story that could potentially be better, I think that it was such a entertaining story to follow and so easy to get to that I can't really complain.
Eighteen-year-old Trinity Marrow may be going blind, but she can see and communicate with ghosts and spirits. Her unique gift is part of a secret so dangerous that she's been in hiding for years in an isolated compound fiercely guarded by Wardens—gargoyle shape-shifters who protect humankind from demons. If the demons discover the truth about Trinity, they'll devour her, flesh and bone, to enhance their own powers.
When Wardens from another clan arrive with disturbing reports that something out there is killing both demons and Wardens, Trinity's safe world implodes. Not the least because one of the outsiders is the most annoying and fascinating person she's ever met. Zayne has secrets of his own that will upend her world yet again—but working together becomes imperative once demons breach the compound and Trinity's secret comes to light.
To save her family and maybe the world, she'll have to put her trust in Zayne. But all bets are off as a supernatural war is unleashed…
Scandalous | L. J. Shen
⭐️⭐️⭐️⭐️
They call him The Mute for a reason.Hard, cold and calculated, he rarely speaks.When he does, it's with disdain.When he does, his words aren't meant for me.When he does, my stomach flips and my world tilts on its axis.He is thirty-three.I am eighteen.He's a single dad and my father's business partner.I'm just a kid to him and his enemy's daughter.He's emotionally unavailable.And I am…feeling. Feeling things I shouldn't feel for him.Trent Rexroth is going to break my heart. The writing isn't just on the wall, it's inked on my soul.And yet, I can't stay away.A scandal is the last thing my family needs. But a scandal is what we're going to give them.And oh, what beautiful chaos it will be.
Killing November | Adrianna Mather
⭐️⭐️⭐️.75
I was so excited to read this novel, because I'm always down for a good mystery, and this had the perfect elements that would made it amazing, so I had such high hopes, and I was pleasantly surprises by how much I enjoyed Killing November and by how fast paced it was.
The plot of the novel was so interesting. I always find that mysteries that take place in boarding schools tend to have those eerie and dark vibes that make the plot of the book flourish so much more, and I think this was no different. Though there was some type of secret society going on, I didn't find it hard to understand everything or get into the story. I also really enjoyed how the author added some historical elements and lessons to the story and made those an important part of the novel.
Something that I also really loved was how atmospheric it was. There was this constant feeling that something bad was going to happen, and that along with the writing made such a great and captivating mystery. I didn't know what was going to happen, and there were certain parts that kept me at the edge of my seat wanting to know what was going on, and that plus that eerie and dark atmosphere took the story to a whole other level.
The characters were quite interesting, though I have to admit that sometimes their interactions were a bit unrealistic. Maybe it was because some of these characters were snobs and the author was trying to write about stereotype wealthy teenagers, but sometimes I just couldn't believe the things they were talking about. Since we were reading the book from our main character's perspective, we were pretty much kept in the dark the entire time, so I really didn't care much about the characters and was focused on trying to solve the mystery.
The ending sadly wasn't what I expected. Though it wasn't bad, it didn't reach my expectations and I found it a bit predictable, and I guess I would have liked to see something different done.
Still, it was such a fast paced and full of action packed scenes and I overall enjoyed how the mystery was done, though I'm pretty sure this is going to have a sequel, because there were a couple of questions left unanswered.
It's a school completely off the grid, hidden by dense forest and surrounded by traps. There's no electricity, no internet, and an eye-for-an-eye punishment system. Classes include everything from Knife-Throwing and Poisons to the Art of Deception and Historical Analysis.
And all of the students are children of the world's most elite strategists—training to become assassins, counselors, spies, and master impersonators. Into this world walks November Adley, who quickly discovers that friends are few in a school where personal revelations are discouraged and competition is everything.
When another student is murdered, all eyes turn to November, who must figure out exactly how she fits into the school's bizarre strategy games before she is found guilty of the crime…or becomes the killer's next victim. 
The Raven's Tale | Cat Winters
⭐️⭐️
This is one of those books that I think the premise sounded absolutely incredible and brilliant and like something that I would absolutely love but ended so disappointed with its outcome. I had such high expectations and I think that the concept was very interesting, but unfortunately I wasn't the biggest fan of the story neither the characters, and was expecting something entirely different.
The plot of this book felt really flat and boring many times throughout the story. There were parts of the novel that were quite repetitive and barely anything was happening, and others where there was too much information given to us. It was such a slow story that I honestly debated DNFing it multiple times, because the plot was a bit weak and the characters weren't my cup of tea.
One of my issues regarding the characters was that the dynamics between them felt quite forced and awkward. Neither of them had many layers and there were times where I felt I was reading the same thing over and over again.
This was such a personal thing but I imagined Poe so much different from the character of this book, and even though I understand that it is fiction, I found him so lanky and not brooding enough. His interactions with his "muse" were so uninteresting, and there was nothing about them that made me empathize with neither of them.
The ending was pretty underwhelming and disappointed. Even though I had my issues with The Raven's Tale, I was still expecting the ending to redeem the story a bit, but I didn't really enjoyed the path the story took and the final scenes were a bit of a flop.
Overall, I had such high expectations but I was so let down by the characters and the plot. This is one of those novels where it's a "me" thing, but I'm still glad I read it.
Seventeen-year-old Edgar Poe counts down the days until he can escape his foster family—the wealthy Allans of Richmond, Virginia. He hungers for his upcoming life as a student at the prestigious new university, almost as much as he longs to marry his beloved Elmira Royster. However, on the brink of his departure, all his plans go awry when a macabre Muse named Lenore appears to him. Muses are frightful creatures that lead Artists down a path of ruin and disgrace, and no respectable person could possibly understand or accept them. But Lenore steps out of the shadows with one request: "Let them see me!" 
The Tiger at Midnight | Swati Teerdhala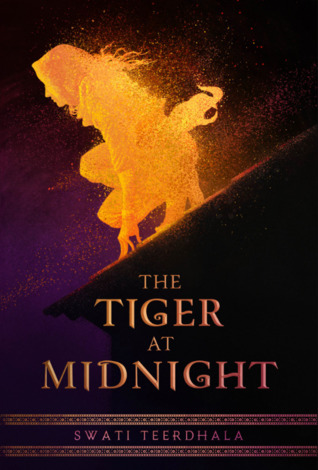 ⭐️⭐️⭐️.5
I was beyond excited to read this book and it was one of my most anticipated releases of this year, so needless to say I went with pretty high expectations into it, and though there were some elements and parts that I found pretty interesting and I really enjoyed, I overall had mixed feelings when it comes to The Tiger at Midnight, and it didn't fully reach my expectations.
I think that the plot was quite generic, and though it started out very strong, as I kept reading the plot was so slow and I got bored and was expecting to see more. There were times where I felt not much was actually happening, and we were stuck at the same place for a while, and when we were reaching the climax of the story, which was supposed to be the peak of the mountain and give us some action packed scenes and information, it felt quite underwhelming.
Something that I really enjoyed about The Tiger at Midnight was the mythology and the spot it took in the novel. Though it wasn't super complex and the book was more focused on the characters, we still got to see a fair picture of the mythology, and let me say I adored everything I learnt so far. It was so fascinating and it added a unique touch to the book and made it stand out to me.
The characters were overall quite generic, in my opinion. Though I didn't hate them, I think they were kind of trope-y and had quite a simple arc. I was expecting to see much more of a development, and their journeys weren't what I was expecting. I just felt like I read about those same characters in other YA books, and I guess I was expecting something more.
Overall, despite having some issues with the characters and the plot of the novel, I enjoyed how fast paced it was, and though it took me a few chapters to get into the story, it was a solid fist book in a series to me.
Esha is a legend, but no one knows. It's only in the shadows that she moonlights as the Viper, the rebels' highly skilled assassin. She's devoted her life to avenging what she lost in the royal coup, and now she's been tasked with her most important mission to date: taking down the ruthless General Hotha.
Kunal has been a soldier since childhood, training morning and night to uphold the power of King Vardaan. His uncle, the general, has ensured that Kunal never strays from the path—even as a part of Kunal longs to join the outside world, which has been growing only more volatile.
Then Esha's and Kunal's paths cross—and an unimaginable chain of events unfolds. Both the Viper and the soldier think they're calling the shots, but they're not the only players moving the pieces. As the bonds that hold their land in order break down and the sins of the past meet the promise of a new future, both rebel and soldier must make unforgivable choices.
Inspired by ancient Indian history and Hindu mythology.
Shadow Me | Tahereh Mafi
⭐️⭐️⭐️⭐️
Juliette is still reeling from Warner's betrayal, and Kenji is trying to balance his friendship with her with his responsibilities as a leader of the resistance against the Reestablishment. Things get even more interesting when an unexpected person from Omega Point's past surfaces.
What books have you read lately and which one has been your favorite? Have you read any of these books? Let me know in the comments!
Follow me on BlogLovin'
Goodreads | Instagram | Twitter | Contact Me