Hello bookworms! I'm Nia and today I'm going to be talking about the books I want to read this month.
Now I feel this month my priority will be reading all of the ARCs that are coming out in July or in June that I haven't read, but I will be also participating in Smutathon, so I'll add a few that I want to read to this list, and hopefully this will be an amazing reading month for me.
Without any further ado, let's start with my TBR!
Spin the Dawn | Elizabeth Lim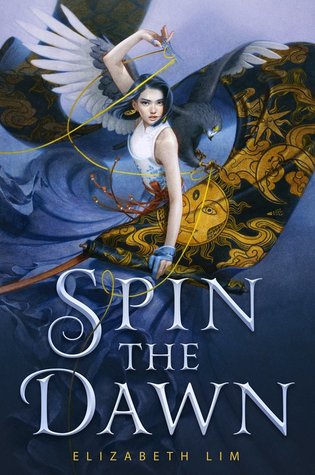 Maia Tamarin dreams of becoming the greatest tailor in the land, but as a girl, the best she can hope for is to marry well. When a royal messenger summons her ailing father, once a tailor of renown, to court, Maia poses as a boy and takes his place. She knows her life is forfeit if her secret is discovered, but she'll take that risk to achieve her dream and save her family from ruin. There's just one catch: Maia is one of twelve tailors vying for the job.
Backstabbing and lies run rampant as the tailors compete in challenges to prove their artistry and skill. Maia's task is further complicated when she draws the attention of the court magician, Edan, whose piercing eyes seem to see straight through her disguise.
And nothing could have prepared her for the final challenge: to sew three magic gowns for the emperor's reluctant bride-to-be, from the laughter of the sun, the tears of the moon, and the blood of stars. With this impossible task before her, she embarks on a journey to the far reaches of the kingdom, seeking the sun, the moon, and the stars, and finding more than she ever could have imagined.
A Lesson in Thorns | Sierra Simone
When librarian Poe Markham takes the job at Thornchapel, she only wants two things: to stay away from Thornchapel's tortured owner, Auden Guest, and to find out what happened to her mother twelve years ago. It should be easy enough—keep her head down while she works in the house's crumbling private library and while she hunts down any information as to why this remote manor tucked into the fog-shrouded moors would be the last place her mother was seen alive. But Thornchapel has other plans for her…
As Poe begins uncovering the house's secrets, both new and old, she's also pulled into the seductive, elegant world of Auden and his friends—and drawn to Auden's worst enemy, the beautiful and brooding St. Sebastian. And as Thornchapel slowly tightens its coil of truths and lies around them, Poe, Auden and St. Sebastian start unravelling into filthy, holy pleasure and pain. Together, they awaken a fate that will either anoint them or leave them in ashes… 
Wilder Girls | Rory Power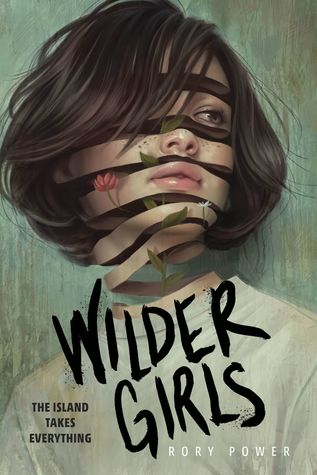 It's been eighteen months since the Raxter School for Girls was put under quarantine. Since the Tox hit and pulled Hetty's life out from under her.
It started slow. First the teachers died one by one. Then it began to infect the students, turning their bodies strange and foreign. Now, cut off from the rest of the world and left to fend for themselves on their island home, the girls don't dare wander outside the school's fence, where the Tox has made the woods wild and dangerous. They wait for the cure they were promised as the Tox seeps into everything.
But when Byatt goes missing, Hetty will do anything to find her, even if it means breaking quarantine and braving the horrors that lie beyond the fence. And when she does, Hetty learns that there's more to their story, to their life at Raxter, than she could have ever thought true.
The Wedding Party | Jasmine Guillory
Maddie and Theo have two things in common:
1. Alexa is their best friend
2. They hate each other

After an "oops, we made a mistake" night together, neither one can stop thinking about the other. With Alexa's wedding rapidly approaching, Maddie and Theo both share bridal party responsibilities that require more interaction with each other than they're comfortable with. Underneath the sharp barbs they toss at each other is a simmering attraction that won't fade. It builds until they find themselves sneaking off together to release some tension when Alexa isn't looking, agreeing they would end it once the wedding is over. When it's suddenly pushed up and they only have a few months left of secret rendezvouses, they find themselves regretting that the end is near. Two people this different can't possibly have a connection other than the purely physical, right?
But as with any engagement with a nemesis, there are unspoken rules that must be abided by. First and foremost, don't fall in love.
Within Ash and Stardust | Chani Lynn Feener
On Earth, Delaney is a normal teenager who recently graduated high school with a fantastic best friend and a loving boyfriend.
But Delaney isn't on Earth. She's on Xenith, a war-torn planet half a galaxy away. Originally mistaken for an alien princess, Delaney has gone from kidnapped imposter to the recognized heir to an alien throne. Oh, and she's engaged to the prince of an enemy nation whose ruthless father is on the warpath.
Torn between two planets, two fates, and two loves, Delaney is finally ready to choose her own destiny.
Pretty Reckless | L. J. Shen
Penn
They say revenge is a dish best served cold.
I'd had four years to stew on what Daria Followhill did to me, and now my heart was completely iced.
I took her first kiss.
She took the only thing I loved.
I was poor.
She was rich.
The good thing about circumstances? They can change. Fast.
Now, I'm her parents' latest shiny project.
Her housemate. Her tormentor. The captain of the rival football team she hates so much.
Yeah, baby girl, say it—I'm your foster brother.
There's a price to pay for ruining the only good thing in my life, and she's about to shell out some serious tears.
Daria Followhill thinks she is THE queen. I'm about to prove to her that she's nothing but a spoiled princess.
Daria
Everyone loves a good old unapologetic punk.
But being a bitch? Oh, you get slammed for every snarky comment, cynical eye roll, and foot you put in your adversaries' way.
The thing about stiletto heels is that they make a hell of a dent when you walk all over the people who try to hurt you.
In Penn Scully's case, I pierced his heart until he bled out, then left it in a trash can on a bright summer day.
Four years ago, he asked me to save all my firsts for him.
Now he lives across the hall, and I want nothing more than to be his last everything.
His parting words when he gave me his heart were that nothing in this world is free.
Now? Now he is making me pay.
 Sorcery of Thorns | Margaret Rogerson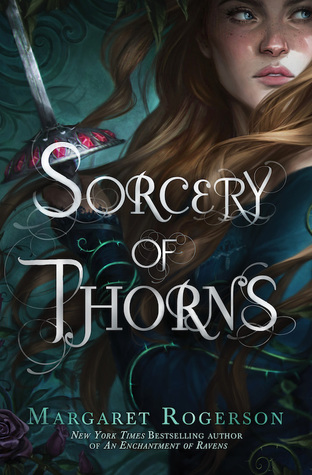 All sorcerers are evil. Elisabeth has known that as long as she has known anything. Raised as a foundling in one of Austermeer's Great Libraries, Elisabeth has grown up among the tools of sorcery—magical grimoires that whisper on shelves and rattle beneath iron chains. If provoked, they transform into grotesque monsters of ink and leather. She hopes to become a warden, charged with protecting the kingdom from their power.
Then an act of sabotage releases the library's most dangerous grimoire. Elisabeth's desperate intervention implicates her in the crime, and she is torn from her home to face justice in the capital. With no one to turn to but her sworn enemy, the sorcerer Nathaniel Thorn, and his mysterious demonic servant, she finds herself entangled in a centuries-old conspiracy. Not only could the Great Libraries go up in flames, but the world along with them.
As her alliance with Nathaniel grows stronger, Elisabeth starts to question everything she's been taught—about sorcerers, about the libraries she loves, even about herself. For Elisabeth has a power she has never guessed, and a future she could never have imagined.
The Merciful Crow | Margaret Owen
A future chieftain
Fie abides by one rule: look after your own. Her Crow caste of undertakers and mercy-killers takes more abuse than coin, but when they're called to collect royal dead, she's hoping they'll find the payout of a lifetime.
A fugitive prince
When Crown Prince Jasimir turns out to have faked his death, Fie's ready to cut her losses—and perhaps his throat. But he offers a wager that she can't refuse: protect him from a ruthless queen, and he'll protect the Crows when he reigns.
A too-cunning bodyguard
Hawk warrior Tavin has always put Jas's life before his, magically assuming the prince's appearance and shadowing his every step. But what happens when Tavin begins to want something to call his own?
Shatter the Sky | Rebecca Kim Wells
Raised among the ruins of a conquered mountain nation, Maren dreams only of sharing a quiet life with her girlfriend Kaia—until the day Kaia is abducted by the Aurati, prophetic agents of the emperor, and forced to join their ranks. Desperate to save her, Maren hatches a plan to steal one of the emperor's coveted dragons and storm the Aurati stronghold.
If Maren is to have any hope of succeeding, she must become an apprentice to the Aromatory—the emperor's mysterious dragon trainer. But Maren is unprepared for the dangerous secrets she uncovers: rumors of a lost prince, a brewing rebellion, and a prophecy that threatens to shatter the empire itself. Not to mention the strange dreams she's been having about a beast deep underground…
With time running out, can Maren survive long enough to rescue Kaia from impending death? Or could it be that Maren is destined for something greater than she could have ever imagined?
Soul of the Sword | Julie Kagawa
One thousand years ago, a wish was made to the Harbinger of Change and a sword of rage and lightning was forged. Kamigoroshi. The Godslayer. It had one task: to seal away the powerful demon Hakaimono.
Now he has broken free.
Kitsune shapeshifter Yumeko has one task: to take her piece of the ancient and powerful scroll to the Steel Feather temple in order to prevent the summoning of the Harbinger of Change, the great Kami Dragon who will grant one wish to whomever holds the Scroll of a Thousand Prayers. But she has a new enemy now. The demon Hakaimono, who for centuries was trapped in a cursed sword, has escaped and possessed the boy she thought would protect her, Kage Tatsumi of the Shadow Clan.
Hakaimono has done the unthinkable and joined forces with the Master of Demons in order to break the curse of the sword and set himself free. To overthrow the empire and cover the land in darkness, they need one thing: the Scroll of a Thousand Prayers. As the paths of Yumeko and the possessed Tatsumi cross once again, the entire empire will be thrown into chaos.
What books do you want to read this month and which one are you most excited about? Do you have any of these on your TBR? Let me know in the comments!
Follow me on BlogLovin'
Goodreads | Instagram | Twitter | Contact Me