Hello bookworms! I'm Nia and today I'm going to be talking about the books I read in the month of April.
Now let me tell you, April was such a great reading month for me. I read a total of 22 books, which is crazy for me. I was so ambitious and managed to do it, guys. And I have to say that there were some books that I adored and really loved, and others that were a bit disappointing.
Without any further ado, let's start with my April wrap up!
Romanov | Nadine Brandes
⭐️⭐️
Everyone who knows me probably will know that Anastasia is one of my favorite movies, and I've been pretty much obsessed with her and the last Romanov dynasty ever since I was a child, so reading a book that not only focuses on her but also in her last months alive not only was exciting but also challenging, and though there were some things that I liked, I overall was pretty disappointed with the whole story.
This is quite a personal review, because Anastasia is something that has been so close to my heart that I tend to judge everything that has to do with her a bit harsh, so that affected a little my experience with the book.
Something that I really liked about Romanov was that despite that it had some magical elements, it was very historically accurate. If someone picked it up without knowing anything about the Romanovs, they'd probably had a fair picture of the different family members in their heads once they finished the book. The author did her research and some points were done quite similarly with what happened in real life.
My main issue was regarding the plot and the magic. I feel the story was a bit weak and lineal, and though we were supposed to be engaged with the characters and what was going to happen, I didn't feel that connection. I think the plot took a long time to finally start, and once it did, there were a lot of things happening in the last few chapters but nothing in the middle, and I got a bit bored. The magic explanations were a bit lacking, and despite it being such a huge part of the story, there was barely any information that could explain to the reader what it was about or how everything worked.
Another problem that I had was with the characters. Like I mentioned before, I have a very specific picture of Anastasia, and since this wasn't technically a retelling, I was expecting to see someone with a different personality than she had. Her inner monologues were sometimes a bit too repetitive, and her interactions with the rest of the characters a bit awkward. I was also hoping to see a deeper and more complex relationship between her and her sisters and brother, and I feel it was eclipsed by the romance.
When it comes to the romance, I have to admit I wasn't the biggest fan of it. Not only it was a bit cheesy, but these two characters barely had any chemistry, and their relationship was super rushed and didn't make the most sense.
Overall, this was such a fast paced story and had some elements that I think were good, but I was expecting much more from it, and unfortunately I was a bit let down.
I received an ARC of this book in exchange for an honest review. This doesn't change my opinion whatsoever. All thoughts are my own.
The history books say I died.
They don't know the half of it.
Anastasia "Nastya" Romanov was given a single mission: to smuggle an ancient spell into her suitcase on her way to exile in Siberia. It might be her family's only salvation. But the leader of the Bolshevik army is after them, and he's hunted Romanov before.
Nastya's only chances of saving herself and her family are to either release the spell and deal with the consequences, or enlist help from Zash, the handsome soldier who doesn't act like the average Bolshevik. Nastya has only dabbled in magic, but it doesn't frighten her half as much as her growing attraction to Zash. She likes him. She thinks he might even like her.
That is, until she's on one side of a firing squad . . . and he's on the other.
Warrior of The Wild | Tricia Levenseller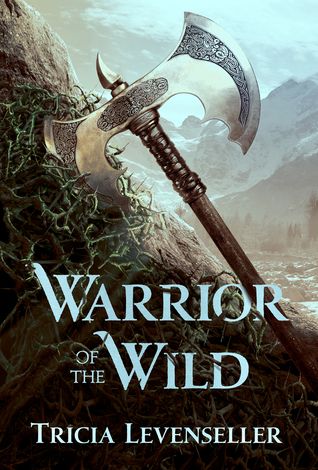 ⭐️⭐️
How do you kill a god?
As her father's chosen heir, eighteen-year-old Rasmira has trained her whole life to become a warrior and lead her village. But when her coming-of-age trial is sabotaged and she fails the test, her father banishes her to the monster-filled wilderness with an impossible quest: to win back her honour, she must kill the oppressive god who claims tribute from the villages each year or die trying.
Midnight Blue | L. J. Shen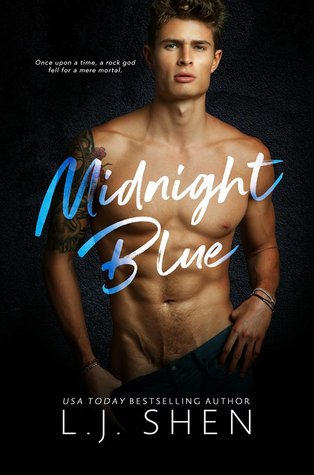 ⭐️⭐️⭐️.5
It should have been easy.
I needed the money. He needed a babysitter to keep him from snorting himself to death.
I was cherry-picked especially for him. Responsible. Optimistic. Warm. Innocent.
The worst part is that I should have known better.
Alex Winslow. British rock star. Serial heartbreaker. Casanova with whiskey eyes.
"Don't get near the devil in a leather jacket. He'll chew you up and spit you out."
Guess what? I didn't listen.
I signed the contract.
World tour. Three months. Four Continents. One hundred shows.
My name is Indigo Bellamy, and I sold my soul to a tattooed god.
Problem was, my soul wasn't enough for Alex Winslow. He ended up taking my body, too.
Then he took my heart.
Then he took my all.
Nocturna | Maya Montayne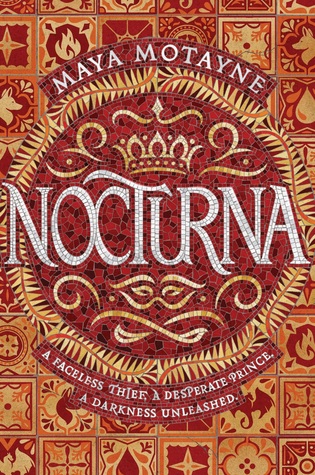 ⭐️⭐️⭐️⭐️.25
If you're interesting in knowing what I thought about this book, I've already published a review of it, so click here in case you want to check it out.
To Finn Voy, magic is two things: a knife to hold under the chin of anyone who crosses her…and a disguise she shrugs on as easily as others pull on cloaks.
As a talented faceshifter, it's been years since Finn has seen her own face, and that's exactly how she likes it. But when Finn gets caught by a powerful mobster, she's forced into an impossible mission: steal a legendary treasure from Castallan's royal palace or be stripped of her magic forever.
After the murder of his older brother, Prince Alfehr is first in line for the Castallan throne. But Alfie can't help but feel that he will never live up to his brother's legacy. Riddled with grief, Alfie is obsessed with finding a way to bring his brother back, even if it means dabbling in forbidden magic.
But when Finn and Alfie's fates collide, they accidentally unlock a terrible, ancient power—which, if not contained, will devour the world. And with Castallan's fate in their hands, Alfie and Finn must race to vanquish what they have unleashed, even if it means facing the deepest darkness in their pasts.
Branded | Abi Ketner & Missy Kalicicky
⭐️.5
Fifty years ago The Commander came into power and murdered all who opposed him. In his warped mind, the seven deadly sins were the downfall of society.
To punish the guilty, he created the Hole, a place where sinners are branded according to their sins. Sinners are forced to live a less than human existence in deplorable conditions, under the watchful eye of guards who are ready to kill anyone who steps out of line.
Now, LUST wraps around my neck like thick, blue fingers, threatening to choke the life out of me. I've been accused of a crime I didn't commit, and the Hole is my new home.
Constant darkness.
Brutal and savage violence.
Excruciating pain.
Every day is a fight for survival.
But I won't let them win. I will not die in the Hole.
I am more than my brand. I'm a fighter. My name is Lexi Hamilton, and this is my story.
Again, But Better | Christine Riccio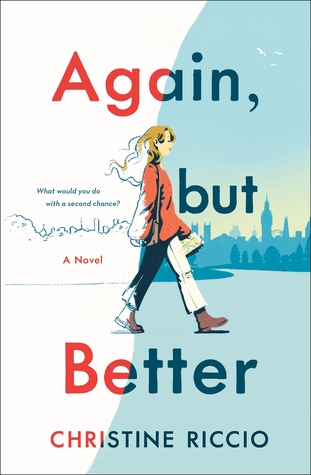 ⭐️⭐️
TW: cheating, girl hate
I admit I was pretty intrigued by this title, because everyone was raving about it and it sounded like a nice new adult contemporary, so I had such high expectations that unfortunately, weren't met entirely. This was such a personal experience, because I had a lot of issues with some of the topics this was based on, and that made my reading experience lower quite much.
My main problem with the book was how it dealt with cheating. I don't typically enjoy books where the love interest cheats with the main character, and this one had that trope not only once, but twice with the same person, and it made me quite frustrated how it was handled. You could see how Pilot in various occasions told Shane that he was happy with his girlfriend and didn't want to leave her, but still Shane had that I'm-so-much-better-than-her mentality that made me want to throw something at a wall, and that happened quite a few times throughout the book.
My other issue was that I didn't click so well with the writing or the humor. Though it wasn't bad by any means, there were certain parts that were supposed to be funny and dialogues between the characters that were quirky and smart, but I didn't find those funny or wanted to laugh. There were certain times where there were some pretty serious things happening, and then out of a sudden the tone changed, and that made those conversations less dramatic.
When it comes to the characters, I wasn't blown away, sadly. I feel they didn't have much of an evolution and our protagonist's voice and inner monologues were exactly the same, when she was supposed to be four or five years older. The dialogue at times was a bit chunky, and I guess I would have enjoyed more to see an evolution in the arcs.
The plot was fun to follow, though quite repetitive, but I didn't really mind that. It was such a fast paced novel and I practically read it in two sittings, which was great.
I think overall, that Again but Better had such an interesting concept but needed a bit more editing for it to be top notch, because there were some parts that felt a bit lacking, but overall, it had some redeemable qualities that didn't make me hate it.
I received an ARC of this book in exchange for an honest review. This doesn't change my opinion whatsoever. All thoughts are my own.
Shane has been doing college all wrong. Pre-med, stellar grades, and happy parents…sounds ideal—but Shane's made zero friends, goes home every weekend, and romance…what's that?
Her life has been dorm, dining hall, class, repeat. Time's a ticking, and she needs a change—there's nothing like moving to a new country to really mix things up. Shane signs up for a semester abroad in London. She's going to right all her college mistakes: make friends, pursue boys, and find adventure!
Easier said than done. She is soon faced with the complicated realities of living outside her bubble, and when self-doubt sneaks in, her new life starts to fall apart.
Shane comes to find that, with the right amount of courage and determination one can conquer anything. Throw in some fate and a touch of magic—the possibilities are endless.
Reign of the Fallen | Sarah Glenn Marsh
⭐️⭐️⭐️
Odessa is one of Karthia's master necromancers, catering to the kingdom's ruling Dead. Whenever a noble dies, it's Odessa's job to raise them by retrieving their souls from a dreamy and dangerous shadow world called the Deadlands. But there is a cost to being raised–the Dead must remain shrouded, or risk transforming into zombie-like monsters known as Shades. If even a hint of flesh is exposed, the grotesque transformation will begin.
A dramatic uptick in Shade attacks raises suspicions and fears among Odessa's necromancer community. Soon a crushing loss of one of their own reveals a disturbing conspiracy: someone is intentionally creating Shades by tearing shrouds from the Dead–and training them to attack. Odessa is faced with a terrifying question: What if her necromancer's magic is the weapon that brings Karthia to its knees?
Ace of Shades | Amanda Foody
⭐️⭐️⭐️⭐️⭐️
Enne Salta was raised as a proper young lady, and no lady would willingly visit New Reynes, the so-called City of Sin. But when her mother goes missing, Enne must leave her finishing school—and her reputation—behind to follow her mother's trail to the city where no one survives uncorrupted.
Frightened and alone, Enne has only one lead: the name Levi Glaisyer. Unfortunately, Levi is not the gentleman she expected—he's a street lord and a con man. Levi is also only one payment away from cleaning up a rapidly unraveling investment scam, so he doesn't have time to investigate a woman leading a dangerous double life. Enne's offer of compensation, however, could be the solution to all his problems.
Their search for clues leads them through glamorous casinos, illicit cabarets and into the clutches of a ruthless Mafia donna. As Enne unearths an impossible secret about her past, Levi's enemies catch up to them, ensnaring him in a vicious execution game where the players always lose. To save him, Enne will need to surrender herself to the city…
And she'll need to play.
King of Fools | Amanda Foody 
⭐️⭐️⭐️⭐️.25
If you're interesting in knowing what I thought about this book, I've already published a review of it, so click here in case you want to check it out.
On the quest to find her missing mother, prim and proper Enne Salta became reluctant allies with Levi Glaisyer, the city's most famous con man. Saving his life in the Shadow Game forced Enne to assume the identity of Seance, a mysterious underworld figure. Now, with the Chancellor of the Republic dead and bounties on both their heads, she and Levi must play a dangerous game of crime and politics…with the very fate of New Reynes at stake.
Thirsting for his freedom and the chance to build an empire, Levi enters an unlikely partnership with Vianca Augustine's estranged son. Meanwhile, Enne remains trapped by the mafia donna's binding oath, playing the roles of both darling lady and cunning street lord, unsure which side of herself reflects the truth.
As Enne and Levi walk a path of unimaginable wealth and opportunity, new relationships and deadly secrets could quickly lead them into ruin. And when unforeseen players enter the game, they must each make an impossible choice: To sacrifice everything they've earned in order to survive…
Or die as legends.
Spiders in the Grove | J. A. Redmerski
⭐️⭐️⭐️⭐️
Izabel and Naeva find themselves right where they wanted to be in Mexico: captured and held in the slave compounds owned by the Ruiz family. But the two are soon separated and forced into very different—but equally dangerous—situations. Izabel spends the next three weeks playing a role she never expected she would get the opportunity to play, but her luck runs out when Naeva's life hangs in the balance, and only Izabel can save her. But at a terrible cost. If Izabel chooses to help Naeva, it will expose a lie she has been carrying on her shoulders since she met Victor Faust. A lie that will not only potentially make everyone in Victor's Order distrust her going forward, but one that will also blow her carefully constructed cover In Mexico, and that could get her killed.
Fredrik, still looking for his serial killer, does not have to look long—the killer finds him. And Niklas's past catches up to him when an old enemy comes back for revenge. But it will be Victor's actions that shake up those left in his Order, and ultimately, be its downfall.
Restore Me | Tahereh Mafi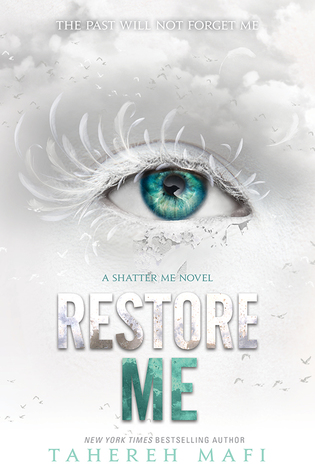 ⭐️⭐️⭐️⭐️⭐️
If you're interesting in knowing what I thought about this book, I've already published a review of it, so click here in case you want to check it out, because my thoughts after the re-read are the same.
Juliette Ferrars thought she'd won. She took over Sector 45, was named the new Supreme Commander, and now has Warner by her side. But she's still the girl with the ability to kill with a single touch—and now she's got the whole world in the palm of her hand. When tragedy hits, who will she become? Will she be able to control the power she wields and use it for good?
Defy Me | Tahereh Mafi
⭐️⭐️⭐️.75
If you're interesting in knowing what I thought about this book, I've already published a review of it, so click here in case you want to check it out.
Juliette's short tenure as the supreme commander of North America has been an utter disaster. When the children of the other world leaders show up on her doorstep, she wants nothing more than to turn to Warner for support and guidance. But he shatters her heart when he reveals that he's been keeping secrets about her family and her identity from her—secrets that change everything.
Juliette is devastated, and the darkness that's always dwelled within her threatens to consume her. An explosive encounter with unexpected visitors might be enough to push her over the edge.
I Stop Somewhere | TE Carter
⭐️⭐️⭐️
TW: rape, manipulation, use of the "r" world, explicit rape scenes, bullying
Okay, so I didn't know what to expect going into this book because this sounded like such a hard story to read that I honestly didn't know how I was going to feel about it, and turns out I was so right because oh my god, this was so heartbreaking.
The main focus of the novel was the story about this girl who's been raped and murdered, and we slowly know what happened before and after those events took place, and let me tell you, this was so freaking hard to read. I felt uncomfortable sometimes, and other times I was so sad because I felt like the story got worse and worse and there wasn't any light. There were a lot of upsetting things that made me so mad, but I feel this was pretty important especially nowadays, because the overall message is such a theme that we constantly see in the news or in social media.
However, despite being a powerful story and did a good job at creating this plot that not only was heart-wrenching and sad, but also realistic (well, maybe not the dead girl thing), I feel that the book was a bit too long. Because in some chapters we knew more about her past and in others we were reading about the aftermath of her death, there were times where it became a bit repetitive everything that was being told, and there were a few things that could have been left out, because it made me feel a bit bored and not as engaged with the story.
Ellie Frias disappeared long before she vanished.
Tormented throughout middle school, Ellie begins her freshman year with a new look: she doesn't need to be popular; she just needs to blend in with the wallpaper.
But when the unthinkable happens, Ellie finds herself trapped after a brutal assault. She wasn't the first victim, and now she watches it happen again and again. She tries to hold on to her happier memories in order to get past the cold days, waiting for someone to find her.
The problem is, no one searches for a girl they never noticed in the first place.
The Belles | Dhonielle Clayton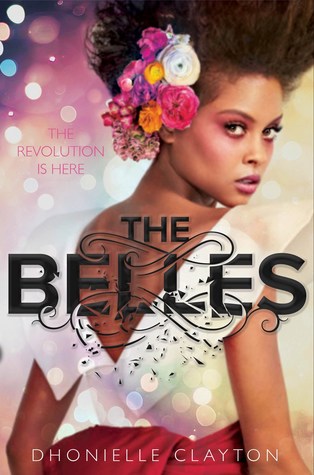 ⭐️⭐️⭐️
TW: animal cruelty, sexual assault, abusive behavior, manipulation
I didn't know what to expect when I picked up this book because lately I hadn't heard anyone talking about it, even though it was super popular when it first came out, so I went into it with no expectations, and though I enjoyed some elements, I had some issues with others.
First of all, I think that one of the main topics of the novel was very well done and pretty complex, and quite thought provoking. The main theme regarding beauty and how obsessive these peoples were over it can be up to discussion in today's world, and how it relates to social media and society in general, and I think, even though it was tough to read some parts, it was handled really well.
My main problem with the story came regarding the characters and the plot. I overall felt like the story was quite lineal, and though it was very addicting and fast paced and it created this sense of anticipation in the reader, that when it came to the ending and the big climax of the book I felt quite underwhelmed, and I guess I was expecting much more from it.
The characters were okay, though I struggled to connect with some of them. I personally think that the villain of the story was super well done because oh my god I hated her with all my might. But when it came to out protagonist I sometimes found her quite flat and annoying.
I don't know if in the sequel we're going to get a more in depth glimpse into this world, but in this first installment there wasn't a lot of information about the world building, but overall even though I had some issues with the plot and found some of the reveals made toward the end quite predictable, I think it was a very interesting and dark story, and quite thought provoking as well.
Camellia Beauregard is a Belle. In the opulent world of Orléans, Belles are revered, for they control Beauty, and Beauty is a commodity coveted above all else. In Orléans, the people are born gray, they are born damned, and only with the help of a Belle and her talents can they transform and be made beautiful.
But it's not enough for Camellia to be just a Belle. She wants to be the favorite—the Belle chosen by the Queen of Orléans to live in the royal palace, to tend to the royal family and their court, to be recognized as the most talented Belle in the land. But once Camellia and her Belle sisters arrive at court, it becomes clear that being the favorite is not everything she always dreamed it would be. Behind the gilded palace walls live dark secrets, and Camellia soon learns that the very essence of her existence is a lie—that her powers are far greater, and could be more dangerous, than she ever imagined. And when the queen asks Camellia to risk her own life and help the ailing princess by using Belle powers in unintended ways, Camellia now faces an impossible decision.
With the future of Orléans and its people at stake, Camellia must decide—save herself and her sisters and the way of the Belles—or resuscitate the princess, risk her own life, and change the ways of her world forever.
Bright Burning Stars | A. K. Small
⭐️⭐️
TW: starvation, pressure of losing weigh, substance abuse
I was pretty intrigued by the premise of this book, but to be honest I don't know why it was labelled as a mystery when there wasn't one. Still, I went with pretty high expectations, and though there were some parts that I enjoyed about it, I overall have mixed feelings about this book.
My main problem regarding this novel was that I feel none of the mental health issues these characters went through was really addressed at all. They were pretty important things that I feel had a lot to do with the course of the story and with the character's journey, but I felt so underwhelmed by how they weren't really talked about, and also I feel there was no recovery. One of the main characters had been starving herself ever since the beginning of the novel and there was only a couple of scenes of her in the infirmary and nothing else, and our other protagonist basically started taking pills and suddenly she stopped like nothing ever happened, and I found that was super odd.
I also think that the story was a bit flat, and that sometimes it was a bit repetitive. Though it was super fast paced and easy to get into, it was more a character driven type of story with quite a weak plot. Still, I enjoyed reading about ballet performers and the academic pressure they had, and found some of the things interesting.
The characters were okay. I feel some of them weren't really that complex and only were introduced for the sake of our protagonist to interact with other people or simply to create some tension and drama in the story. There was a romance that came completely out of nowhere and I didn't know what to think about it, but overall I enjoyed Marine's perspective a bit more than Kate's.
I received an ARC of this book in exchange for an honest review. This doesn't change my opinion whatsoever. All thoughts are my own.
Best friends Marine Duval and Kate Sanders have trained at the Paris Opera Ballet School since childhood, where they've formed an inseparable bond forged by respective family tragedies and a fierce love for dance. When the body of a student is found in the dorms just before the start of their final year, Marine and Kate begin to ask themselves what they would do to win the ultimate prize: to be the one girl selected to join the Opera's prestigious corps de ballet. Would they die? Cheat? Seduce the most talented boy in the school, dubbed the Demigod, hoping his magic would make them shine, too? Neither girl is sure.
But then Kate gets closer to the Demigod, even as Marine has begun to capture his heart. And as selection day draws near, the competition—for the prize, for the Demigod—becomes fiercer, and Marine and Kate realize they have everything to lose, including each other.
Last of Her Name | Jessica Khoury
⭐️⭐️⭐️.5
If you're interesting in knowing what I thought about this book, I've already published a review of it, so click here in case you want to check it out.
Sixteen years ago, rebellion swept the galaxy known as the Belt of Jewels. Every member of the royal family was murdered–down to their youngest child, Princess Anya–and the Union government rose in its place. But Stacia doesn't think much about politics. She spends her days half-wild, rambling her father's vineyard with her closest friends, Clio and Pol.
That all changes the day a Union ship appears in town, carrying the leader of the Belt himself, the Direktor Eminent. The Direktor claims that Princess Anya is alive, and that Stacia's sleepy village is a den of empire loyalists, intent on hiding her. When Stacia is identified as the lost princess, her provincial home explodes into a nightmare.
Pol smuggles her away to a hidden escape ship in the chaos, leaving Clio in the hands of the Union. With everything she knows threading away into stars, Stacia sets her heart on a single mission. She will find and rescue Clio, even with the whole galaxy on her trail.
Beautiful Player | Christina Lauren
⭐️⭐️⭐️⭐️
I decided to pick this book up on a whim because I wanted to read more about these authors and I've also heard pretty good things about this particular book, so even though I plan to read books one and two, I wanted to start with this one.
I think I made the right decision, because this was such a heartwarming and light story. I don't know how but Christina Lauren's characters are so flawed and real that it is so easy to relate to them in some type of way, and this book was no different. It had such great and funny protagonists that I couldn't help but laughed out loud and giggle a few times while reading it, and not only that but their interactions were so smoothly and well done, and the romance was so steamy but had some cute moments.
Overall, despite the plot being quite weak and not that unique, the characters made the story stood out a bit more for me, and I really enjoyed it.
When Hanna Bergstrom receives a lecture from her overprotective brother about neglecting her social life and burying herself in grad school, she's determined to tackle his implied assignment: get out, make friends, start dating. And who better to turn her into the sultry siren every man wants than her brother's gorgeous best friend, Will Sumner, venture capitalist and unapologetic playboy?
Will takes risks for a living, but he's skeptical about this challenge of Hanna's…until the wild night his innocently seductive pupil tempts him into bed- and teaches him a thing or two about being with a woman he can't forget. Now that Hanna's discovered the power of her own sex appeal, it's up to Will to prove he's the only man she'll ever need.
Percy Jackson & The Sea of Monsters | Rick Riordan
⭐️⭐️⭐️
The heroic son of Poseidon makes an action-packed comeback in the second must-read installment of Rick Riordan's amazing young readers series. Starring Percy Jackson, a "half blood" whose mother is human and whose father is the God of the Sea, Riordan's series combines cliffhanger adventure and Greek mythology lessons that results in true page-turners that get better with each installment. In this episode, The Sea of Monsters, Percy sets out to retrieve the Golden Fleece before his summer camp is destroyed, surpassing the first book's drama and setting the stage for more thrills to come.
Dark Shores | Danielle L. Jensen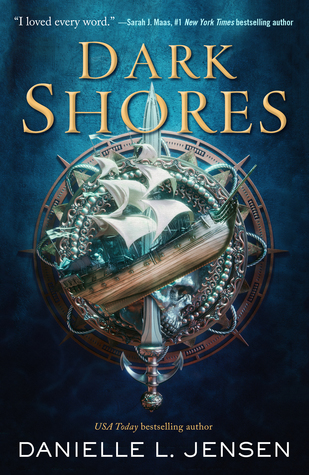 ⭐️⭐️⭐️
If you're interesting in knowing what I thought about this book, I've already published a review of it, so click here in case you want to check it out.
In a world divided by meddlesome gods and treacherous oceans, only the Maarin possess the knowledge to cross the Endless Seas. But they have one mandate: East must never meet West.
A PIRATE WITH A WILL OF IRON
Teriana is the second mate of the Quincense and heir to the Maarin Triumvirate. Her people are born of the seas and the keepers of its secrets, but when her closest friend is forced into an unwanted betrothal, Teriana breaks her people's mandate so her friend might escape—a choice with devastating consequences.
A SOLDIER WITH A SECRET
Marcus is the commander of the Thirty-Seventh, the notorious legion that has led the Celendor Empire to conquer the entire East. The legion is his family, but even they don't know the truth he's been hiding since childhood. It's a secret he'll do anything to protect, no matter how much it costs him – and the world.
A DANGEROUS QUEST
When an Empire senator discovers the existence of the Dark Shores, he captures Teriana's crew and threatens to reveal Marcus's secret unless they sail in pursuit of conquest, forcing the two into an unlikely—and unwilling—alliance. They unite for the sake of their families, but both must decide how far they are willing to go, and how much they are willing to sacrifice.
Repeat | Kylie Scott
⭐️⭐️.5
When a vicious attack leaves 25-year-old Clementine Johns with no memory, she's forced to start over. Now she has to figure out who she was and why she made the choices she did – which includes leaving the supposed love of her life, tattoo artist Ed Larsen, only a month before. Ed can hardly believe it when his ex shows up at his tattoo parlor with no memory of their past, asking about the breakup that nearly destroyed him. The last thing he needs is more heartache, but he can't seem to let her go again. Should they walk away for good, or does their love deserve a repeat performance?
Hate to Want You | Alisha Ray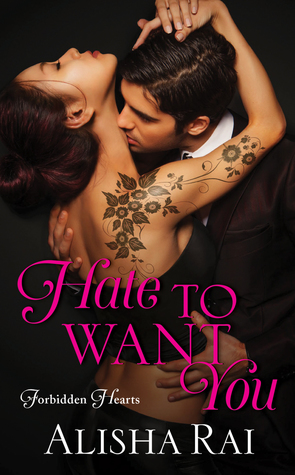 ⭐️⭐️⭐️⭐️
One night. No one will know.
That was the deal. Every year, Livvy Kane and Nicholas Chandler would share one perfect night of illicit pleasure. The forbidden hours let them forget the tragedy that haunted their pasts—and the last names that made them enemies.
Until the night she didn't show up.
Now Nicholas has an empire to run. He doesn't have time for distractions and Livvy's sudden reappearance in town is a major distraction. She's the one woman he shouldn't want . . . so why can't he forget how right she feels in his bed?
Livvy didn't come home for Nicholas, but fate seems determined to remind her of his presence—and their past. Although the passion between them might have once run hot and deep, not even love can overcome the scandal that divided their families.
Being together might be against all the rules . . . but being apart is impossible.
The Deal | Elle Kennedy
⭐️⭐️⭐️⭐️.5
She's about to make a deal with the college bad boy…
Hannah Wells has finally found someone who turns her on. But while she might be confident in every other area of her life, she's carting around a full set of baggage when it comes to sex and seduction. If she wants to get her crush's attention, she'll have to step out of her comfort zone and make him take notice…even if it means tutoring the annoying, childish, cocky captain of the hockey team in exchange for a pretend date.
…and it's going to be oh so good.
All Garrett Graham has ever wanted is to play professional hockey after graduation, but his plummeting GPA is threatening everything he's worked so hard for. If helping a sarcastic brunette make another guy jealous will help him secure his position on the team, he's all for it. But when one unexpected kiss leads to the wildest sex of both their lives, it doesn't take long for Garrett to realize that pretend isn't going to cut it. Now he just has to convince Hannah that the man she wants looks a lot like him.
What books have you read lately and which one was your most and least favorite? Have you read any of these books or do you have them on your TBR? Let me know in the comments!
Follow me on BlogLovin'Goodreads | Instagram | Twitter | Contact Me