Hello bookworms! I'm Nia and today I'm going to be recommending you some books that I think not only are perfect to read in the summertime, but also are super quick and addictive reads.
I would say it wasn't difficult at all to find books that are super fast paced, because lately I feel I've been reading a ton, since I've been in an out of reading slumps, and those types of books are perfect for those cases. So in this post, I hope you'll find a perfect book for the summer and to read while laying down near to the pool (or the sofa).
Without any further ado, let's start with these recommendations!
Wilder Girls | Rory Power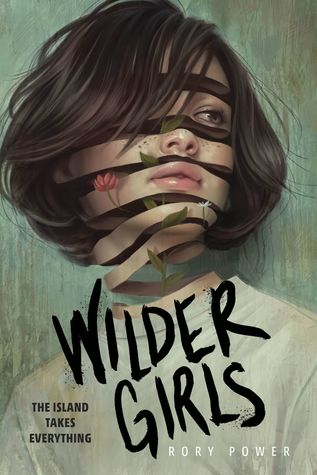 This was a recent read of mine and I was shocked when I finished it in one sitting. It's true that it took me a few chapters to get into the story because I was in a mayor reading slump at the time, but after continuing reading it, it was such a fast paced and full of twists and turns read.
It's been eighteen months since the Raxter School for Girls was put under quarantine. Since the Tox hit and pulled Hetty's life out from under her.
It started slow. First the teachers died one by one. Then it began to infect the students, turning their bodies strange and foreign. Now, cut off from the rest of the world and left to fend for themselves on their island home, the girls don't dare wander outside the school's fence, where the Tox has made the woods wild and dangerous. They wait for the cure they were promised as the Tox seeps into everything.
But when Byatt goes missing, Hetty will do anything to find her, even if it means breaking quarantine and braving the horrors that lie beyond the fence. And when she does, Hetty learns that there's more to their story, to their life at Raxter, than she could have ever thought true.
The Unhoneymooners | Christina Lauren
Not only this is a book perfect for the Summertime, but also it is a very fast read. I found that once I started reading Te Unhoneymooners I couldn't stop until I had finished it, and that's why I think this is a perfect book to read in one sitting.
Olive is always unlucky: in her career, in love, in…well, everything. Her identical twin sister Ami, on the other hand, is probably the luckiest person in the world. Her meet-cute with her fiancé is something out of a romantic comedy (gag) and she's managed to finance her entire wedding by winning a series of Internet contests (double gag). Worst of all, she's forcing Olive to spend the day with her sworn enemy, Ethan, who just happens to be the best man.
Olive braces herself to get through 24 hours of wedding hell before she can return to her comfortable, unlucky life. But when the entire wedding party gets food poisoning from eating bad shellfish, the only people who aren't affected are Olive and Ethan. And now there's an all-expenses-paid honeymoon in Hawaii up for grabs.
Putting their mutual hatred aside for the sake of a free vacation, Olive and Ethan head for paradise, determined to avoid each other at all costs. But when Olive runs into her future boss, the little white lie she tells him is suddenly at risk to become a whole lot bigger. She and Ethan now have to pretend to be loving newlyweds, and her luck seems worse than ever. But the weird thing is that she doesn't mind playing pretend. In fact, she feels kind of… lucky.
Amid Stars and Darkness | Chani Lynn Feener
I have to say that even though this novel wasn't the best I've read and it has a few issues, it was such a fun and fast paced read, and not only that but also quite additive, till the point I couldn't stop reading until I knew how it ended.
Delaney's entire world is thrown into chaos after she is mistaken for Lissa Olena, an alien princess hiding out on Earth in order to escape an arranged marriage.
Kidnapped by the princess's head bodyguard, Ruckus, and imprisoned in an alien palace, Delaney is forced to impersonate the princess until Olena can be found. If she fails, it will lead to an alien war and the eventual enslavement of the entire human race.
No pressure or anything.
Factor in Trystan, the princess's terrifying betrothed who is intent on unraveling all her secrets, and her own growing feelings for Ruckus, and Delaney is in way over her head.
Her Royal Highness | Rachel Hawkins
This was such an adorable book. I would say I enjoyed it even more than its companion novel, because I'm a sucker for enemies to lovers tropes. And like the others in this post, it was a super fast paced story and I finished I believe in one sitting (if not one, two, because I had to go to bed).
Millie Quint is devastated when she discovers that her sort-of-best friend/sort-of-girlfriend has been kissing someone else. And because Millie cannot stand the thought of confronting her ex every day, she decides to apply for scholarships to boarding schools . . . the farther from Houston the better.
Millie can't believe her luck when she's accepted into one of the world's most exclusive schools, located in the rolling highlands of Scotland. Everything about Scotland is different: the country is misty and green; the school is gorgeous, and the students think Americans are cute.
The only problem: Mille's roommate Flora is a total princess.
She's also an actual princess. Of Scotland.
At first, the girls can barely stand each other–Flora is both high-class and high-key–but before Millie knows it, she has another sort-of-best-friend/sort-of-girlfriend. Even though Princess Flora could be a new chapter in her love life, Millie knows the chances of happily ever afters are slim . . . after all, real life isn't a fairy tale . . . or is it?
Spin the Dawn | Elizabeth Lim
This was my most recent read, and just like it happened with Wilder Girls, I was so surprised at how fast paced and easy to get into it was. I adored it, and for a fantasy that long, it was so easy to read.
Maia Tamarin dreams of becoming the greatest tailor in the land, but as a girl, the best she can hope for is to marry well. When a royal messenger summons her ailing father, once a tailor of renown, to court, Maia poses as a boy and takes his place. She knows her life is forfeit if her secret is discovered, but she'll take that risk to achieve her dream and save her family from ruin. There's just one catch: Maia is one of twelve tailors vying for the job.
Backstabbing and lies run rampant as the tailors compete in challenges to prove their artistry and skill. Maia's task is further complicated when she draws the attention of the court magician, Edan, whose piercing eyes seem to see straight through her disguise.
And nothing could have prepared her for the final challenge: to sew three magic gowns for the emperor's reluctant bride-to-be, from the laughter of the sun, the tears of the moon, and the blood of stars. With this impossible task before her, she embarks on a journey to the far reaches of the kingdom, seeking the sun, the moon, and the stars, and finding more than she ever could have imagined.
Storm & Fury | Jennifer L. Armentrout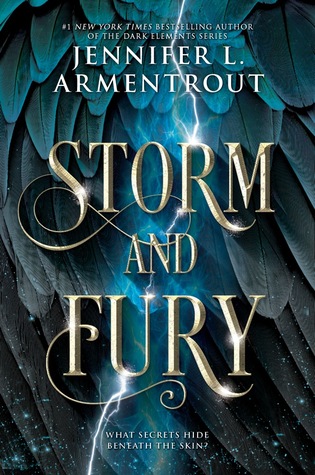 To be honest, I think that any Jennifer L. Armentrout book would be perfect to read in one sitting, because they all are super action packed and fast paced that you won't be able to put them down, but I wanted to mention Storm & Fury (or The Darkest Star), since they are the most recent books she's published. They are both amazing and so addictive.
Eighteen-year-old Trinity Marrow may be going blind, but she can see and communicate with ghosts and spirits. Her unique gift is part of a secret so dangerous that she's been in hiding for years in an isolated compound fiercely guarded by Wardens—gargoyle shape-shifters who protect humankind from demons. If the demons discover the truth about Trinity, they'll devour her, flesh and bone, to enhance their own powers.
When Wardens from another clan arrive with disturbing reports that something out there is killing both demons and Wardens, Trinity's safe world implodes. Not the least because one of the outsiders is the most annoying and fascinating person she's ever met. Zayne has secrets of his own that will upend her world yet again—but working together becomes imperative once demons breach the compound and Trinity's secret comes to light. To save her family and maybe the world, she'll have to put her trust in Zayne. But all bets are off as a supernatural war is unleashed…
To Best the Boys | Mary Webber
I feel this is such an underrated book. I haven't heard many people talking about it, which is sad because it was a very interesting story. Not only is a standalone and you won't have to wait for sequels, but also it has such an incredible fast pacing plot, and it was so easy to get into and read in one sitting. Though I had some issues with it, I still recommend it.
The task is simple: don a disguise. Survive the Labyrinth. Best the boys.
In a thrilling new fantasy from the bestselling author of the Storm Siren Trilogy, one girl makes a stand against society and enters a world made exclusively for boys.
Every year for the past fifty-four years, the residents of Pinsbury Port have received a mysterious letter inviting all eligible-aged boys to compete for an esteemed scholarship to the all-male Stemwick University. The poorer residents look to see if their names are on the list. The wealthier look to see how likely their sons are to survive. And Rhen Tellur opens it to see if she can derive which substances the ink and parchment are created from, using her father's microscope.
In the province of Caldon, where women train in wifely duties and men pursue collegiate education, sixteen-year-old Rhen Tellur wants nothing more than to become a scientist. As the poor of her seaside town fall prey to a deadly disease, she and her father work desperately to find a cure. But when her mum succumbs to it as well? Rhen decides to take the future into her own hands—through the annual all-male scholarship competition.
With her cousin, Seleni, by her side, the girls don disguises and enter Mr. Holm's labyrinth, to best the boys and claim the scholarship prize. Except not everyone is ready for a girl who doesn't know her place. And not everyone survives the deadly maze.
Welcome to the Labyrinth.
What are some fast paced books you've read recently? Have you read any book in one sitting? Let me know in the comments!
Follow me on BlogLovin'
Goodreads | Instagram | Twitter | Contact Me