Hello bookworms! I'm Nia and today I'm going to be talking about some characters I used to love in the past.
Basically this whole post is about characters I adored and crushed on when I started reading and was obsessed with those books. Yup, these are my nostalgic book boyfriends, and the ones that, even though right now some of them aren't, they still have a piece of my heart with them.
If you aren't familiar with Top 5 Wednesday, it is a Goodeads group now currently run by Sam over at ToughtsOfTomes on Youtube, where each week they give you a topic and you talk about 5 books that fit that category. You can join the group here if you want to participate!
Without any further ado, let's start with this week's topic!
Jace Wayland | The Mortal Instruments
My thoughts: Okay, I'm quite positive Jace was 90% people's crush back in the day, myself included. I loved Jace Wayland. He was the type of character I loved reading, and he was quite sarcastic and sexy I couldn't not love him! Also I was super obsessed with these books back in the day, and even though I really liked Simon and Alec and the other male characters, Jace was… well, Jace.
When fifteen-year-old Clary Fray heads out to the Pandemonium Club in New York City, she hardly expects to witness a murder― much less a murder committed by three teenagers covered with strange tattoos and brandishing bizarre weapons. Then the body disappears into thin air. It's hard to call the police when the murderers are invisible to everyone else and when there is nothing―not even a smear of blood―to show that a boy has died. Or was he a boy?
This is Clary's first meeting with the Shadowhunters, warriors dedicated to ridding the earth of demons. It's also her first encounter with Jace, a Shadowhunter who looks a little like an angel and acts a lot like a jerk. Within twenty-four hours Clary is pulled into Jace's world with a vengeance, when her mother disappears and Clary herself is attacked by a demon. But why would demons be interested in ordinary mundanes like Clary and her mother? And how did Clary suddenly get the Sight? The Shadowhunters would like to know… 
Will Herondale | The Infernal Devices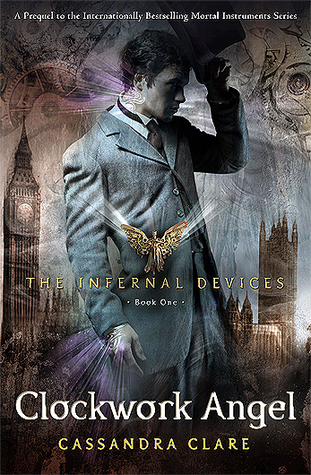 My thoughts: C'mon, you knew this was coming. I was head over heels in love with Will Herondale, no shame. And I have to say now that I've re-read the trilogy and finally finished it that I still love him. He was such a great character, and I love his relationship with Jem and how much they love and cared for each other. This trilogy is still my favourite by Cassandra Clare, so we'll see if The Dark Artifices changes that, though I'm not so sure about that.
The year is 1878. Tessa Gray descends into London's dark supernatural underworld in search of her missing brother. She soon discovers that her only allies are the demon-slaying Shadowhunters—including Will and Jem, the mysterious boys she is attracted to. Soon they find themselves up against the Pandemonium Club, a secret organization of vampires, demons, warlocks, and humans. Equipped with a magical army of unstoppable clockwork creatures, the Club is out to rule the British Empire, and only Tessa and her allies can stop them…
Aaron Warner | Shatter Me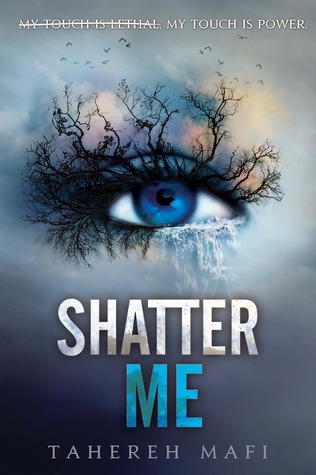 My thoughts: I know this is an unpopular opinion, but Warner was bae. I already loved him before I started reading the books, because my friend was telling me about the trilogy and him and made me love him, but as I continue reading the books I understood why she loved it that much, and I cannot believe we're going to have more about him! This could be a total dissaster or the best thing in the world.
I have a curse
I have a gift
I am a monster
I'm more than human
My touch is lethal
My touch is power
I am their weapon
I will fight back
Juliette hasn't touched anyone in exactly 264 days.
The last time she did, it was an accident, but The Reestablishment locked her up for murder. No one knows why Juliette's touch is fatal. As long as she doesn't hurt anyone else, no one really cares. The world is too busy crumbling to pieces to pay attention to a 17-year-old girl. Diseases are destroying the population, food is hard to find, birds don't fly anymore, and the clouds are the wrong color.
The Reestablishment said their way was the only way to fix things, so they threw Juliette in a cell. Now so many people are dead that the survivors are whispering war – and The Reestablishment has changed its mind. Maybe Juliette is more than a tortured soul stuffed into a poisonous body. Maybe she's exactly what they need right now.
Juliette has to make a choice: Be a weapon. Or be a warrior.
Morpheus | Splintered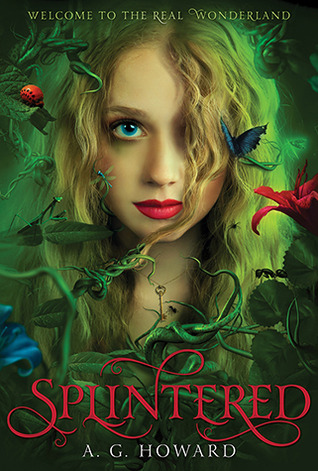 My thoughts: When I first started these books, I really loved Morpheus as a character. He was unreliable, clever and two faced, and a very good anti-hero. But as I continue with the second and third book, that's when I started to love him more and more. Maybe because how much he adored Wonderland that he was willing to do anything to protect it, I don't know. But I really liked him and I think he was such a great character.
Alyssa Gardner hears the whispers of bugs and flowers—precisely the affliction that landed her mother in a mental hospital years before. This family curse stretches back to her ancestor Alice Liddell, the real-life inspiration for Lewis Carroll's Alice's Adventures in Wonderland. Alyssa might be crazy, but she manages to keep it together. For now.
When her mother's mental health takes a turn for the worse, Alyssa learns that what she thought was fiction is based in terrifying reality. The real Wonderland is a place far darker and more twisted than Lewis Carroll ever let on. There, Alyssa must pass a series of tests, including draining an ocean of Alice's tears, waking the slumbering tea party, and subduing a vicious bandersnatch, to fix Alice's mistakes and save her family. She must also decide whom to trust: Jeb, her gorgeous best friend and secret crush, or the sexy but suspicious Morpheus, her guide through Wonderland, who may have dark motives of his own.
Adrian Ivashkov | Vampire Academy
My thoughts: I knew what you were thinking: "AND DIMITRI??". Well, I liked Dimitri, and I loved him and Rose together, they were such a kick-ass couple, but I had a soft spot for Adrian, because he was more mysterious and funny, and we didn't knew much about him but he was quite interesting, so there you have it! And I still haven't finished the series, so maybe this is my call to do it, who knows!
Lissa Dragomir is a Moroi princess: a mortal vampire with a rare gift for harnessing the earth's magic. She must be protected at all times from Strigoi; the fiercest vampires—the ones who never die. The powerful blend of human and vampire blood that flows through Rose Hathaway, Lissa's best friend, makes her a dhampir. Rose is dedicated to a dangerous life of protecting Lissa from the Strigoi, who are hell-bent on making Lissa one of them.
After two years of freedom, Rose and Lissa are caught and dragged back to St. Vladimir's Academy, a school for vampire royalty and their guardians-to-be, hidden in the deep forests of Montana. But inside the iron gates, life is even more fraught with danger…and the Strigoi are always close by.
Rose and Lissa must navigate their dangerous world, confront the temptations of forbidden love, and never once let their guard down, lest the evil undead make Lissa one of them forever…
What are the book boyfriends you used to have long ago? Let me know if you agree with any of my answers, so we can talk about them in the comments! 
Follow me on BlogLovin'
Goodreads | Instagram | Twitter | Contact Me