Hello bookworms! I'm Nia and today I'm going to be recommending books that have some of my favorite female characters.
Since it was the International Woman Day this previous week, I decided to write this post, because there are books with really amazing women in them, and that I very much adore, so since I was planning to write a recommendations post, why not recommend some books with amazing female main characters? Even though I have a reaaally long list of favorite MC, I'm going to be recommending today 8 books (I'll probably do a part two, who knows!).
Without any further ado, let's start with the recommendations!
Children of Blood and Bone | Tomi Adeyemi
My thoughts: This is a new release but I really enjoyed this book. Not only it had a very interesting magic system, but also really strong female leads and friendships that I adored reading. I find Zélie a very unique and intriguing character, and throughout the book she became so realistic to me that it was impossible not to empathize with her and what she was going through. I highly recommend this book, and I cannot wait to see what's going to happen in the next installment.
I have a review of this book here in case you want to check it out.
Zélie Adebola remembers when the soil of Orïsha hummed with magic. Burners ignited flames, Tiders beckoned waves, and Zelie's Reaper mother summoned forth souls.
But everything changed the night magic disappeared. Under the orders of a ruthless king, maji were targeted and killed, leaving Zélie without a mother and her people without hope.
Now, Zélie has one chance to bring back magic and strike against the monarchy. With the help of a rogue princess, Zélie must outwit and outrun the crown prince, who is hell-bent on eradicating magic for good.
Danger lurks in Orïsha, where snow leoponaires prowl and vengeful spirits wait in the waters. Yet the greatest danger may be Zélie herself as she struggles to control her powers—and her growing feelings for the enemy.
Rebel of The Sands | Alwyn Hamilton
My thoughts: I know this book's been out for a few years already, but it wasn't until recently that I read it, and it was everything I wanted and more. This book has a very kickass main character that I adored, and it took place in the dessert, which is always something I'm very interested. But I loved Amani as a main character; not only she was intelligent and strong, but she could also take care of herself and the people she cared about, and I might say I'm trying to contain myself not to purchase the sequel in this very moment because it's quite expensive… I want to, though.
I have a review of this book here in case you want to check it out.
Mortals rule the desert nation of Miraji, but mythical beasts still roam the wild and remote areas, and rumor has it that somewhere, djinn still perform their magic.  For humans, it's an unforgiving place, especially if you're poor, orphaned, or female.
Amani Al'Hiza is all three.  She's a gifted gunslinger with perfect aim, but she can't shoot her way out of Dustwalk, the back-country town where she's destined to wind up wed or dead.
Then she meets Jin, a rakish foreigner, in a shooting contest, and sees him as the perfect escape route. But though she's spent years dreaming of leaving Dustwalk, she never imagined she'd gallop away on mythical horse—or that it would take a foreign fugitive to show her the heart of the desert she thought she knew.
The Winner's Curse | Marie Rutkoski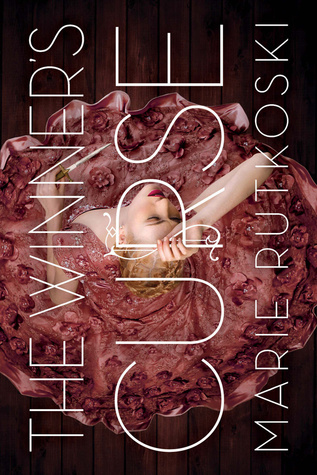 My thoughts: If you've been following my blog for a while you'll probably (maybe) know already how much I love Kestrel as a main character. And I think the main reason why I love this trilogy so much is because of her. Yes, they are quite slow books with angsty romance and very focused on the politics of that world, but I adore her so much. She was such an intelligent, calm character that went through so much but somehow ended up forming back up plans that I was constantly at the edge of my seat while I was reading these books. And the ending of the third book… I was completely shook.
As a general's daughter in a vast empire that revels in war and enslaves those it conquers, seventeen-year-old Kestrel has two choices: she can join the military or get married. But Kestrel has other intentions.
One day, she is startled to find a kindred spirit in a young slave up for auction. Arin's eyes seem to defy everything and everyone. Following her instinct, Kestrel buys him—with unexpected consequences. It's not long before she has to hide her growing love for Arin.
But he, too, has a secret, and Kestrel quickly learns that the price she paid for a fellow human is much higher than she ever could have imagined. 
The Female of The Species | Mindy McGinnis
My thoughts: I feel I'm constantly talking about The Female of The Species in this blog, but it's one of my all time favorite books, so bear with me. But really, I completely fell in love with this book. It was a very powerful YA contemporary, with two incredible female main characters. Alex is so intelligent and strong, and Peekay was super pure and adorable, and the friendship they had got me praising them the entire book. I just think this is a very important read that talked about rape culture and violence, and it was so well done I cannot stop recommending it.
Alex Craft knows how to kill someone. And she doesn't feel bad about it.
Three years ago, when her older sister, Anna, was murdered and the killer walked free, Alex uncaged the language she knows best—the language of violence. While her own crime goes unpunished, Alex knows she can't be trusted among other people. Not with Jack, the star athlete who wants to really know her but still feels guilty over the role he played the night Anna's body was discovered. And not with Peekay, the preacher's kid with a defiant streak who befriends Alex while they volunteer at an animal shelter. Not anyone.
As their senior year unfolds, Alex's darker nature breaks out, setting these three teens on a collision course that will change their lives forever.
Forest of a Thousand Lanterns | Julie C. Dao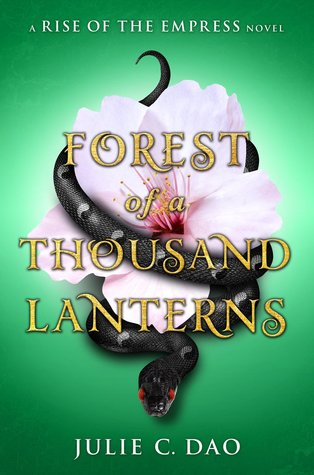 My thoughts: I've already talked about how much I liked Xifeng in some previous posts, but I'll do it again. This was a retelling of the Evil Queen, but it's more an origin's story more than a true retelling of the fairy tale, but nonetheless I found Xifeng such a fascinating character. Since the story was told from her POV, you get to know her fears, desires and basically everything she would want to be throughout the entire book, and that's one of the things I like the most about a book. In my case, I sometimes prefer a character driven book than a story with a strong plot, and that's what I got here, so I was pleasantly surprised.
I have a review of this book here in case you want to check it out.
Eighteen-year-old Xifeng is beautiful. The stars say she is destined for greatness, that she is meant to be Empress of Feng Lu. But only if she embraces the darkness within her. Growing up as a peasant in a forgotten village on the edge of the map, Xifeng longs to fulfill the destiny promised to her by her cruel aunt, the witch Guma, who has read the cards and seen glimmers of Xifeng's majestic future. But is the price of the throne too high?
Because in order to achieve greatness, she must spurn the young man who loves her and exploit the callous magic that runs through her veins–sorcery fueled by eating the hearts of the recently killed. For the god who has sent her on this journey will not be satisfied until his power is absolute.
The Girl in 6E | A. R. Torre
My thoughts: Another surprise to me. I went with high expectations onto this one, and I don't know what I was expecting, but this book ended up surprising me in a very good way. Deanna was a very intriguing and peculiar main character, and throughout the whole story you were inside her brain the whole entire time, which made that thriller even more intense and quicker. I don't know, it was a really amazing story, and I highly recommend it.
I have a review of this book here in case you want to check it out.
I haven't touched a human in three years. That seems like it would be a difficult task, but it's not. Not anymore, thanks to the internet.
I am, quite possibly, the most popular recluse ever. Not many shut-ins have a 200-member fan club, a bank account in the seven-figure range, and hundreds of men lining up to pay for undivided attention.
They get satisfaction, I get a distraction. Their secret desires are nothing compared to why I hide… my lust for blood, my love of death.
Taking their money is easy. Keeping all these secrets… one is bound to escape.
What if you hid yourself away because all you could think of was killing? And what if one girl's life depending on you venturing into society?
Stalking Jack the Ripper | Kerri Maniscalco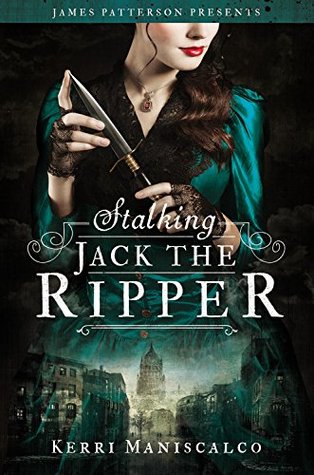 My thoughts: Surprise, surprise! I know, me talking about Stalking Jack the Ripper! How shocking. I tried my best to not include this one, but whenever I think about strong and amazing women, I think about Audrey Rose. Not only she pursued her passion in a world that told her not to, but also she was successful in doing so and had to explore the entire world. I just love her so much, she's such an inspiration. And her relationship with Thomas was simply adorable and supportive. I can't even.
I have a review of Hunting Prince Dracula here in case you want to check it out.
Seventeen-year-old Audrey Rose Wadsworth was born a lord's daughter, with a life of wealth and privilege stretched out before her. But between the social teas and silk dress fittings, she leads a forbidden secret life.
Against her stern father's wishes and society's expectations, Audrey often slips away to her uncle's laboratory to study the gruesome practice of forensic medicine. When her work on a string of savagely killed corpses drags Audrey into the investigation of a serial murderer, her search for answers brings her close to her own sheltered world
What are your favorite female main characters? Please recommend me some of your favorite books and let me know if you also have any of these ones I've mentioned on your list!
Follow me on BlogLovin'
Goodreads | Instagram | Twitter | Contact Me