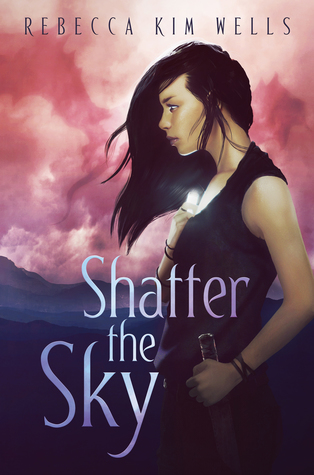 Title: Shatter the Sky
Author: Rebecca Kim Wells
Series: Shatter the Sky #1
Genre: Young Adult, Fantasy, High Fantasy, Romance, LGBTQ+
Publisher: Simon & Schuster
Publication date: July 30th, 2019
Pages: 304
My rating:
---
Raised among the ruins of a conquered mountain nation, Maren dreams only of sharing a quiet life with her girlfriend Kaia—until the day Kaia is abducted by the Aurati, prophetic agents of the emperor, and forced to join their ranks. Desperate to save her, Maren hatches a plan to steal one of the emperor's coveted dragons and storm the Aurati stronghold.
If Maren is to have any hope of succeeding, she must become an apprentice to the Aromatory—the emperor's mysterious dragon trainer. But Maren is unprepared for the dangerous secrets she uncovers: rumors of a lost prince, a brewing rebellion, and a prophecy that threatens to shatter the empire itself. Not to mention the strange dreams she's been having about a beast deep underground…
With time running out, can Maren survive long enough to rescue Kaia from impending death? Or could it be that Maren is destined for something greater than she could have ever imagined?
"The emperor had been right to fear us. If stories were to be believed, our ancestors flew on the backs of dragons and breathed fire themselves. How they would scorn me now. I was just a girl with a broken heart, and no hope for a future."
To be honest, I was beyond excited to read this novel. Every time I hear the word "dragons" in a synopsis I immediately add said book to my TBR, so needless to say O went into Shatter the Sky with so high expectations, and though there were some parts that I really enjoyed about it, I overall have mixed feelings about it, and I'm not sure if I'll be continuing with the series.
The main thing about this book was that I'm not sure after finishing what was the plot of the story. Sure, there was the girl-trying-to-save-her-girlfriend trope very present throughout the story, but apart from that I feel there wasn't much else. There were times where I couldn't really tell the direction it was following or the reasons why, and it was mostly little subplots and a more character driven story.
However, I have to say that the world building was incredible. For such a short book we got to know a lot about this fictional world and the society, and even though there was a lot of info dump thrown at us at the very beginning and I found it a bit confusing to place everything and get into the story the first few chapters, I still think it was so complex and really well created, and one of my favorite parts.
"I'm a Verran girl, and this was a forest like any other. First I'll fins the river, then follow it home — to Maren. Whatever it takes."
Another part that I adored and wish it was more present in the book was the dragons. I think we got a fair glimpse at the creatures in Shatter the Sky, which I loved, but it would have been even better if we got to see them much more than that. It was such am interesting thing what the author did in regarding to them, and I think it'll be explored much more in the next installment, but still.
What happened with Shatter the Sky that made me not enjoy the story as much as I wanted to was that it was such a short book, and its pacing was a bit off sometimes. There were times where there were a lot of things happening and twists and turns that kept me intrigued, and other times where nothing (literally nothing) was happening. And for such a short book, I found it a bit inconsistent.
When it comes to the characters, I have some mixed feelings. I really enjoyed our protagonist and I think she had such a strong and interesting voice, and I also appreciated her bravery and everything she did to rescue Kaia, but her arc was pretty much the same at the beginning and at the very end of the book. There wasn't really anything that made her grow, and there were some tropes that were part of some revelations regarding some side characters that are quite common in YA and didn't really surprise me as much. I think that the reason why everything felt so rushed regarding our characters' interactions and the plot of the story had much more to do with the length of the book than anything else, because if it was longer I think there would have been more time for progression between certain scenes and more development of the characters.
Overall, there were some things I really adored about Shatter the Sky, and thought were interesting to kept me wanting to kept reading, but I had a few issues with the plot and the length that made me lower my rating a bit.
"What must it have been like, humans and dragons living side by side. I would have given almost anything to see Ylvera as it once had been."
I received an ARC of this book in exchange for an honest review. This doesn't change my opinion whatsoever. All thoughts are my own.
TW
: kidnapping
Follow me on BlogLovin'
Goodreads | Instagram | Twitter | Contact Me