Hello bookworms! I'm Nia and today I'm going to be talking about books with witches.
This was one of the toughest topics I've done in Top 5 Wednesday, because I haven't read a lot of books about witches. I love them, but I haven't come across many good ones, or at least, books that I know I've read. So this is going to be a very interesting post, because well, I'm trying my hardest to think about at least 5 novels!
If you aren't familiar with Top 5 Wednesday, it is a Goodeads group now currently run by Sam over at ToughtsOfTomes on Youtube, where each week they give you a topic and you talk about 5 books that fit that category. You can join the group here if you want to participate!
Without any further ado, let's start with this week's topic!
The Night Circus | Erin Morgestern
My thoughts: I know, I know. This book isn't about witches. But technically, enchanters and illusionist are basically the same. This has nothing to do with the fact that I adore this book, nope. But I couldn't help but include it in this list, because this was incredibly whimsical and it's one of my favourite books of all time.
The circus arrives without warning. No announcements precede it. It is simply there, when yesterday it was not. Within the black-and-white striped canvas tents is an utterly unique experience full of breathtaking amazements. It is called Le Cirque des Rêves, and it is only open at night…
The circus arrives without warning. No announcements precede it. It is simply there, when yesterday it was not. Within the black-and-white striped canvas tents is an utterly unique experience full of breathtaking amazements. It is called Le Cirque des Rêves, and it is only open at night. 
But behind the scenes, a fierce competition is underway – a duel between two young magicians, Celia and Marco, who have been trained since childhood expressly for this purpose by their mercurial instructors. Unbeknownst to them, this is a game in which only one can be left standing, and the circus is but the stage for a remarkable battle of imagination and will. Despite themselves, however, Celia and Marco tumble headfirst into love – a deep, magical love that makes the lights flicker and the room grow warm whenever they so much as brush hands. 
True love or not, the game must play out, and the fates of everyone involved, from the cast of extraordinary circus per­formers to the patrons, hang in the balance, suspended as precariously as the daring acrobats overhead. 
The Witch Hunter | Virginia Boecker
My thoughts: This was a very interesting story about witches. I read it last year in October and, though I can't remember much about it, I know I really enjoyed it. This was all about witch hunting and how women were haunted and killed of witchcraft in the past, but I believe it had paranormal or fantasy elements in it, too.
Elizabeth Grey is one of the king's best witch hunters, devoted to rooting out witchcraft and doling out justice. But when she's accused of being a witch herself, Elizabeth is arrested and sentenced to burn at the stake.
Salvation comes from a man she thought was her enemy. Nicholas Perevil, the most powerful and dangerous wizard in the kingdom, offers her a deal: he will save her from execution if she can break the deadly curse that's been laid upon him.
But Nicholas and his followers know nothing of Elizabeth's witch hunting past–if they find out, the stake will be the least of her worries. And as she's thrust into the magical world of witches, ghosts, pirates, and one all-too-handsome healer, Elizabeth is forced to redefine her ideas of right and wrong, of friends and enemies, and of love and hate.
Uprooted | Naomi Novik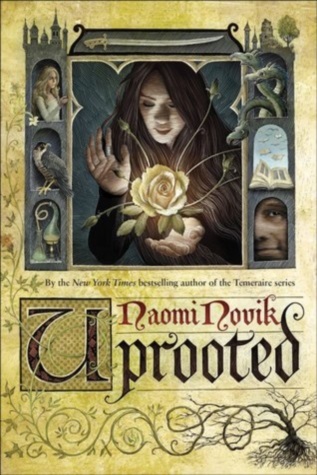 My thoughts: Another book that isn't technically all about witches, but hey, it gave me that vibe when I read it! But I'm pretty sure Agnieszka was a witch (don't mind me, I read it a long time ago!). I love the world and the characters. It's true I had a few issues with the pacing and some things that happened in the story, but it was a very magical book perfect for fall or Halloween!
Agnieszka loves her valley home, her quiet village, the forests and the bright shining river. But the corrupted Wood stands on the border, full of malevolent power, and its shadow lies over her life.
Her people rely on the cold, driven wizard known only as the Dragon to keep its powers at bay. But he demands a terrible price for his help: one young woman handed over to serve him for ten years, a fate almost as terrible as falling to the Wood.
The next choosing is fast approaching, and Agnieszka is afraid. She knows—everyone knows—that the Dragon will take Kasia: beautiful, graceful, brave Kasia, all the things Agnieszka isn't, and her dearest friend in the world. And there is no way to save her.
But Agnieszka fears the wrong things. For when the Dragon comes, it is not Kasia he will choose.
Drown | Esther Delano
My thoughts: This is one of the most underrated books I've read, and I don't know why people haven't read it yet. It was a retelling of the little mermaid, but a very dark one. And, you guessed right, there was a sea witch in there. And let me tell you it was an interesting witch, and definitely not like the one in the Disney movie. I adored this story, and I think it's perfect for October/November, where it's kinda cold outside.
Seven emotionless princesses.
Three ghostly sirens.
A beautiful, malicious witch haunted by memories.
A handsome, self-mutilating prince.
Belonging to a race that is mostly animal with little humanity, a world obsessed with beauty where morality holds no sway, a little mermaid escapes to the ocean's surface. Discovering music, a magnificent palace of glass and limestone, and a troubled human prince, she is driven by love to consult the elusive sea-witch who secretly dominates the entire species of merfolk. Upon paying an enormous price for her humanity, the little mermaid begins a new life, uncovering secrets of sexuality and the Immortal Soul. As a deadly virus threatens to contaminate the bloodstreams of the whole merfolk race, the little mermaid must choose between the lives of her people, the man she loves, or herself.
Wicked Like a Wildfire | Lana Popović
My thoughts: Let me start by saying I haven't read this book, yet. I started last month and I think I read about 100 pages, but then I put it down because there was a book I wanted to read and I wasn't really in the mood for magical realism then, but there were witches in this book. They were quite different from what we know about them, but the concept and the word appeared when I was starting the book, so I'm pretty sure this book features a different type of witches, but still it was worth mentioning because the writing was gorgeous and the story seemed really interesting.
All the women in Iris and Malina's family have the unique magical ability or "gleam" to manipulate beauty. Iris sees flowers as fractals and turns her kaleidoscope visions into glasswork, while Malina interprets moods as music. But their mother has strict rules to keep their gifts a secret, even in their secluded sea-side town. Iris and Malina are not allowed to share their magic with anyone, and above all, they are forbidden from falling in love. 
But when their mother is mysteriously attacked, the sisters will have to unearth the truth behind the quiet lives their mother has built for them. They will discover a wicked curse that haunts their family line—but will they find that the very magic that bonds them together is destined to tear them apart forever?
Have you read any of these books I've mentioned? Let me know in the comments also what books you love that feature witches, or which one is your favourite!
Follow me on BlogLovin'
Goodreads | Instagram | Twitter | Contact Me