Hello bookworms! I'm Nia and today I'm going to be talking about my favourite fantasy books I've read this past year.
Now I officially can say that in 2017 I've read a total of 162 books, which is amazing for me and I'm so happy about it. And though there have been a few books I hadn't enjoyed, there are some I adored. So today I'm going to be talking about those.
I decided to split my favourite books in two parts. This part will contain fantasy, sci-fi, magical realism or something that isn't entirely contemporary (there is a historical fiction one as well), and the other part will have all the contemporary books I loved.
Without any further ado, let's start with my favourite fantasy reads of 2017.
Forest of a Thousand Lanterns | Julie C. Dao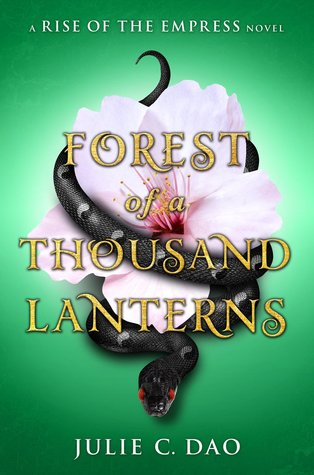 My thoughts: I knew I was going to like this book, but I didn't expect to love it as much as I did. It's not a book for everyone, because it's really slow burning and not very action packed, but I think it was an amazing story. I found Xifeng fastinating, and she was a very complex character that was a pleassure to read from. Since it was a retelling it had a lot of elements of the original story, but it was a really atmospheric and beautifully written book that kept me wanting for more and more.
I have a review of this book here.
Eighteen-year-old Xifeng is beautiful. The stars say she is destined for greatness, that she is meant to be Empress of Feng Lu. But only if she embraces the darkness within her. Growing up as a peasant in a forgotten village on the edge of the map, Xifeng longs to fulfill the destiny promised to her by her cruel aunt, the witch Guma, who has read the cards and seen glimmers of Xifeng's majestic future. But is the price of the throne too high?
Because in order to achieve greatness, she must spurn the young man who loves her and exploit the callous magic that runs through her veins–sorcery fueled by eating the hearts of the recently killed. For the god who has sent her on this journey will not be satisfied until his power is absolute.
The Language of Thorns | Leigh Bardugo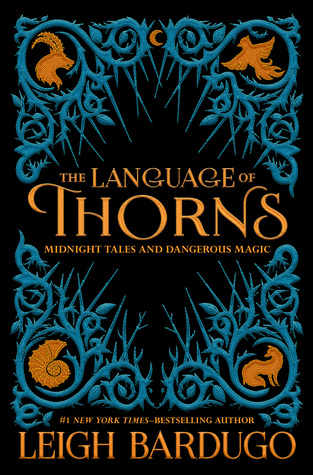 My thoughts: To be completely honest, I'm not surprised this book made this to this list. It was an amazing collection of short stories, that made me even more connected with that world, if that's even possible. Of course there were some stories that I liked more than others, but overall it was a really whimsical collection, with such a diverse cast of characters, and I completely fell in love with them.
I have a review of this book here.
Love speaks in flowers. Truth requires thorns.
Travel to a world of dark bargains struck by moonlight, of haunted towns and hungry woods, of talking beasts and gingerbread golems, where a young mermaid's voice can summon deadly storms and where a river might do a lovestruck boy's bidding but only for a terrible price.
Hunting Prince Dracula | Kerri Maniscalco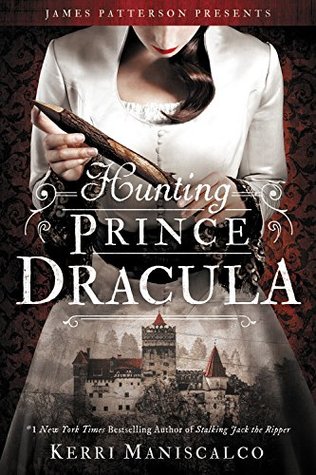 My thoughts: I'm obsessed with these books. Last year I read Stalking Jack the Ripper and really enjoyed it, but this book was so much better than that one. The plot was more complex, the characters more developed and the mystery a bit better, which made the whole reading experience a complete new thing. I adored the interactions between Thomas and Audrey Rose, and well, basically anything that had to do with them. The setting also was so cool and interesting, and I definitely got all the creepy vibes while reading this book.
I have a review of this book here.
Following the grief and horror of her discovery of Jack the Ripper's true identity, Audrey Rose Wadsworth has no choice but to flee London and its memories. Together with the arrogant yet charming Thomas Cresswell, she journeys to the dark heart of Romania, home to one of Europe's best schools of forensic medicine…and to another notorious killer, Vlad the Impaler, whose thirst for blood became legend.
But her life's dream is soon tainted by blood-soaked discoveries in the halls of the school's forbidding castle, and Audrey Rose is compelled to investigate the strangely familiar murders. What she finds brings all her terrifying fears to life once again.
The Glass Spare | Lauren DeStefano
My thoughts: To be completely honest with you, I didn't think I would love this book that much. I've read the premise right before it came out, and I was already familiar with Lauren DeStefano's writing, so I got pretty excited about this book. But I ended up really loving it. It was the type of story I tend to enjoy, and I really liked Wil as a main character. I don't know, despite being a bit slow sometimes I loved the story and the characters, and I'll definitely be picking the next book up once it comes out.
I have a review of this book here.
Wil Heidle, the only daughter of the king of the world's wealthiest nation, has grown up in the shadows. Kept hidden from the world in order to serve as a spy for her father—whose obsession with building his empire is causing a war—Wil wants nothing more than to explore the world beyond her kingdom, if only her father would give her the chance.
Until one night Wil is attacked, and she discovers a dangerous secret. Her touch turns people into gemstone. At first Wil is horrified—but as she tests its limits, she's drawn more and more to the strange and volatile ability. When it leads to tragedy, Wil is forced to face the destructive power within her and finally leave her home to seek the truth and a cure.
But finding the key to her redemption puts her in the path of a cursed prince who has his own ideas for what to do with her power.
With a world on the brink of war and a power of ultimate destruction, can Wil find a way to help the kingdom that's turned its back on her, or will she betray her past and her family forever?
Warcross | Marie Lu
My thoughts: You probably already knew that this book would be in this list, but if you don't, well… now you do. It was amazing, guys. I know there was a lot of hype surrounding it before and after it came out, and that's the main reason I thought I wasn't going to love it as much as everyone else did, but turns out I did. It was a really fast and action packed story, and I loved the whole Warcross game and learning how it worked. Also I adored Emika and the side characters, and I had an amazing time reading the entire novel, so that's why it became one of my favourites of this year.
I have a review of this book here.
For the millions who log in every day, Warcross isn't just a game—it's a way of life. The obsession started ten years ago and its fan base now spans the globe, some eager to escape from reality and others hoping to make a profit. Struggling to make ends meet, teenage hacker Emika Chen works as a bounty hunter, tracking down players who bet on the game illegally. But the bounty hunting world is a competitive one, and survival has not been easy. Needing to make some quick cash, Emika takes a risk and hacks into the opening game of the international Warcross Championships—only to accidentally glitch herself into the action and become an overnight sensation.
Convinced she's going to be arrested, Emika is shocked when instead she gets a call from the game's creator, the elusive young billionaire Hideo Tanaka, with an irresistible offer. He needs a spy on the inside of this year's tournament in order to uncover a security problem . . . and he wants Emika for the job. With no time to lose, Emika's whisked off to Tokyo and thrust into a world of fame and fortune that she's only dreamed of. But soon her investigation uncovers a sinister plot, with major consequences for the entire Warcross empire.
Our Dark Duet| Victoria Schwab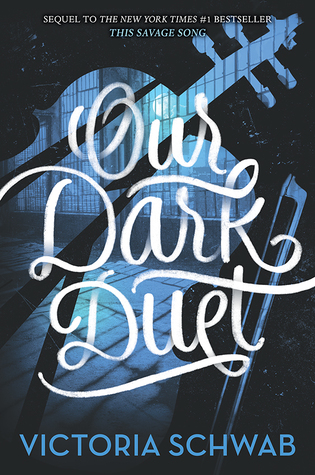 My thoughts: One of the reasons this book is in this list is that the ending completely blew me away. I was liking this book more than the first one, but I usually have some troubles with finales and endings in general, so I'm really surprised by how much I adored how this one ended. I didn't expec it to be like it was at all, but it was such a powerful and good one I couldn't help but love it. And cry.
I have a review of this book here.
THE WORLD IS BREAKING. AND SO ARE THEY.
KATE HARKER isn't afraid of monsters. She hunts them. And she's good at it.
AUGUST FLYNN once yearned to be human. He has a part to play. And he will play it, no matter the cost.
THE WAR HAS BEGUN.
THE MONSTERS ARE WINNING.
Kate will have to return to Verity. August will have to let her back in. And a new monster is waiting—one that feeds on chaos and brings out its victims' inner demons.
Which will be harder to conquer: the monsters they face, or the monsters within?
A Million Junes | Emily Henry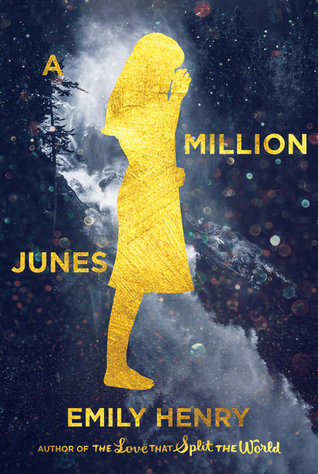 My thoughts: You already saw this coming, I know. I've be talking non-stop about this book ever since I finished it, because guys, it was freaking amazing. And since then I knew it was going to be one of my 2017 favourites. I completely fell in love with the story. It was dark, eery and whimsical, and I was so engrosed by it I flew through it. I have to say this book was more on the slow side, but nonetheless, the characters and the whole story were so amazing it's oh, so worthy.
I have a review of this book here.
For as long as Jack "June" O'Donnell has been alive, her parents have had only one rule: stay away from the Angert family. But when June collides—quite literally—with Saul Angert, sparks fly, and everything June has known is thrown into chaos.
Who exactly is this gruff, sarcastic, but seemingly harmless boy who has returned to their hometown of Five Fingers, Michigan, after three mysterious years away? And why has June—an O'Donnell to her core—never questioned her late father's deep hatred of the Angert family? After all, the O'Donnells and the Angerts may have mythic legacies, but for all the tall tales they weave, both founding families are tight-lipped about what caused the century-old rift between them.
As Saul and June's connection grows deeper, they find that the magic, ghosts, and coywolves of Five Fingers seem to be conspiring to reveal the truth about the harrowing curse that has plagued their bloodlines for generations. Now June must question everything she knows about her family and the father she adored, and she must decide whether it's finally time for her—and all the O'Donnells before her—to let go.
Clockwork Princess | Cassandra Clare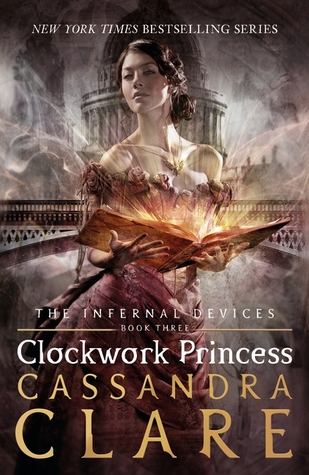 My thoughts: I have a secret: before this year I didn't finish reading The Infernal Devices. I think I read Clockwork Angel and half of Clockwork Prince, but never managed to finish the completely trilogy. And though I already knew what was going to happen in this novel, I still cried myself out. And I still loved it. It was a really good book, and an amazing finale. I adored these characters, and I also had a lot of feels.
THE INFERNAL DEVICES WILL NEVER STOP COMING
A net of shadows begins to tighten around the Shadowhunters of the London Institute. Mortmain plans to use his Infernal Devices, an army of pitiless automatons, to destroy the Shadowhunters. He needs only one last item to complete his plan: he needs Tessa Gray.
Charlotte Branwell, head of the London Institute, is desperate to find Mortmain before he strikes. But when Mortmain abducts Tessa, the boys who lay equal claim to her heart, Jem and Will, will do anything to save her. For though Tessa and Jem are now engaged, Will is as much in love with her as ever.
As those who love Tessa rally to rescue her from Mortmain's clutches, Tessa realizes that the only person who can save her is herself. But can a single girl, even one who can command the power of angels, face down an entire army?
Hunted | Meagan Spooner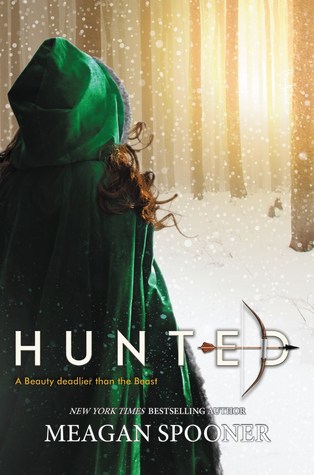 My thoughts: This came to no surprise to anyone, because I've been talking about it throughout the entire year. I adored this book. I'm usually a big fan of retellings, so I knew I was going to love it, but honestly, it was even better than I expected. The author managed to create her own story out of something that's been so used lately, and it what a beautiful story it was. I adored not only the setting, but the characters and the angst that was in their interactions. I cannot say enough good things about it, so I'll just say this: read it.
I have a review of this book here.
Beauty knows the Beast's forest in her bones—and in her blood. Though she grew up with the city's highest aristocrats, far from her father's old lodge, she knows that the forest holds secrets and that her father is the only hunter who's ever come close to discovering them. 
So when her father loses his fortune and moves Yeva and her sisters back to the outskirts of town, Yeva is secretly relieved. Out in the wilderness, there's no pressure to make idle chatter with vapid baronessas…or to submit to marrying a wealthy gentleman. But Yeva's father's misfortune may have cost him his mind, and when he goes missing in the woods, Yeva sets her sights on one prey: the creature he'd been obsessively tracking just before his disappearance. 
Deaf to her sisters' protests, Yeva hunts this strange Beast back into his own territory—a cursed valley, a ruined castle, and a world of creatures that Yeva's only heard about in fairy tales. A world that can bring her ruin or salvation. Who will survive: the Beauty, or the Beast?
The Valiant | Lesley Livingston
My thoughts: I was super surprised by this book. The premise sounded amazing, and I knew I was going to like this book, but I have to say it was even better than I had imagined. Even though it sounded like a normal YA fantasy book, I really liked the setting and the cast of characters, and tough some things were a bit predictable, it was a very fun book and I flew through it. I absolutely loved Fallon and her journey in the book, and her different experiences and overall, her personality, but I also really enjoyed the interactions between her and her love interest. I'm really excited for the sequel that's coming out in a few weeks, and I cannot wait to see what happens next!
Fallon is the daughter of a proud Celtic king, the sister of the legendary warrior Sorcha, and the sworn enemy of Julius Caesar.
When Fallon was a child, Caesar's armies invaded her homeland, and her beloved sister was killed in battle.
Now, on the eve of her seventeenth birthday, Fallon is eager to follow in her sister's footsteps and earn her place in the fearsome Cantii war band. She never gets the chance.
Fallon is captured and sold to an elite training school for female gladiators—owned by none other than Julius Caesar. In a cruel twist of fate, the man who destroyed Fallon's family might be her only hope of survival.
Now Fallon must overcome vicious rivalries and deadly fights—in and out of the arena. And perhaps the most dangerous threat of all: her forbidden yet irresistible feelings for Cai, a young Roman soldier.
What are your favourite books you've read this past year? Let me know if you have any of the ones I've mentioned on your list as well, or which one has been your numer one favourite!
Follow me on BlogLovin'
Goodreads | Instagram | Twitter | Contact Me