Hello bookworms! I'm Nia and today I'm going to be talking about some books that I really need to read this year.
If there's something that I love more than the beginning of a new year is the resolutions that come with it. Because everytime a year begins, I always plan to do amazing things, and even though sometimes I do it, other times I get lazy and ignore them. But it's true that I have a few books I really want to read this year. Some of them are new releases I'm dying for, and others and finales.
If you aren't familiar with Top 5 Tuesday, it is a group here on WordPress now currently run by Shanah over at BionicBookWorm, where each week they give you a topic and you talk about 5 books that fit that category.
Without any further ado, let's start with this week's topic!
The Cruel Prince | Holly Black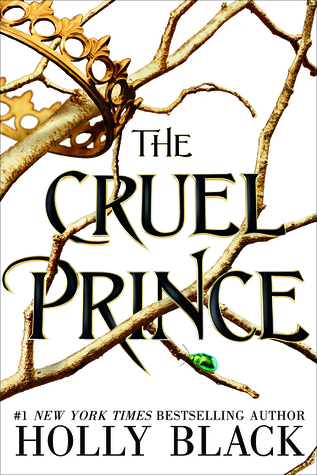 My thoughts: I desperately need to read this book. I'm trying so hard to avoid spoilers and when I see someone talking about this book I immediately look away just so to make sure that I know the least I can possibly can once I pick it up. I'm still waiting for my copy to arrive, because… holidays are the worst, but once I own it, I'll read it. For sure.
Jude was seven years old when her parents were murdered and she and her two sisters were stolen away to live in the treacherous High Court of Faerie. Ten years later, Jude wants nothing more than to belong there, despite her mortality. But many of the fey despise humans. Especially Prince Cardan, the youngest and wickedest son of the High King.
To win a place at the Court, she must defy him–and face the consequences.
In doing so, she becomes embroiled in palace intrigues and deceptions, discovering her own capacity for bloodshed. But as civil war threatens to drown the Courts of Faerie in violence, Jude will need to risk her life in a dangerous alliance to save her sisters, and Faerie itself. 
Heart of Iron | Ashley Poston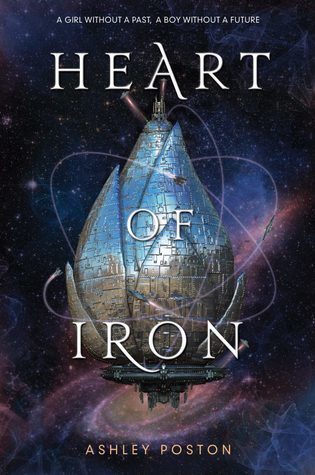 My thoughts: Ever since I knew that this was an Anastasia retelling, I wanted to read it. I'm super excited for this book. I have high hopes because I really loved her previous book, and this one is set in space, so that makes me even more intrigued. I've already pre-ordered *mentally thinks that that does not breaking her book buying ban*, and I'll definitely be reading it once it comes out.
Seventeen-year-old Ana is a scoundrel by nurture and an outlaw by nature. Found as a child drifting through space with a sentient android called D09, Ana was saved by a fearsome space captain and the grizzled crew she now calls family. But D09—one of the last remaining illegal Metals—has been glitching, and Ana will stop at nothing to find a way to fix him.
Ana's desperate effort to save D09 leads her on a quest to steal the coordinates to a lost ship that could offer all the answers. But at the last moment, a spoiled Ironblood boy beats Ana to her prize. He has his own reasons for taking the coordinates, and he doesn't care what he'll sacrifice to keep them.
When everything goes wrong, she and the Ironblood end up as fugitives on the run. Now their entire kingdom is after them—and the coordinates—and not everyone wants them captured alive.
What they find in a lost corner of the universe will change all their lives—and unearth dangerous secrets. But when a darkness from Ana's past returns, she must face an impossible choice: does she protect a kingdom that wants her dead or save the Metal boy she loves?
Pride and Prejudice | Jane Austen
My thoughts: I've said this already but this is going to be the year I'll be finally reading a Jane Austen's book. I'm super pumped for that resolution, and hopefully I'll end up reading at least Pride and Prejudice, because otherwise… I'm giving up.
When Elizabeth Bennet meets Mr. Darcy she is repelled by his overbearing pride, and prejudice towards her family. But the Bennet girls are in need of financial security in the shape of husbands, so when Darcy's friend, the affable Mr. Bingley, forms an attachment to Jane, Darcy becomes increasingly hard to avoid. Polite society will be turned upside down in this witty drama of friendship, rivalry, and love—Jane Austen's classic romance novel
A Conjuring of Light | V. E. Schwab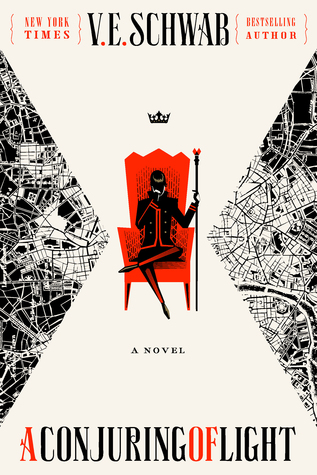 My thoughts: I wanted to finish this series last year, but that clearly didn't happen because I'm the worst at finishing series (can't you believe it!). So this year I'm pretty positive I'll be reading this book. I'm still not sure if I'll be re-reading the first two books before picking this up or just go straight to this one, but it's gonna happen.
Witness the fate of beloved heroes – and enemies.
THE BALANCE OF POWER HAS FINALLY TIPPED…
The precarious equilibrium among four Londons has reached its breaking point. Once brimming with the red vivacity of magic, darkness casts a shadow over the Maresh Empire, leaving a space for another London to rise.
WHO WILL CRUMBLE?
Kell – once assumed to be the last surviving Antari – begins to waver under the pressure of competing loyalties. And in the wake of tragedy, can Arnes survive?
WHO WILL RISE?
Lila Bard, once a commonplace – but never common – thief, has survived and flourished through a series of magical trials. But now she must learn to control the magic, before it bleeds her dry. Meanwhile, the disgraced Captain Alucard Emery of the Night Spire collects his crew, attempting a race against time to acquire the impossible.
WHO WILL TAKE CONTROL?
And an ancient enemy returns to claim a crown while a fallen hero tries to save a world in decay. 
Lady Midnight | Cassandra Clare
My thoughts: Not only I have Lady Midnight on my bucket list, but also I want to finish The Mortal Instruments and read the short stories before picking up this book, but I figured that this would be a bit more challenging to me. I've been spoiled multiple times, so this is going to be the year I'll be finally reading The Dark Artifices, because I feel I'm super late.
In a secret world where half-angel warriors are sworn to fight demons, parabatai is a sacred word.
A parabatai is your partner in battle. A parabatai is your best friend. Parabatai can be everything to each other—but they can never fall in love.
Emma Carstairs is a warrior, a Shadowhunter, and the best in her generation. She lives for battle. Shoulder to shoulder with her parabatai, Julian Blackthorn, she patrols the streets of Los Angeles, where vampires party on the Sunset Strip, and faeries—the most powerful of supernatural creatures—teeter on the edge of open war with Shadowhunters. When the bodies of humans and faeries turn up murdered in the same way Emma's parents were when she was a child, an uneasy alliance is formed. This is Emma's chance for revenge—and Julian's chance to get back his brother Mark, who is being held prisoner by the faerie Courts. All Emma, Mark, and Julian have to do is solve the murders within two weeks…and before the murderer targets them.
Their search takes Emma from sea caves full of sorcery to a dark lottery where death is dispensed. And each clue she unravels uncovers more secrets. What has Julian been hiding from her all these years? Why does Shadowhunter Law forbid parabatai to fall in love? Who really killed her parents—and can she bear to know the truth?
What books do you need to read this year or which ones would be on you bucket list? Let me know if you've also read any of the books I've mentioned and if you enjoyed them or not!
Follow me on BlogLovin'
Goodreads | Instagram | Twitter | Contact Me