Hello bookworms! I'm Nia and today I'm going to be talking about books I wanted to read in 2017 but I couldn't because either I was lazy or simply didn't have enough time.
My TBR is the biggest as it's ever been. Even though I tend to read a fair amount of books per month, I also buy a lot of them, and that makes it grow bigger and bigger each day. I have to say there are a few books that are higher on that TBR, so in this post I'm going to be talking about those. Since I haven't read them I'm not going to be talking about them, because I hardly remember what they're about, and that'd be pointless.
If you aren't familiar with Top 5 Wednesday, it is a Goodeads group now currently run by Sam over at ToughtsOfTomes on Youtube, where each week they give you a topic and you talk about 5 books that fit that category. You can join the group here if you want to participate!
Without any further ado, let's start with this week's topic!
Grit | Gillian French
It's summer in rural Maine; when seventeen-year-old Darcy Prentiss isn't raking berries with her sister, Mags, and cousin, Nell, during the day, she's drinking and swimming with the boys in the quarry by night. She knows how to have a good time, just like anyone else, but when you've been designated the town slut, every move you make seems to further solidify your "trashy girl" reputation.
But the fun is what's been keeping Darcy's mind off the things she can't forget: a disturbing secret she shares with Nell, the mysterious disappearance of her ex-best friend, and that hazy Fourth of July party that ended with Darcy drunk, on her back, wondering how she let it get this far.
Then someone in town anonymously nominates Darcy to be in the running for Bay Festival Princess—a cruel, almost laughable gesture that can only be the work of someone with a score to settle. Everything Darcy has been trying to keep down comes bubbling to the surface in ways she wasn't prepared to handle…and isn't sure if she can.

Three Sides of a Heart | V. V. A. A.
You may think you know the love triangle, but you've never seen love triangles like these.
These top YA authors tackle the much-debated trope of the love triangle, and the result is sixteen fresh, diverse, and romantic stories you don't want to miss.
This collection, edited by Natalie C. Parker, contains stories written by Renee Ahdieh, Rae Carson, Brandy Colbert, Katie Cotugno, Lamar Giles, Tessa Gratton, Bethany Hagan, Justina Ireland, Alaya Dawn Johnson, EK Johnston, Julie Murphy, Garth Nix, Natalie C. Parker, Veronica Roth, Sabaa Tahir, and Brenna Yovanoff.
A teen girl who offers kissing lessons. Zombies in the Civil War South. The girl next door, the boy who loves her, and the girl who loves them both. Vampires at a boarding school. Three teens fighting monsters in an abandoned video rental store. Literally the last three people on the planet.
What do all these stories have in common?
The love triangle.
Kingdom of Ash and Briars | Hannah West
Bristal, an orphaned kitchen maid, lands in a gritty fairy tale gone wrong when she discovers she is an elicromancer with a knack for shape-shifting. An ancient breed of immortal magic beings, elicromancers have been winnowed down to merely two – now three – after centuries of bloody conflict in the realm. Their gifts are fraught with responsibility, and sixteen-year-old Bristal is torn between two paths. Should she vow to seek the good of the world, to protect and serve mortals? Or should she follow the strength of her power, even if it leads to unknown terrors? She draws on her ability to disguise herself as a man to infiltrate a prince's band of soldiers, and masquerades as a fairy godmother to shield a cursed princess, but time is running out. As an army of dark creatures grows closer, Bristal faces a supernatural war. To save the kingdoms, Bristal must find the courage to show her true form.
The Nowhere Girls | Amy Reed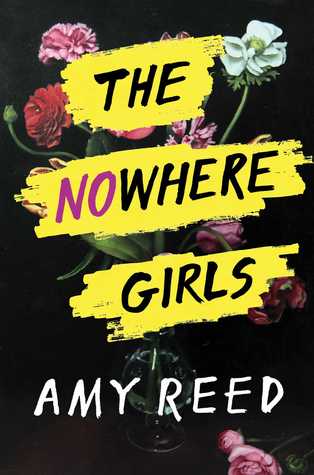 Three misfits come together to avenge the rape of a fellow classmate and in the process trigger a change in the misogynist culture at their high school transforming the lives of everyone around them in this searing and timely story.
Who are the Nowhere Girls?
They're everygirl. But they start with just three:
Grace Salter is the new girl in town, whose family was run out of their former community after her southern Baptist preacher mom turned into a radical liberal after falling off a horse and bumping her head.
Rosina Suarez is the queer punk girl in a conservative Mexican immigrant family, who dreams of a life playing music instead of babysitting her gaggle of cousins and waitressing at her uncle's restaurant.
Erin Delillo is obsessed with two things: marine biology and Star Trek: The Next Generation, but they aren't enough to distract her from her suspicion that she may in fact be an android.
When Grace learns that Lucy Moynihan, the former occupant of her new home, was run out of town for having accused the popular guys at school of gang rape, she's incensed that Lucy never had justice. For their own personal reasons, Rosina and Erin feel equally deeply about Lucy's tragedy, so they form an anonymous group of girls at Prescott High to resist the sexist culture at their school, which includes boycotting sex of any kind with the male students.
Glitter | Aprilynne Pike
Outside the Palace of Versailles, it's modern day. Inside, the people dress, eat, and act like it's the eighteenth century. The palace has every indulgence, but for one pretty young thing, it's about to become a very beautiful prison.
When Danica witnesses an act of murder by the young king, her mother makes a cruel power play…blackmailing the king into making Dani his queen. When she turns eighteen, Dani will marry the most ruthless and dangerous man of the court. She has six months to escape her terrifying destiny. Six months to raise enough money to disappear into the real world beyond the palace gates.
Her ticket out? Glitter. A drug so powerful that a tiny pinch mixed into a pot of rouge or lip gloss can make the wearer hopelessly addicted. Addicted to a drug Dani can sell for more money than she ever dreamed.
But in Versailles, secrets are impossible to keep. And the most dangerous secret—falling for a drug dealer outside the palace walls—is one risk she has to take.
What books you want to read this year that you didn't get to in 2017? Let me know if you've read any of the books I've mentioned above and if you liked it or not!
Follow me on BlogLovin'
Goodreads | Instagram | Twitter | Contact Me