Hello bookworms! I'm Nia and today I'm going to be talking about some series I won't be finishing or continuing reading.
Even though I'm pretty bad at finishing series and have a lot of them unread, I may say I've thought about this quite often in the past. There are some first books in a series that either I haven't enjoyed or hated and don't want to continue reading, and others simply I cannot remember the previous books. I think there will be a mix of both in this post, but mostly of the first category.
If you aren't familiar with Top 5 Tuesday, it is a group here on WordPress now currently run by Shanah over at BionicBookWorm, where each week they give you a topic and you talk about 5 books that fit that category.
Without any further ado, let's start with this week's topic!
Kingdom of Fire | Jessica Cluess
My thoughts: I remember being super excited about this release because the premise sounded amazing, so I read it right after it came out. And I didn't like it at all. It started okay and had some things that were a bit interesting, but as I kept reading it went worse and worse. The main character was so annoying and I completely hated the love triangle (or the romance), so after finishing it I decided I wouldn't be continuing reading the rest of the books. And now we're here.
I am Henrietta Howel. The first female sorcerer. The prophesied one. Or am I?
Henrietta Howel can burst into flames. When she is brought to London to train with Her Majesty's sorcerers, she meets her fellow sorcerer trainees, young men eager to test her powers and her heart. One will challenge her. One will fight for her. One will betray her. As Henrietta discovers the secrets hiding behind the glamour of sorcerer life, she begins to doubt that she's the true prophesied one. With battle looming, how much will she risk to save the city–and the one she loves?
Furyborn | Claire Legrand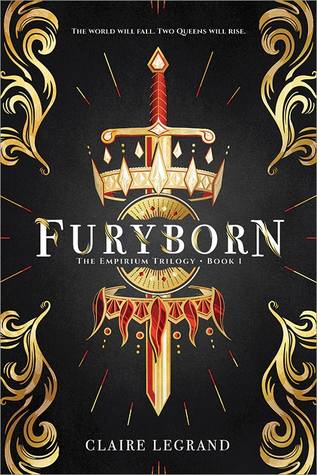 My thoughts: I'm so sad about this decision and I know this is a pretty unpopular opinion, but I didn't really enjoyed Furyborn that much, and sadly it wasn't worth the hype for me. I had a lot of issues with the story and the development of the characters, so I don't think I will be continuing with the rest of the series in the future. I'm still debating whether or not to keep reading, but for now it's a "no".
When assassins ambush her best friend, the crown prince, Rielle Dardenne risks everything to save him, exposing her ability to perform all seven kinds of elemental magic. The only people who should possess this extraordinary power are a pair of prophesied queens: a queen of light and salvation and a queen of blood and destruction. To prove she is the Sun Queen, Rielle must endure seven trials to test her magic. If she fails, she will be executed…unless the trials kill her first.
A thousand years later, the legend of Queen Rielle is a mere fairy tale to bounty hunter Eliana Ferracora. When the Undying Empire conquered her kingdom, she embraced violence to keep her family alive. Now, she believes herself untouchable–until her mother vanishes without a trace, along with countless other women in their city. To find her, Eliana joins a rebel captain on a dangerous mission and discovers that the evil at the heart of the empire is more terrible than she ever imagined.
As Rielle and Eliana fight in a cosmic war that spans millennia, their stories intersect, and the shocking connections between them ultimately determine the fate of their world–and of each other.
Devils & Thieves | Jennifer Rush
My thoughts: I've already talked about my issues with this book in my review, but I remember saying I wasn't sure then if I would be reading the sequel. Well, time has passed now and I'm certain I won't be, mostly because I have a lot of books I need to read and new releases I'm super excited about and I don't want to waste my time reading a book I'm not sure I'm going to like it. So yeah, I won't be finishing this series, and I'm not sorry.
I have a review of this book here, in case you want to check it out.
Eighteen-year-old Jemmie Carmichael is surrounded by magic in the quiet town of Hawthorne, New York. In her world, magic users are called "kindled," and Jemmie would count herself among them if only she could cast a simple spell without completely falling apart. It doesn't help that she was also recently snubbed by Crowe—the dangerous and enigmatic leader of Hawthorne's kindled motorcycle gang, the Devils' League.
When the entire kindled community rolls into Hawthorne for an annual festival, a rumor spreads that someone is practicing forbidden magic. Then people start to go missing. With threats closing in from every side, no one can be trusted. Jemmie and Crowe will have to put aside their tumultuous history to find their loved ones, and the only thing that might save them is the very flaw that keeps Jemmie from fully harnessing her magic. For all her years of feeling useless, Jemmie may just be the most powerful kindled of all.
The Selection | Kiera Cass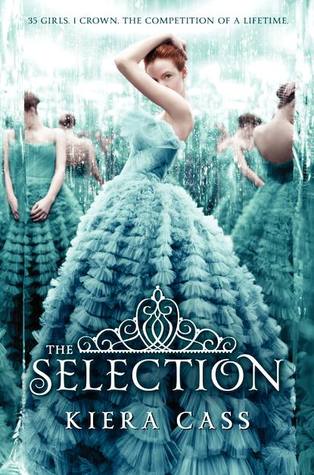 My thoughts: I may say first that I completed reading the original trilogy last year, and I was on the fence whether or not kept reading the other two because let's be honest, they wasn't the worst books but they weren't the best, so I wasn't sure. But after reading a lot of negative things on Goodreads and other platforms about the last two installments, I decided I wouldn't be finishing the series. And since it was originally a trilogy well… I think I did pretty good, right?
For thirty-five girls, the Selection is the chance of a lifetime. The opportunity to escape the life laid out for them since birth. To be swept up in a world of glittering gowns and priceless jewels. To live in a palace and compete for the heart of gorgeous Prince Maxon.
But for America Singer, being Selected is a nightmare. It means turning her back on her secret love with Aspen, who is a caste below her. Leaving her home to enter a fierce competition for a crown she doesn't want. Living in a palace that is constantly threatened by violent rebel attacks.
Then America meets Prince Maxon. Gradually, she starts to question all the plans she's made for herself—and realizes that the life she's always dreamed of may not compare to a future she never imagined.
Throne of Glass | Sarah J. Maas
My thoughts: Before you start yelling at me, let me say this: I'm not sure about this one either. I'm still on the fence about it, because though I'm not enjoying the Throne of Glass series as much as when I first started reading the books, I'm still curious to see how it all is going to end, so I'm not sure if I'll be reading the last two installments or just see a spoiler-y summary of them. I don't know. I have to think about it. But I wanted to mention it in this post.
When magic has gone from the world, and a vicious king rules from his throne of glass, an assassin comes to the castle. She does not come to kill, but to win her freedom. If she can defeat twenty-three killers, thieves, and warriors in a competition to find the greatest assassin in the land, she will become the King's Champion and be released from prison.
Her name is Celaena Sardothien.
The Crown Prince will provoke her. The Captain of the Guard will protect her.
And a princess from a foreign land will become the one thing Celaena never thought she'd have again: a friend.
But something evil dwells in the castle—and it's there to kill. When her competitors start dying, horribly, one by one, Celaena's fight for freedom becomes a fight for survival—and a desperate quest to root out the source of the evil before it destroys her world.
What series you won't be finishing? Let me know in the comments if any of these series are on your list of which ones you'd choose so we can chat about them!
Follow me on BlogLovin'
Goodreads | Instagram | Twitter | Contact Me