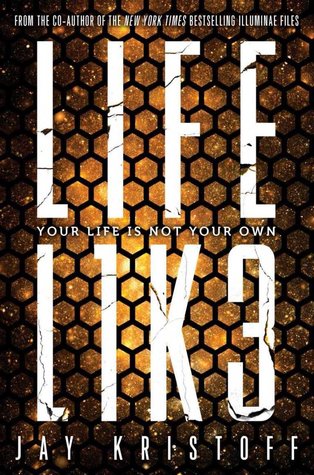 Title: Lifel1k3
Author: Jay Kristoff
Series: Lifelike #1
Genre: Young Adult, Fantasy, Sci-fi, Romance
Publisher: Knof Books
Publication date: May 29th, 2018
Pages: 416
My rating: 
---
On a floating junkyard beneath a radiation sky, a deadly secret lies buried in the scrap.
Eve isn't looking for secrets—she's too busy looking over her shoulder. The robot gladiator she's just spent six months building has been reduced to a smoking wreck, and the only thing keeping her Grandpa from the grave was the fistful of credits she just lost to the bookies. To top it off, she's discovered she can destroy electronics with the power of her mind, and the puritanical Brotherhood are building a coffin her size. If she's ever had a worse day, Eve can't remember it.
But when Eve discovers the ruins of an android boy named Ezekiel in the scrap pile she calls home, her entire world comes crashing down. With her best friend Lemon Fresh and her robotic conscience, Cricket, in tow, she and Ezekiel will trek across deserts of irradiated glass, infiltrate towering megacities and scour the graveyard of humanity's greatest folly to save the ones Eve loves, and learn the dark secrets of her past.
Even if those secrets were better off staying buried.
"YOUR BODY IS NOW YOUR OWN.

YOUR MIND IS NOT YOUR OWN.

YOUR LIFE IS NOT YOUR OWN."
I have to say I'm quite impressed. This is the first book I've read by Jay Kristoff, and though I didn't love it as much as I thought I would, it was still an amazing book and I'm definitely intrigued.
Ever since I hear that this was described as Romeo and Juliet meets X-men, I was so pumped to read it, and I cannot tell you how happy I was when I got an ARC of it. I'm still not fully sure of the rating, so maybe I'll update it in the future to 3,75 stars, but for now I'll leave it in 3.5 stars.
"Better the rule in hell," the beautiful man smiles, "than serve in heaven."
It was such an amazing story. I really enjoyed the journey the characters went through in the story, and their development. Something I noticed right at the end of the book was that it was slightly inspired in Anastasia (mostly because of the name's of Ana's family), and that was very surprising!
Though the romance was a bit too insta love-y and rushed for my ideal liking, I still enjoyed the interactions between Eve and Ezekiel. They were both quite strong characters, with a well done development.
I also really enjoyed getting to know that world, because in the first few chapters it made me quite interested in it. I couldn't help but compare it to the I, Robot movie. There were some elements of the story that were pretty similar to the movie, and that made it very action packed and easy to get into the novel.
"A flash of light in her mind. An image of white walls and floors and ceilings. A voice like music in the air. A garden like she'd never seen, domed glass holding back the night above."
One of the main issues I had was the use of the slang language throughout the story. at first it was a bit confusing to me and I didn't really get it, and though it added something unique and different to the story, I came to the conclusion that I wasn't the biggest fan of it or the humor.
It was a very fast paced story, and I was pleasantly surprised to see that I had no problem focusing on the plot or getting into the story at the beginning. It had a lot of action scenes, and they were pretty well done and kept me at the edge of my sear while reading them. The plot twists weren't as surprising as I thought they would be, and though one of the revelations was done very well and actually shocked me because I wasn't expecting it, most of them were quite predictable to me.
Nonetheless, I'm still very excited about the sequel, because even though Lifel1k3 ended up being much more different than I thought, it was still a pretty solid read.
I recieved an ARC of this book in exchange for an honest review. This doesn't change my opinion whatsoever. All thoughts are my own.
Follow me on BlogLovin'
Goodreads | Instagram | Twitter | Contact Me