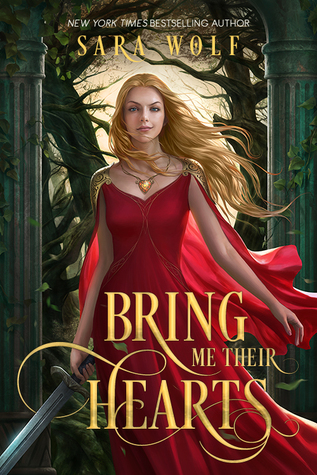 Title: Bring Me Their Hearts
Author: Sara Wolf
Series: Bring Me Their Hearts #1
Genre: Young Adult, Fantasy, High Fantasy, Romance
Publisher: Entangled Teen
Publication date: June 5th, 2018
Pages: 400
My rating: 
---
Zera is a Heartless – the immortal, unageing soldier of a witch. Bound to the witch Nightsinger ever since she saved her from the bandits who murdered her family, Zera longs for freedom from the woods they hide in. With her heart in a jar under Nightsinger's control, she serves the witch unquestioningly.
Until Nightsinger asks Zera for a Prince's heart in exchange for her own, with one addendum; if she's discovered infiltrating the court, Nightsinger will destroy her heart rather than see her tortured by the witch-hating nobles.
Crown Prince Lucien d'Malvane hates the royal court as much as it loves him – every tutor too afraid to correct him and every girl jockeying for a place at his darkly handsome side. No one can challenge him – until the arrival of Lady Zera. She's inelegant, smart-mouthed, carefree, and out for his blood. The Prince's honor has him quickly aiming for her throat.
So begins a game of cat and mouse between a girl with nothing to lose and a boy who has it all.
Winner takes the loser's heart.
Literally.
"I am no flower to be ravaged at your whim, angry wolf— I am your hunter, bow cocked and ready. I am a Heartless, one the creatures your people fled from in terror thirty years ago. If you were smart, you'd start running, too."
Well, I have to admit that I'm a tiny bit disappointed with this book. Maybe it was because my expectations were so high, but I was a bit sad because it seemed like a perfect book to me (I mean, look at that cover!). This was one of my most anticipated releases of this year, and though I overall had a great time reading it and think it's a solid book, I expected so much more from it.
Let me begin by saying that the plot and the storyline were good. At the beginning it was a bit simple, but it started to become much more intricate as I kept reading the story and reached the ending, so it built a good path for the second book. The beginning was a bit slower because there was a lot of information about the world and the witches thrown at us, and though it was a bit confusing to me I think I started to understood what was going on after finishing the story.
Now I have to say that I found the world building a bit lacking. I don't know if it was because it's the first book in a series, and the author decided to focus more on the characters and the actual plot of the story, but I kind of wanted to know more about the magic system and how everything worked there, because I found some things a bit confusing and they weren't explained in this installment that well.
"There is a hunger that comes with our empty chests, settles there like a diseased pustule. It can never be satiated, and it never goes away."
I also had a love/hate relationship with the main character. I think the reason why I didn't connect with her as much as I wanted was because of her personality and the writing style, and because she had the type of humor that sometimes drives me crazy when I'm reading a book. She had an interesting evolution throughout the story, and she ended up growing on me, but there were things that she did that annoyed the crap out of me.
The romance aspect was okay. I'm a bit picky when it comes to the romance, and though this one wasn't the worst I've read and the dynamics between the characters were done quite well, there was something about it that didn't make me go head over heals over it.
The story was quite fast paced and didn't take me much to finish, which was awesome in my opinion. There were some plot twists that I saw coming and were a bit predictable to me, but nonetheless I'm still interested to read the second installment and know if it gets better.
Overall, it was a solid read and I enjoyed reading it. The world building and magic system were a bit lacking and I would have loved to know more about them, but the actual storyline was interesting enough to kept me reading it until the very end.
Follow me on BlogLovin'
Goodreads | Instagram | Twitter | Contact Me