Hello bookworms! I'm Nia and today I'm going to be talking about the books I plan and want to read this month!
Now I have a very ambitious TBR planned for this month of August. Since the BookTubeAThon takes place the first week of August, I have a list of books I want to read that week, and for the rest of the month I have another big pile of books I also would love to get into this month, so let's see how it goes.
I will be mention in here a few of the books that I for sure will be reading this month, whereas it's for BookTubeAThon or for the rest of the weeks. There are other new releases I would love to read this month as well, but since I haven't received them yet I don't know if I'll eventually read them.
Without any further ado, let's begin with my TBR!
A Study in Charlotte | Brittany Cavallaro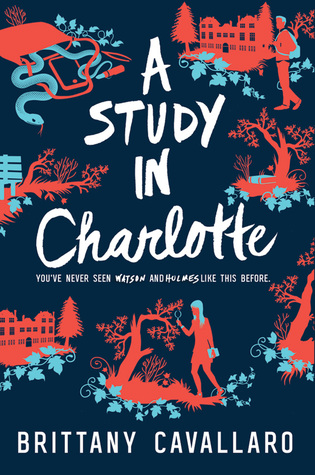 The last thing Jamie Watson wants is a rugby scholarship to Sherringford, a Connecticut prep school just an hour away from his estranged father. But that's not the only complication: Sherringford is also home to Charlotte Holmes, the famous detective's great-great-great-granddaughter, who has inherited not only Sherlock's genius but also his volatile temperament. From everything Jamie has heard about Charlotte, it seems safer to admire her from afar.
From the moment they meet, there's a tense energy between them, and they seem more destined to be rivals than anything else. But when a Sherringford student dies under suspicious circumstances, ripped straight from the most terrifying of the Sherlock Holmes stories, Jamie can no longer afford to keep his distance. Jamie and Charlotte are being framed for murder, and only Charlotte can clear their names. But danger is mounting and nowhere is safe—and the only people they can trust are each other.
My Plain Jane | V.V. A.A.
You may think you know the story. After a miserable childhood, penniless orphan Jane Eyre embarks on a new life as a governess at Thornfield Hall. There, she meets one dark, brooding Mr. Rochester. Despite their significant age gap (!) and his uneven temper (!!), they fall in love—and, Reader, she marries him. (!!!)
Or does she?
Prepare for an adventure of Gothic proportions, in which all is not as it seems, a certain gentleman is hiding more than skeletons in his closets, and one orphan Jane Eyre, aspiring author Charlotte Brontë, and supernatural investigator Alexander Blackwood are about to be drawn together on the most epic ghost hunt this side of Wuthering Heights.
Between Frost and Fury | Chani Lynn Feener
Delaney has been kidnapped by aliens. Again. After only a month back on Earth with her hotnew alien boyfriend Ruckus, the deadly and devastatingly handsome prince Trystan has dragged her right back to his planet.
While some girls may dream of winning a prince's heart, Delaney just wishes this one would leave her alone. Instead, she finds herself at the center of both a tense political battle between two alien kingdoms and Trystan's romantic attentions, both of which are absolutely ruining the life she's built on Earth. Not to mention the fact that she's about to be crowned queen of a planet she's barely even visited. Just another day in life of an ordinary human girl.
The Lantern's Ember | Colleen Houck
Welcome to a world where nightmarish creatures reign supreme.
Five hundred years ago, Jack made a deal with the devil. It's difficult for him to remember much about his mortal days. So, he focuses on fulfilling his sentence as a Lantern—one of the watchmen who guard the portals to the Otherworld, a realm crawling with every nightmarish creature imaginable. Jack has spent centuries jumping from town to town, ensuring that nary a mortal—or not-so-mortal—soul slips past him. That is, until he meets beautiful Ember O'Dare.
Seventeen, stubborn, and a natural-born witch, Ember feels a strong pull to the Otherworld. Undeterred by Jack's warnings, she crosses into the forbidden plane with the help of a mysterious and debonair vampire—and the chase through a dazzling, dangerous world is on. Jack must do everything in his power to get Ember back where she belongs before both the earthly and unearthly worlds descend into chaos.
I Was Born For This | Alice Oseman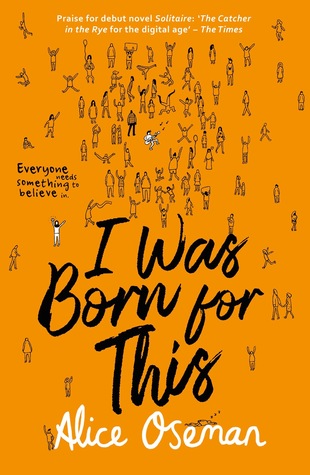 For Angel Rahimi, life is only about one thing: The Ark – a pop-rock trio of teenage boys who are currently taking the world by storm. Being part of The Ark's fandom has given her everything – her friendships, her dreams, her place in the world.
Jimmy Kaga-Ricci owes everything to The Ark too. He's their frontman – and playing in a band is all he's ever dreamed of doing. It's just a shame that recently everything in his life seems to have turned into a bit of a nightmare.
Because that's the problem with dreaming – eventually, inevitably, real life arrives with a wake-up call. And when Angel and Jimmy are unexpectedly thrust together, they will discover just how strange and surprising facing up to reality can be.
Strange Grace | Tessa Gratton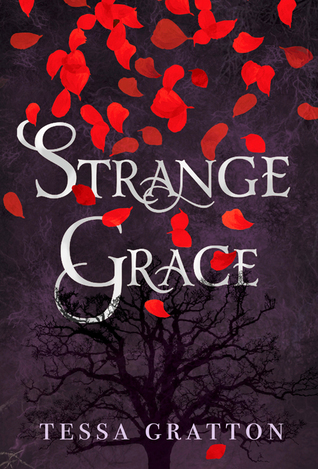 Long ago, a village made a bargain with the devil: to ensure their prosperity, when the Slaughter Moon rises, the village must sacrifice a young man into the depths of the Devil's Forest.
Only this year, the Slaughter Moon has risen early.
Bound by duty, secrets, and the love they share for one another, Mairwen, a spirited witch; Rhun, the expected saint; and Arthur, a restless outcast, will each have a role to play as the devil demands a body to fill the bargain. But the devil these friends find is not the one they expect, and the lies they uncover will turn their town—and their hearts—inside out.
For a Muse of Fire | Heidi Heilig
Jetta's family is famed as the most talented troupe of shadow players in the land. With Jetta behind the scrim, their puppets seem to move without string or stick—a trade secret, they say. In truth, Jetta can see the souls of the recently departed and bind them to the puppets with her blood. But the old ways are forbidden ever since the colonial army conquered their country, so Jetta must never show, never tell. Her skill and fame are her family's way to earn a spot aboard the royal ship to Aquitan, where shadow plays are the latest rage, and where rumor has it the Mad King has a spring that cures his ills. Because seeing spirits is not the only thing that plagues Jetta. But as rebellion seethes and as Jetta meets a young smuggler, she will face truths and decisions that she never imagined—and safety will never seem so far away.
Heidi Heilig creates a vivid, rich world inspired by Asian cultures and French colonialism. Her characters are equally complex and nuanced, including the bipolar heroine. Told from Jetta's first-person point-of-view, as well as chapters written as play scripts and ephemera such as telegrams and letters, For a Muse of Fire is an engrossing journey that weaves magic, simmering romance, and the deep bonds of family with the high stakes of epic adventure.
Now a Major Motion Picture | Cori McCarthy
Unlike the rest of the world, Iris doesn't care about the famous high-fantasy Elementia books written by M. E. Thorne. So it's just a little annoying that M. E. Thorne is her grandmother—and that Iris has to deal with the trilogy's crazy fans.
When Iris gets dropped in Ireland for the movie adaptation, she sees her opportunity: if she can shut down production, the Elementia craze won't grow any bigger, and she can finally have a normal life. Not even the rascally-cute actor Eamon O'Brien can get in her way.
But the crew's passion is contagious, and as Iris begins to find herself in the very world she has avoided her whole life, she realizes that this movie might just be amazing…
Rule | Ellen Goodlett
The king is dying, his heir has just been murdered, and rebellion brews in the east. But the kingdom of Kolonya and the outer Reaches has one last option before it descends into leaderless chaos.
Or rather, three unexpected options.
Zofi has spent her entire life trekking through the outer Reaches with her band of Travelers. She would do anything to protect the band, her family. But no one can ever find out how far she's already gone.
Akeylah was raised in the Eastern Reach, surrounded by whispers of rebellion and abused by her father. Desperate to escape, she makes a decision that threatens the whole kingdom.
Ren grew up in Kolonya, serving as a lady's maid and scheming her way out of the servants' chambers. But one such plot could get her hung for treason if anyone ever discovers what she's done.
When the king summons the girls, they arrive expecting arrest or even execution. Instead they learn the truth: they are his illegitimate daughters, and one must become his new heir. But someone in Kolonya knows their secrets, and that someone will stop at nothing to keep the sisters from their destiny… to rule.
Percy Jackson & The Lighting Thief | Rick Riordan
Percy Jackson is about to be kicked out of boarding school… again. And that's the least of his troubles. Lately, mythological monsters and the gods of Mount Olympus seem to be walking straight out of the pages of Percy's Greek mythology textbook and into his life. And worse, he's angered a few of them. Zeus' master lightning bolt has been stolen, and Percy is the prime suspect.
Now Percy and his friends have just ten days to find and return Zeus' stolen property and bring peace to a warring Mount Olympus. But to succeed on his quest, Percy will have to do more than catch the true thief: he must come to terms with the father who abandoned him; solve the riddle of the Oracle, which warns him of betrayal by a friend; and unravel a treachery more powerful than the gods themselves.
Little Do We Know | Tamara Ireland Stone
Next-door neighbors and ex-best friends Hannah and Emory haven't spoken in months. Not since the fight—the one where they said things they couldn't take back.
Now, Emory is fine-tuning her UCLA performing arts application and trying to make the most of the months she has left with her boyfriend, Luke, before they head off to separate colleges. Meanwhile, Hannah's strong faith is shaken when her family's financial problems come to light, and she finds herself turning to unexpected places—and people—for answers to the difficult questions she's suddenly facing.
No matter how much Hannah and Emory desperately want to bridge the thirty-six steps between their bedroom windows, they can't. Not anymore.
Until their paths cross unexpectedly when, one night, Hannah finds Luke doubled over in his car outside her house. In the aftermath of the accident, all three struggle to understand what happened in their own ways. But when a devastating secret about Hannah and Emory's argument ultimately comes to light, they must all reexamine the things they hold true.
The Wicker King | K. Ancrum
When August learns that his best friend, Jack, shows signs of degenerative hallucinatory disorder, he is determined to help Jack cope. Jack's vivid and long-term visions take the form of an elaborate fantasy world layered over our own—a world ruled by the Wicker King. As Jack leads them on a quest to fulfill a dark prophecy in this alternate world, even August begins to question what is real or not.
August and Jack struggle to keep afloat as they teeter between fantasy and their own emotions. In the end, each must choose his own truth.
Circe | Madeline Miller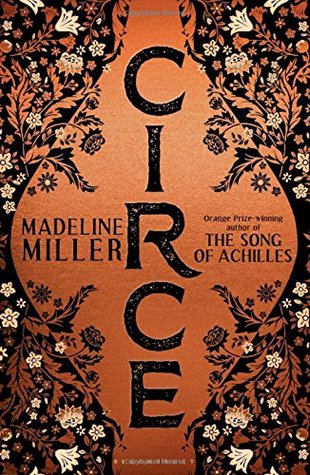 In the house of Helios, god of the sun and mightiest of the Titans, a daughter is born. But Circe has neither the look nor the voice of divinity, and is scorned and rejected by her kin. Increasingly isolated, she turns to mortals for companionship, leading her to discover a power forbidden to the gods: witchcraft.
When love drives Circe to cast a dark spell, wrathful Zeus banishes her to the remote island of Aiaia. There she learns to harness her occult craft, drawing strength from nature. But she will not always be alone; many are destined to pass through Circe's place of exile, entwining their fates with hers. The messenger god, Hermes. The craftsman, Daedalus. A ship bearing a golden fleece. And wily Odysseus, on his epic voyage home.
There is danger for a solitary woman in this world, and Circe's independence draws the wrath of men and gods alike. To protect what she holds dear, Circe must decide whether she belongs with the deities she is born from, or the mortals she has come to love.
What books do you want to read this month? Have you read any of these ones I've mentioned above? Let me know in the comments if you have them on your TBR as well or if you've enjoyed them or not!
Follow me on BlogLovin'
Goodreads | Instagram | Twitter | Contact Me