Hello bookworms! I'm Nia and today I'm going to be talking about the books I've read this year that have surprised me the most.
Like I said in my previous post, I've read a ton of books this year, and though there are a few I didn't like as much or I'm still a bit disappointed, there are a few that I wasn't expecting to like as much as I did. And this is mainly what this post is about.
Today I'm going to be talking about 8 books that I didn't know I was going to like that much and ended up surprising me in some kind of way.
Without any further ado, let's start with the post!
Warcross | Marie Lu
My thoughts: To be completely honest with you, I wasn't expecting to like this book as much as everyone else did. There was a lot of hype surrounding it, and I haven't read any Marie Lu's books before, so I was a bit hesitant, even though I was interesting in the premise and, of course, reading it. I was lucky enough to get an ARC of this book, and I adored it. I completely fell in love with the whole story and the characters, and basically Warcross. It was really fast paced and took me a few hours to finish, and left me wanting more.
I have a review of this book here in case you want to check it out.
For the millions who log in every day, Warcross isn't just a game—it's a way of life. The obsession started ten years ago and its fan base now spans the globe, some eager to escape from reality and others hoping to make a profit. Struggling to make ends meet, teenage hacker Emika Chen works as a bounty hunter, tracking down players who bet on the game illegally. But the bounty hunting world is a competitive one, and survival has not been easy. Needing to make some quick cash, Emika takes a risk and hacks into the opening game of the international Warcross Championships—only to accidentally glitch herself into the action and become an overnight sensation.
Convinced she's going to be arrested, Emika is shocked when instead she gets a call from the game's creator, the elusive young billionaire Hideo Tanaka, with an irresistible offer. He needs a spy on the inside of this year's tournament in order to uncover a security problem . . . and he wants Emika for the job. With no time to lose, Emika's whisked off to Tokyo and thrust into a world of fame and fortune that she's only dreamed of. But soon her investigation uncovers a sinister plot, with major consequences for the entire Warcross empire.
Night Film | Marisha Pessl
My thoughts: I've been wanting to read this book for ages, but somehow I've been pushing it until a few months back when I finally decided to pick it up. Maybe it was because I had it so hyped up in my head and read amazing things about it, but part of me didn't think I wasn't going to like it as much as I did. And I have to say I was completely wrong. I loved this book so much. I was thinking about it even when I wasn't reading it, and I couldn't put it down until the very end, and that's something that I always appreciate in a thriller.
I have a review of this book here in case you want to check it out.
On a damp October night, beautiful young Ashley Cordova is found dead in an abandoned warehouse in lower Manhattan. Though her death is ruled a suicide, veteran investigative journalist Scott McGrath suspects otherwise. As he probes the strange circumstances surrounding Ashley's life and death, McGrath comes face-to-face with the legacy of her father: the legendary, reclusive cult-horror-film director Stanislas Cordova—a man who hasn't been seen in public for more than thirty years.
For McGrath, another death connected to this seemingly cursed family dynasty seems more than just a coincidence. Though much has been written about Cordova's dark and unsettling films, very little is known about the man himself.
Driven by revenge, curiosity, and a need for the truth, McGrath, with the aid of two strangers, is drawn deeper and deeper into Cordova's eerie, hypnotic world.
The last time he got close to exposing the director, McGrath lost his marriage and his career. This time he might lose even more.
The girl in 6E | A. R. Torre
My thoughts: I was completely blown away by this book. I've been meaning to read it for ages, because a few years ago I read another book by her and really enjoyed it as well, but wow, it was so much better than I thought it would be. This is one of (if not the first and only one) the books that took me a few hours to finish it, which almost never happens  to me, and that was mainly because I was so engrosed in the story I wanted to keep reading and keep reading until I finish the book. It was a really well written thriller with an unique and a very fastinating main character, and I cannot wait to read more about her.
I have a review of this book here in case you want to check it out.
I haven't touched a human in three years. That seems like it would be a difficult task, but it's not. Not anymore, thanks to the internet.
I am, quite possibly, the most popular recluse ever. Not many shut-ins have a 200-member fan club, a bank account in the seven-figure range, and hundreds of men lining up to pay for undivided attention.
They get satisfaction, I get a distraction. Their secret desires are nothing compared to why I hide… my lust for blood, my love of death.
Taking their money is easy. Keeping all these secrets… one is bound to escape.
What if you hid yourself away because all you could think of was killing? And what if one girl's life depending on you venturing into society?
Illuminae | Amy Kaufman & Jay Kristoff
My thoughts: The main reason why this book made it to this list is because I'm not usually a big fan of sci-fi. Yes, I've read a few books of that genre, but it's not the one I reach for the most, and so I was a bit hesitated to pick this up because of all the hype that surrounded it. And turns out, I did really have a great time reading it, and it surprised me a lot how much I enjoyed it. It was a bit confusing at first and took me a bit to get used to the format and the way it was written, but once I did, I flew though it.
I have a review of this book here in case you want to check it out.
This morning, Kady thought breaking up with Ezra was the hardest thing she'd have to do. This afternoon, her planet was invaded.
The year is 2575, and two rival megacorporations are at war over a planet that's little more than an ice-covered speck at the edge of the universe. Too bad nobody thought to warn the people living on it. With enemy fire raining down on them, Kady and Ezra—who are barely even talking to each other—are forced to fight their way onto an evacuating fleet, with an enemy warship in hot pursuit.
But their problems are just getting started. A deadly plague has broken out and is mutating, with terrifying results; the fleet's AI, which should be protecting them, may actually be their enemy; and nobody in charge will say what's really going on. As Kady hacks into a tangled web of data to find the truth, it's clear only one person can help her bring it all to light: the ex-boyfriend she swore she'd never speak to again.
Violet Grenade | Victoria Scott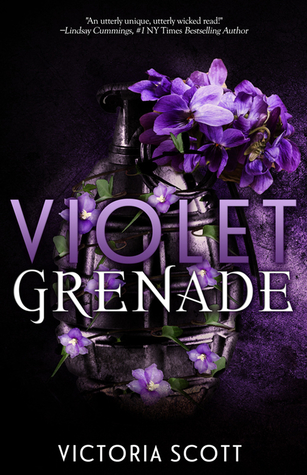 My thoughts: I've already wanted to read this book before it came out, because the premise sounded amazing, but I've read another book by Victoria Scott, and though it wasn't bad, it wasn't as good as I thought it would be, either, so that made me a bit aprehensive going into this one. However, I did enjoy it, because it was weird and dark and twisted, and I feel there were a lot of twists and turns throughout the book that I overall liked.
I have a review of this book here in case you want to check it out.
Her name is Domino Ray.
But the voice inside her head has a different name.
When the mysterious Ms. Karina finds Domino in an alleyway, she offers her a position at her girls' home in secluded West Texas. With no alternatives and an agenda of her own, Domino accepts. It isn't long before she is fighting her way up the ranks to gain the woman's approval…and falling for Cain, the mysterious boy living in the basement.
But the home has horrible secrets. So do the girls living there. So does Cain.
Escaping is harder than Domino expects, though, because Ms. Karina doesn't like to lose inventory. But then, she doesn't know about the danger living inside Domino's mind.
She doesn't know about Wilson.
And I Darken | Kiersten White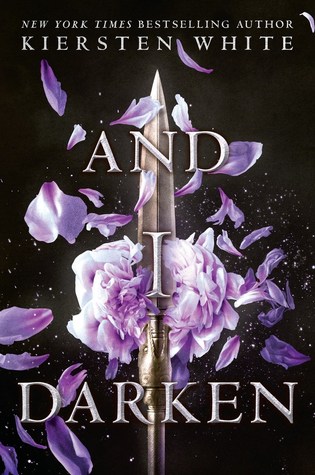 My thoughts: This is, without any doubt, one of the books that surprised me the most. When I started reading it, nothing was really hapenning and it was really slow that sometimes I got a bit bored, but guys, it turned out to be a super interesting story. I loved the cast of characters that were in the book, and how it focused more on politics and religion, which isn't a common theme for books I usually read.
I have a review of And I Darken and Now I Rise, in case you want to check them out.
No one expects a princess to be brutal. And Lada Dragwlya likes it that way. Ever since she and her gentle younger brother, Radu, were wrenched from their homeland of Wallachia and abandoned by their father to be raised in the Ottoman courts, Lada has known that being ruthless is the key to survival. She and Radu are doomed to act as pawns in a vicious game, an unseen sword hovering over their every move. For the lineage that makes them special also makes them targets.
Lada despises the Ottomans and bides her time, planning her vengeance for the day when she can return to Wallachia and claim her birthright. Radu longs only for a place where he feels safe. And when they meet Mehmed, the defiant and lonely son of the sultan, Radu feels that he's made a true friend—and Lada wonders if she's finally found someone worthy of her passion.
But Mehmed is heir to the very empire that Lada has sworn to fight against—and that Radu now considers home. Together, Lada, Radu, and Mehmed form a toxic triangle that strains the bonds of love and loyalty to the breaking point.
Want | Cindy Pon
My thoughts: I have to say I didn't know about this book at all at the beginning of the year, but them I saw someone on Goodreads talking about it and the cover caught my attention, and after reading the synopsis I decided to give it a try. And I'm so glad I did because I really liked this book. I know it had a few well used YA tropes in it, but I really loved the cast of characters and the whole message of the story, so I don't particulary care about the tropes that were in there.
I have a review of this book here in case you want to check it out.
Jason Zhou survives in a divided society where the elite use their wealth to buy longer lives. The rich wear special suits that protect them from the pollution and viruses that plague the city, while those without suffer illness and early deaths. Frustrated by his city's corruption and still grieving the loss of his mother, who died as a result of it, Zhou is determined to change things, no matter the cost.
With the help of his friends, Zhou infiltrates the lives of the wealthy in hopes of destroying the international Jin Corporation from within. Jin Corp not only manufactures the special suits the rich rely on, but they may also be manufacturing the pollution that makes them necessary.
Yet the deeper Zhou delves into this new world of excess and wealth, the more muddled his plans become. And against his better judgment, Zhou finds himself falling for Daiyu, the daughter of Jin Corp's CEO. Can Zhou save his city without compromising who he is or destroying his own heart?
One Dark Throne | Kendare Blake
My thoughts: Okay, I didn't think I would like this book. I read Three Dark Crowns last year, and though it wasn't bad, it didn't blow my mind as I expected. It was slow and most of the time nothing was really happening. And I have to say One Dark Throne was just as slow (maybe a bit less) than the first installment. But I liked the characters way more than I did in the first book. Since I already knew that world and everything, I found myself enjoying more the story that I was reading, and the different twists and turns that it had, and overall I ended up really shocked by how much I loved this installment.
I have a review of this book here in case you want to check it out.
The battle for the Crown has begun, but which of the three sisters will prevail?
With the unforgettable events of the Quickening behind them and the Ascension Year underway, all bets are off. Katharine, once the weak and feeble sister, is stronger than ever before. Arsinoe, after discovering the truth about her powers, must figure out how to make her secret talent work in her favor without anyone finding out. And Mirabella, once thought to be the strongest sister of all and the certain Queen Crowned, faces attacks like never before—ones that put those around her in danger she can't seem to prevent.
What are the most surprising books you've read this year? Let me know if you have any of the ones I've mentioned in your list, too.
Also I just wanted to wish you a very Merry Christmas! I hope you're all doing well and having a great time. 
Follow me on BlogLovin'
Goodreads | Instagram | Twitter | Contact Me