Hello bookworms! I'm Nia and today I'm going to be talking about books I'd save from a fire.
I have to say I wouldn't only save five books if I had to, because there are a lot of books that either mean a lot to me or are a favorite of mine, so the list would be pretty long. However, these series I'm going to mention here are either my top top favorites, or have a lot of meaning to me that I would save them without any doubt.
If you aren't familiar with Top 5 Tuesday, it is a group here on WordPress now currently run by Shanah over at BionicBookWorm, where each week they give you a topic and you talk about 5 books that fit that category.
Without any further ado, let's start with this week's topic!
Shatter Me | Tahereh Mafi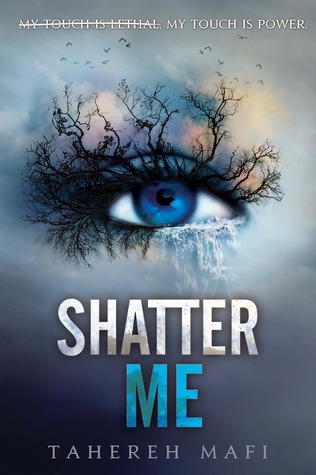 My thoughts: Okay, so the Shatter Me series is one of my all time favorites. It was one of the first books I read back when I started reading again, and it has such a special place in my heart. I have two editions of the books, but I think I'd save the ones I have tabbed so I could re-read it over and over again and know what things or quotes I loved back when I first read them.
I have a curse
I have a gift
I am a monster
I'm more than human
My touch is lethal
My touch is power
I am their weapon
I will fight back
Juliette hasn't touched anyone in exactly 264 days.
The last time she did, it was an accident, but The Reestablishment locked her up for murder. No one knows why Juliette's touch is fatal. As long as she doesn't hurt anyone else, no one really cares. The world is too busy crumbling to pieces to pay attention to a 17-year-old girl. Diseases are destroying the population, food is hard to find, birds don't fly anymore, and the clouds are the wrong color.
The Reestablishment said their way was the only way to fix things, so they threw Juliette in a cell. Now so many people are dead that the survivors are whispering war – and The Reestablishment has changed its mind. Maybe Juliette is more than a tortured soul stuffed into a poisonous body. Maybe she's exactly what they need right now.
Juliette has to make a choice: Be a weapon. Or be a warrior.
The Naturals Series | Jennifer Lynn Barnes
My thoughts: Though this one isn't as meaningful to me as the other books I've talked here would be, I would save them because I was obsessed with them when I read them last year. They were some of my favorite books I read in 2017, and that's mainly why I want to save them. Well, I just want to re-read them, and I need my physical copies.
I have already posted a review of The Naturals, Killer Instinct, All In and Bad Blood.
Seventeen-year-old Cassie is a natural at reading people. Piecing together the tiniest details, she can tell you who you are and what you want. But it's not a skill that she's ever taken seriously. That is, until the FBI come knocking: they've begun a classified program that uses exceptional teenagers to crack infamous cold cases, and they need Cassie.
What Cassie doesn't realize is that there's more at risk than a few unsolved homicides—especially when she's sent to live with a group of teens whose gifts are as unusual as her own. Sarcastic, privileged Michael has a knack for reading emotions, which he uses to get inside Cassie's head—and under her skin. Brooding Dean shares Cassie's gift for profiling, but keeps her at arm's length.
Soon, it becomes clear that no one in the Naturals program is what they seem. And when a new killer strikes, danger looms closer than Cassie could ever have imagined. Caught in a lethal game of cat and mouse with a killer, the Naturals are going to have to use all of their gifts just to survive.
The Shadowhunter Chronicles | Cassandra Clare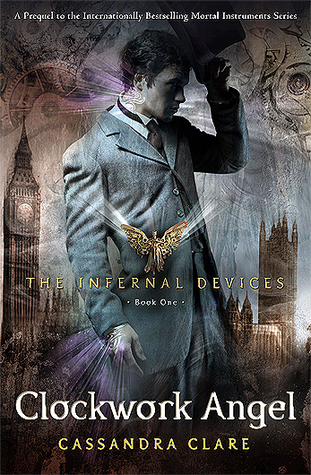 My thoughts: If you haven't been here for a while you'll probably don't know this, but I used to be obsessed with the Shadowhunter Chronicles back in the day. I read them when I was 13 or 14 and completely fell in love with the world, and even though I finished most of the series recently, I'd still save all of those books (The Mortal Instruments, The Infernal Devices and The Dark Artifices) because the series means so much to me and I have really good memories about them.
In a time when Shadowhunters are barely winning the fight against the forces of darkness, one battle will change the course of history forever. Welcome to the Infernal Devices trilogy, a stunning and dangerous prequel to the New York Times bestselling Mortal Instruments series.
The year is 1878. Tessa Gray descends into London's dark supernatural underworld in search of her missing brother. She soon discovers that her only allies are the demon-slaying Shadowhunters—including Will and Jem, the mysterious boys she is attracted to. Soon they find themselves up against the Pandemonium Club, a secret organization of vampires, demons, warlocks, and humans. Equipped with a magical army of unstoppable clockwork creatures, the Club is out to rule the British Empire, and only Tessa and her allies can stop them…
The Night Circus | Erin Morgenstern
My thoughts: I have a few reasons why I'd save this book. First, this is one of my all time favorites. I love the story and the characters and though I have a few editions, this particular one is so beautiful I wouldn't doubt. And second, this one was a gift of my mom, and that's why I treasure it.
The circus arrives without warning. No announcements precede it. It is simply there, when yesterday it was not. Within the black-and-white striped canvas tents is an utterly unique experience full of breathtaking amazements. It is called Le Cirque des Rêves, and it is only open at night.
But behind the scenes, a fierce competition is underway—a duel between two young magicians, Celia and Marco, who have been trained since childhood expressly for this purpose by their mercurial instructors. Unbeknownst to them, this is a game in which only one can be left standing, and the circus is but the stage for a remarkable battle of imagination and will. Despite themselves, however, Celia and Marco tumble headfirst into love—a deep, magical love that makes the lights flicker and the room grow warm whenever they so much as brush hands.
True love or not, the game must play out, and the fates of everyone involved, from the cast of extraordinary circus performers to the patrons, hang in the balance, suspended as precariously as the daring acrobats overhead.
Harry Potter | J. K. Rowling
My thoughts: I mean, who wouldn't save Harry Potter? I think that's a stable in most of these posts. Though when I was younger I watched the movies more than read the books, and it wasn't until recently that I read them, they still mean so much to me because I grew up with Harry Potter, hence why I'm saving the series. Also because I have a beautiful edition of those books that came in a box set and I don't want them to burn.
Harry Potter's life is miserable. His parents are dead and he's stuck with his heartless relatives, who force him to live in a tiny closet under the stairs. But his fortune changes when he receives a letter that tells him the truth about himself: he's a wizard. A mysterious visitor rescues him from his relatives and takes him to his new home, Hogwarts School of Witchcraft and Wizardry.
After a lifetime of bottling up his magical powers, Harry finally feels like a normal kid. But even within the Wizarding community, he is special. He is the boy who lived: the only person to have ever survived a killing curse inflicted by the evil Lord Voldemort, who launched a brutal takeover of the Wizarding world, only to vanish after failing to kill Harry.
Though Harry's first year at Hogwarts is the best of his life, not everything is perfect. There is a dangerous secret object hidden within the castle walls, and Harry believes it's his responsibility to prevent it from falling into evil hands. But doing so will bring him into contact with forces more terrifying than he ever could have imagined.
What books or series would you save from a fire? Do you have any of these ones on your list as well? Let me know so we can talk about them in the comments!
Follow me on BlogLovin'
Goodreads | Instagram | Twitter | Contact Me