,lHello bookworms! I'm Nia and today I'm going to be talking about the BookTubeAThon!
Of course, after participating last year and loving the experience I decided to join this year too. And to be honest, I did an amazing job this year, and I'm still not sure how.
This year I'm going to be doing this a bit differently, because even though I liked the method I used last year to tell you about my reading week and challenges, I mostly read two books per day, and I can't really tell you which days I read which books, so instead I'm going to be talking about the books I read, my thoughts about them, and what happened said days while reading them.
Without any further ado, let's start with my BookTubeAThon wrap up!
The Challenges
---
• Let a coin decide your first read
Well… I clearly didn't read this sentence well, because I didn't do this challenge first, and instead read another book I was planning to read for this readathon. But my choices were between Strange Grace by Tessa Gratton and Sawkill Girls by Claire Legrand. I can't really remember which one was heads and which one tails, but I ended up reading Strange Grace for this challenge.
⭐️⭐️.75
What happened that day
I think that the day I read this book was Wednesday, but I started it on Tuesday at night right before I went to bed (I'm pretty sure, but I might be totally wrong and my brain is messing with me). I felt it took me a while more than it actually did, because I documented all of the books I read for the readathon with my Bookly app and it told me that it took me three and a half hours, which wasn't bad at all, but it felt like more. Nonetheless, I ended up completing my challenge, so kudos to me.
My thoughts about Strange Grace
I had a weird experience with this particular book. I was so excited to read it, because the premise sounded like something right up my alley, and though when I think about it, I liked what I read and the plot and all, I struggled a lot while reading the book. I'll be doing a more detailed review, explaining everything that I loved and disliked about the story, but I think one of the reasons why I didn't enjoy this novel as much was the format of the book. I read an e-ARC of Strange Grace, and that determined a lot my enjoyment till the point I was considering re-reading it in a future to see if my opinion would change.
Long ago, a village made a bargain with the devil: to ensure their prosperity, when the Slaughter Moon rises, the village must sacrifice a young man into the depths of the Devil's Forest.Only this year, the Slaughter Moon has risen early.
Bound by duty, secrets, and the love they share for one another, Mairwen, a spirited witch; Rhun, the expected saint; and Arthur, a restless outcast, will each have a role to play as the devil demands a body to fill the bargain. But the devil these friends find is not the one they expect, and the lies they uncover will turn their town—and their hearts—inside out.
• Read a book about something you want to do
This was a challenge, tho. I had a large TBR, and I couldn't think about what book I could choose for this challenge until I saw this certain book creeping through my shelves, and I decided to read it. For this challenge I chose Now a Major Motion Picture by Cori McCarthy, because for the ones of you who don't know, I love everything that has to do with film making or acting, and this particular story involved both of these things. Also, it took place in Ireland, and I would love to visit it one day. So I read it.
⭐️
⭐️
⭐️
⭐️
What happened that day
I can tell you, remembering when I read these books is going to be the end of me *laughs hysterically*. Actually, even though this is quite a long book for being a contemporary, it took me a couple of hours to finish it, which was crazy. I read it in two sittings (because I had to stop to eat), and I was surprised by how fast paced it was, and how quick I finished it. I'm pretty sure I read it either Wednesday evening or Thrusday morning, I can't really remember, but I was so glad I chose this book for this challenge, because I ended up really enjoying it.
My thoughts about Now a Major Motion Picture
I didn't know this was a feminist book, and when I read it in the cover of the novel, I got so excited! It ended up being quite different from what I expected, but I overall really enjoyed it and had an amazing time reading it, and it had some feminist elements that I adored.
Okay, I'm a sucker for anything that has to do with film making or acting, and these two things clearly were quite important throughout the story. And even though it wasn't as focused as I expected in those elements, there were snippets of them as I kept reading the novel, since it took place while filming a movie. So I was pretty satisfied with everything.
I also really enjoyed the characters. Though the protagonist was a bit annoying at some points, she had a great development throughout the story, and grew so much from the beginning of Now a Major Motion Picture. I adored the relationship she had with her brother and how much she cared about him, and I also enjoyed the dynamics between her and the filming crew. I think one of my favorite characters was the movie director. She was such a relatable and cool side character, and I loved the influence she had towards our main character.
The romance wasn't bad, either. Though I feel it came to a point where it was a bit too focused on that, I enjoyed the relationship between these two characters and the interactions they had throughout the novel, and I really loved the love interest because he was such a sweetheart.
Overall, it was such a fast paced story despite being quite a long book, and I had such a great time reading about those characters. And I adored reading the little scenes of the book this movie was based on, I think it was such a great addition.
Unlike the rest of the world, Iris doesn't care about the famous high-fantasy Elementia books written by M. E. Thorne. So it's just a little annoying that M. E. Thorne is her grandmother—and that Iris has to deal with the trilogy's crazy fans.
When Iris gets dropped in Ireland for the movie adaptation, she sees her opportunity: if she can shut down production, the Elementia craze won't grow any bigger, and she can finally have a normal life. Not even the rascally-cute actor Eamon O'Brien can get in her way.
But the crew's passion is contagious, and as Iris begins to find herself in the very world she has avoided her whole life, she realizes that this movie might just be amazing…
• Read and then watch a book to movie adaptation
I was thinking of reading a very short book for this challenge at first, because I didn't know if I was going to complete all the challenges. So I first chose The Little Mermaid, mostly because I read that fairytale a few years ago and wanted to revisit it, but I ended up choosing Percy Jackson & The Lighting Thief by Rick Riordan because believe it or not, I HAVEN'T READ THE SERIES YET (I know, I'm the worst!). Even though I've watched the movies a couple of times, I was curious to read the books because everyone says they are so much better than the movies, so yup.
⭐️⭐️⭐️⭐️.25
What happened that day
This was one of the last books I read for the BookTubeAThon, and with this one I completed my last challenged and read seven books. I read it and finished it in the same day, but I have to say this was a bit different. Since we were closer to the end of the week (it was Friday), I wasn't feeling as eager to read as the past days, and I was afraid I was going to be in a reading slump pretty soon, so I decided to pick up the audiobook and see if that helped. Now you know me, I don't do audiobooks, because I can't concentrate in the story I'm listening, so I was so hesitant, but since I had a free audiobook, I said "why not".
Actually, it helped me a bit to get rid of that tiny slump I was in by the time. It was something completely new from what I'm used to, and though I ended up continuing reading Percy Jackson from my physical copy, I read half of the book via audio. I still don't think it's for my that method, but I was glad I decided to do it. And yes, now I totally agree with everyone saying that the movies suck and the books are so much better!
My thoughts about Percy Jackson & The Lighting Thief
To be completely honest, I was a bit apprehensive to pick up this book because I feel it's a reader's favorite, and I was a bit scared I wasn't going to love it as much as everyone else does, mostly because middle grade is not usually the genre I reach for, but I ended up really surprised by how much I enjoyed the characters and the story.
What scared me the most about this book was that I thought it was going to be a bit more juvenile for me, but I ended up loving the writing, and though it was a middle grade book and had some convenient things going on throughout the story, it almost read like a YA, because the writing was so funny and good.
I absolutely adored the characters. Percy is such a hilarious main character, and it was such a joy for me to read from his point of view and follow his journey. I loved his evolution throughout the story and his relationships with the other half bloods. I don't know, it was so much fun to read and discover this world, mostly because all the experience I had with this story was from the movies, and after reading this book and then watching the movie I can say that they are nothing alike, and the book is SO much better.
It was such a fast paced story and I devoured it, and I honestly cannot wait to pick up the next books and see what adventures await these characters and see them grow.
Percy Jackson is about to be kicked out of boarding school… again. And that's the least of his troubles. Lately, mythological monsters and the gods of Mount Olympus seem to be walking straight out of the pages of Percy's Greek mythology textbook and into his life. And worse, he's angered a few of them. Zeus' master lightning bolt has been stolen, and Percy is the prime suspect.Now Percy and his friends have just ten days to find and return Zeus' stolen property and bring peace to a warring Mount Olympus. But to succeed on his quest, Percy will have to do more than catch the true thief: he must come to terms with the father who abandoned him; solve the riddle of the Oracle, which warns him of betrayal by a friend; and unravel a treachery more powerful than the gods themselves.
• Read a book with green on the cover
I've been wanting to pick up After the Fall by Kate Hart ever since I first bought it last year, because the premise sounded like a heart gripping book, and I was so curious to see if it was going to be as good as I pictured it in my mind, so I thought it was the perfect opportunity for me to finally read this book. And even though I read other books for the BookTubeAThon that had green on the cover as well, this one was the one that completed the challenge.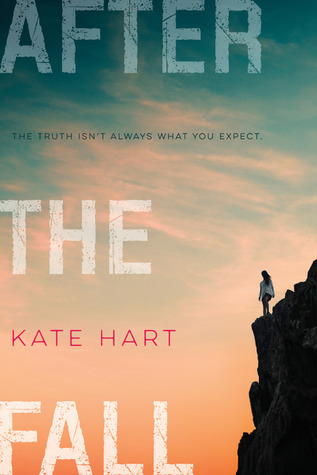 ⭐️.5
What happened that day
This was the second book I read for the BookTubeAThon, and it took me two hours to finish it. This was the first day of the readathon, and because I'm very ambitious and wanted to complete all the challenges, I read two books that Monday. This one was one of them. Since both of them were contemporary (I'll be talking about the other one in a minute), they were pretty easy for me to finish them, so I checked two of the challenges the first day *yay*.
My thoughts about After the Fall
I was so disappointed with this book. I had such high hopes and was expecting so much from it, but it ended up being not the greatest book I've ever read. The premise sounded so interesting and I was hoping to see some of the things that happened addressed, but they really weren't. I don't know, it was quite a mess.
I wasn't the biggest fan of the writing style, to be honest. It wasn't a badly written book, but I just didn't click with it that much. Also I feel that during the first half of the book (the one that was called "before the fall") nothing really was happening besides relationship drama. There was hardly a plot to follow, and I don't mind character driven stories, but I didn't like the cast of characters in this particular book, so I wasn't enjoying the story.
The characters were so plain, unremarkable and boring that it was so hard to connect with them throughout the story. They didn't have much of a personality and I completely hated Matt. He was such an asshole, and I found his points of view not only boring but unnecessary. He didn't add anything to the story besides juvenile and childish comments about why he deserved to date his best friend.
The second part was a bit better than the first one, since it had a bit of a plot to follow, but still I wasn't into the story at all. The characters hardly had an evolution until the last 30 pages, and I feel some of the bigger events that happened that made those characters evolved were to cause a reaction to the reader, and were just odd to me. There were some important things that needed to be addressed in the story, and though they kind of were, I feel they didn't give it much importance, and they should have.
So overall, I was pretty disappointed with this book. I was expecting so much more from it, and not only I was bored during most of the book, but also I didn't really connect with the characters that much.
Seventeen-year-old Raychel is sleeping with two boys: her overachieving best friend Matt…and his slacker brother, Andrew. Raychel sneaks into Matt's bed after nightmares, but nothing ever happens. He doesn't even seem to realize she's a girl, except when he decides she needs rescuing. But Raychel doesn't want to be his girl anyway. She just needs his support as she deals with the classmate who assaulted her, the constant threat of her family's eviction, and the dream of college slipping quickly out of reach. Matt tries to help, but he doesn't really get it… and he'd never understand why she's fallen into a secret relationship with his brother. The friendships are a precarious balance, and when tragedy strikes, everything falls apart. Raychel has to decide which pieces she can pick up – and which ones are worth putting back together.
• Read a book while wearing the same hat the whole time
s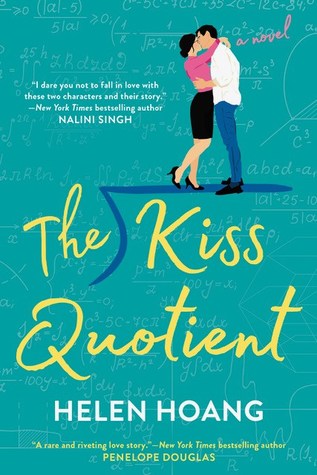 ⭐️⭐️⭐️⭐️
What happened that day
Remember when I was talking about After the Fall that I mentioned I read two books in the same day? Well, this one was the second book I finished on Monday.
My thoughts about The Kiss Quotient
I'm a happy little bean right now. I admit that I was so scared to pick up this book, because it's so hyped and everyone that has read it couldn't stop talking about it, but I ended up really loving it, till the point that the more I think about it, the more I like it.
First of all, I loved the diversity of the book. The characters were so real and complex, and well crafted that I knew when I started reading the book that I was really going to love them. Though the writing wasn't anything special and it was your typical NA type of writing style, they way the author wrote the interactions between both of these characters was so well done. They had an incredibly amazing chemistry between each other, and you could clearly see that when you were reading it.
Also another thing that really surprised my (in a good way) was how consensual the relationship between Stella and Michael was. They were so adorable together, and so supportive towards the other. And I was so happy to see how consensual the sex scenes and basically any intimate scenes were in the story.
I would say that towards the end there were some things that happened regarding possessiveness and jealously that I didn't really like, and weren't really addressed, but apart from that I adored the romance.
Another thing I noticed was that there wasn't much of a plot apart from that romance, and though that relationship was so good and I really enjoyed the dynamics between both of these characters and the evolution throughout the story, I wish there were something more going on in the story.
Overall, I was pleasantly surprised with the book. I loved the characters and their interactions and relationship, and though I can't tell if it was a good representation of asperger, it was so easy for me to connect with the characters and relate to them.
Stella Lane thinks math is the only thing that unites the universe. She comes up with algorithms to predict customer purchases–a job that has given her more money than she knows what to do with, and way less experience in the dating department than the average thirty-year-old.
It doesn't help that Stella has Asperger's and French kissing reminds her of a shark getting its teeth cleaned by pilot fish. Her conclusion: she needs lots of practice–with a professional. Which is why she hires escort Michael Phan. The Vietnamese and Swedish stunner can't afford to turn down Stella's offer, and agrees to help her check off all the boxes on her lesson plan–from foreplay to more-than-missionary position…
Before long, Stella not only learns to appreciate his kisses, but to crave all the other things he's making her feel. Soon, their no-nonsense partnership starts making a strange kind of sense. And the pattern that emerges will convince Stella that love is the best kind of logic…
• Read a book with a beautiful spine
Okay, I was a bit lost with this challenge, because even though I had books with beautiful spines on my TBR, I wasn't in the mood to read them, but since I bought The Wicker Kingby K. Ancrum a few days before, I decided to choose it for the challenge. The spine is actually very beautiful, with a black background and gold stars, but the actual spine of the book itself is SO beautiful, so since I wasn't going to read the book with the dust jacket on, I picked it up.
The other book that also completed this challenge was super random, and was the eighth book I read in the week. Between Frost and Fury by Chani Lynn Feener had a very gorgeous spine as well, so since I read it in the same week, I decided to add it to this challenge as well.
⭐️⭐️⭐️.75
What happened that day
I'm pretty sure I read this book on Tuesday morning, after I woke up. I picked it up randomly and it was such a fast paced book that I read it in one sitting. It only took me two hours to finish it, so extra kudos to me.
My thoughts about The Wicker King
I'll be going to write a full review in which I'll talk more in depth of the plot of this book and my thoughts about it, explaining the things I liked and didn't love about it, so if you're curious stay tuned because it's going to be published very soon!
When August learns that his best friend, Jack, shows signs of degenerative hallucinatory disorder, he is determined to help Jack cope. Jack's vivid and long-term visions take the form of an elaborate fantasy world layered over our own—a world ruled by the Wicker King. As Jack leads them on a quest to fulfill a dark prophecy in this alternate world, even August begins to question what is real or not.
August and Jack struggle to keep afloat as they teeter between fantasy and their own emotions. In the end, each must choose his own truth.
⭐️⭐️⭐️.75
What happened that day
Since I already completed all the challenges for the readathon, it was Saturday and I wanted to read something else, so even though technically this also completed the beautiful spine challenge, I didn't do it on purpose. I just really wanted to pick up this book after the ending of the first installment, and so I did. And I read it in one day as well (I think that's the motto for this BookTubeAThon, haha). It took me I believe three hours to finish it, so I even though I had plenty of time to read on Sunday, I decided to give myself a bit of time and not to read anything that day.
My thoughts about Between Frost and Fury
I'll be going to write a full review in which I'll talk more in depth of the plot of this book and my thoughts about it, explaining the things I liked and didn't love about it, so if you're curious stay tuned because it's going to be published very soon!
Delaney has been kidnapped by aliens. Again. After only a month back on Earth with her hotnew alien boyfriend Ruckus, the deadly and devastatingly handsome prince Trystan has dragged her right back to his planet.
While some girls may dream of winning a prince's heart, Delaney just wishes this one would leave her alone. Instead, she finds herself at the center of both a tense political battle between two alien kingdoms and Trystan's romantic attentions, both of which are absolutely ruining the life she's built on Earth. Not to mention the fact that she's about to be crowned queen of a planet she's barely even visited. Just another day in life of an ordinary human girl.
• Read seven books
To be completely honest, I had no idea which book to choose for this challenge, because the possibilities were endless. I had first in mind to read a poetry collection, in case I didn't have time to finish all the challenges, but I received My Plain Jane by these lovies authors in the mail, and I was so excited to pick it up, so I ended up using this book for this particular challenge. And since I had a few days left, I was in no hurry to finish it.
⭐️⭐️⭐️⭐️
What happened that day
Like I mentioned above, even though I had this book in my August TBR, I had no intention whatsoever to read it for this readathon, because it was quite a long book and I was afraid I wasn't going to have enough time to finish it. But wow, wasn't this fast paced! I ended up devouring the heck out of this story, and I was super surprised to see how fast I ended up reading it. So needless to say, I was patting myself in the back when I finished My Plain Jane, because it was Friday and I had already completed all seven challenges!
My thoughts about My Plain Jane
I'll be going to write a full review in which I'll talk more in depth of the plot of this book and my thoughts about it, explaining the things I liked and didn't love about it, so if you're curious stay tuned because it's going to be published very soon!
You may think you know the story. After a miserable childhood, penniless orphan Jane Eyre embarks on a new life as a governess at Thornfield Hall. There, she meets one dark, brooding Mr. Rochester. Despite their significant age gap (!) and his uneven temper (!!), they fall in love—and, Reader, she marries him. (!!!)
Or does she?
Prepare for an adventure of Gothic proportions, in which all is not as it seems, a certain gentleman is hiding more than skeletons in his closets, and one orphan Jane Eyre, aspiring author Charlotte Brontë, and supernatural investigator Alexander Blackwood are about to be drawn together on the most epic ghost hunt this side of Wuthering Heights.
Did you participate in the BookTubeAThon this year? If so, what books have you read and how many challenges you completed? Let me know in the comments if you've also read any of these books or would like to pick them up!
Follow me on BlogLovin'Goodreads | Instagram | Twitter | Contact Me