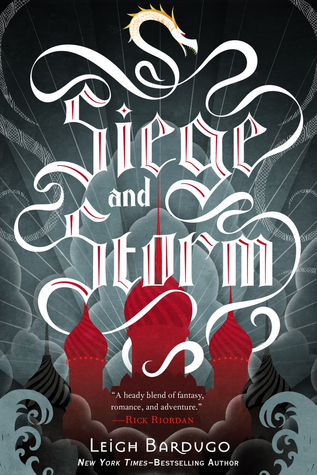 Title: Siege and Storm
Author: Leigh Bardugo
Series: The Grisha #2
Genre: Young Adult, Fantasy, High Fantasy, Romance
Publisher: Henry Holt
Publication date: June 4th, 2013
Pages: 435
My rating: 
---
Darkness never dies.
Hunted across the True Sea, haunted by the lives she took on the Fold, Alina must try to make a life with Mal in an unfamiliar land. She finds starting new is not easy while keeping her identity as the Sun Summoner a secret. She can't outrun her past or her destiny for long.
The Darkling has emerged from the Shadow Fold with a terrifying new power and a dangerous plan that will test the very boundaries of the natural world. With the help of a notorious privateer, Alina returns to the country she abandoned, determined to fight the forces gathering against Ravka. But as her power grows, Alina slips deeper into the Darkling's game of forbidden magic, and farther away from Mal. Somehow, she will have to choose between her country, her power, and the love she always thought would guide her–or risk losing everything to the oncoming storm.
"I don't care if you think I'm a Saint or a fool or the Darkling's whore. If you want to remain at the Little Palace, you wil follow me. And if you don't like it, you will be gone by tonight, or I will have you in chains. I am a soldier. I am the Sun Summoner. And I am the only chance you have."
Oh my god guys, this book was freaking amazing. You'll probably know already that I really enjoyed the first book in the trilogy, but I have to say this one was even better, which pleasantly surprised me, because second books tend to be sometimes kind of "meh" to me, since they are much slower.
But I really really loved this sequel. I feel I was in the right mood to pick it up, and I thoroughly enjoyed it. I was super engrosed in the story and adored meeting new characters.
"No matter what I said, we both knew the hard truth. We do our best. We try. And usually, it makes no difference at all."
The plot itself became much more intricate and complex. I learnt a lot of things about the amulets that were a bit of a mystery in the first installment, and not only that but I got to see more parts of the Grishaverse that I didn't know already, more especifically, the ocean. I feel like with Six of Crows and Shadow and Bone I knew a lot of the places that were in the book, but not much of the ocean, and though in this one it was mostly some brief scenes, I still think it was really cool to discover new places of this world that I adore so much.
And I freaking loved Alina in this book. Even though I liked her in Shadow and Bone, I saw a lot of amazing things that were a bit more unique in this book than in the first one. Not only she had an amazing character development, but was a really strong and intelligent main character, and I loved reading from her perspective, mostly because you could see her interactions with the Darkling change and turn throughout the story.
And also, I'M COMPLETELY IN LOVE WITH NIKOLAI. He was such a fun addition to the story that I was beyong happy when I saw him appear. He's a cinnamon roll who deserves the world, and though in Siege and Storm is mostly introduced, I cannot wait to knw more about him, because in that short period of time he had become one of my favourites.
"This is impossible!" I yelled.

"When people say impossible, they usually mea improbable."
And not only that but it was such an action packed story. Let me say I FLEW through this book; it was fast paced and really took me almost anything to read, although I have to admit there were some things I didn't remember from the first installment, but nonetheless, it surprised me how little time it took me to finish it.
And the ending kind of killed me. I wasn't expecting everything to go that way, and suddenly when I saw how it all was going to end, it made me even more excited to pick up the final book in the trilogy, which I'll be doing really soon, just so you know.
Overall, this was such an incredible sequel, full of twists, turns and action, and I adored it so much more than I thought I would. I enjoyed it more than the first book, and I higly recommend these books to anyone who might be slightly interested.
Follow me on BlogLovin'
Goodreads | Instagram | Twitter | Contact Me